Do you feel overwhelmed during the wedding preparation? You are not alone. Wedding preparation is challenging. It involves details, vendors, budgets, and more.
 You will need a wedding planning checklist to ease you on the preparation process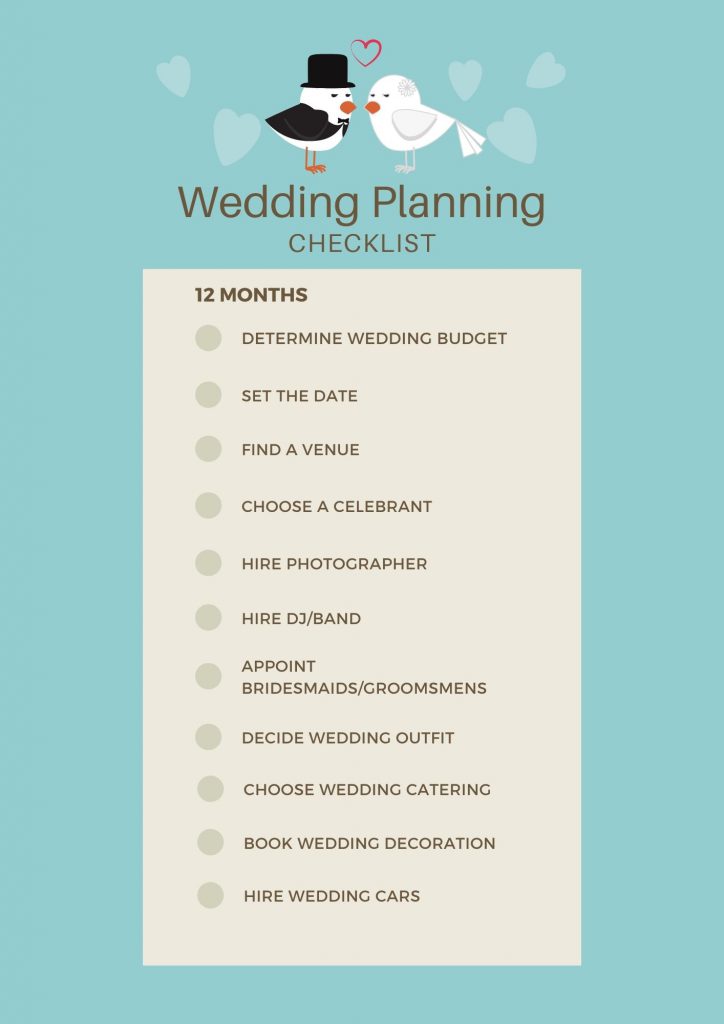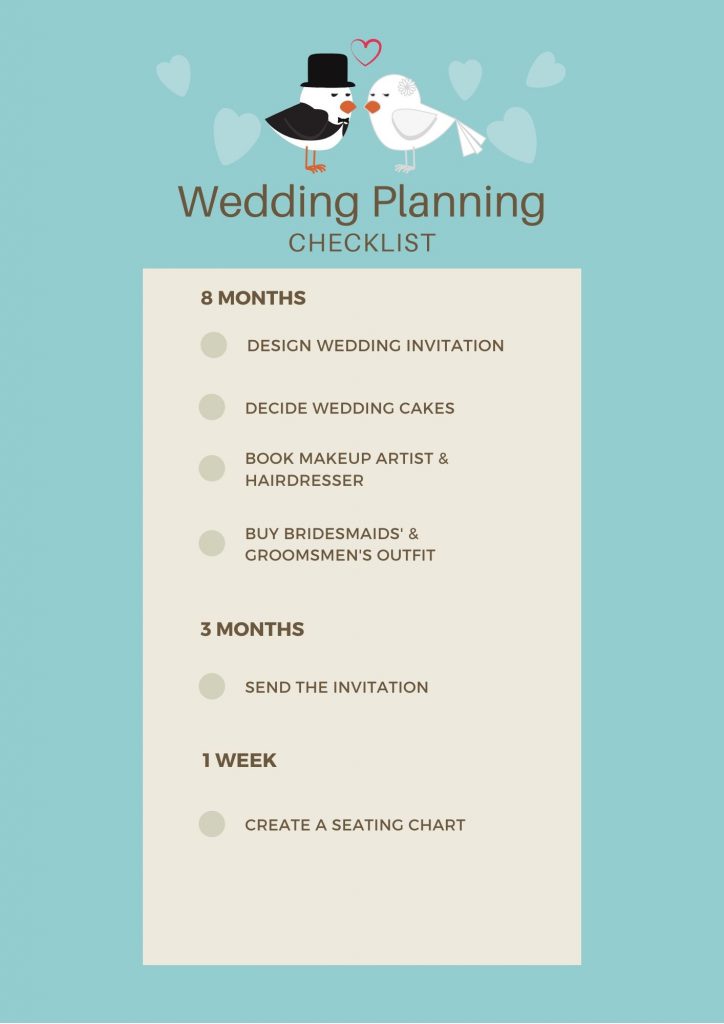 Wedding Planning Checklist for 12 Months Before the Day
Determine your wedding budget 
This will be the first thing you need to tick on your wedding planning checklist. Note down the needs from venue to outfit and put some allocation on it. Venue might take about 30% of your budget. Yet, if you can find some affordable spaces, you can use the venue budget for other needs. For example, catering, you might want to pamper your guests with exquisite food and drink.
Set the date 
Decide the date. You will need the date to block your wedding venue, celebrant, and all vendors. If you can choose the date during the low season, you might get a better deal for the vendors.
Select a wedding venue
Venue has an essential role in setting up the ambiance of your day. Whether it is outdoor or indoor, it would be better to book it in advance. Some couples even book the venue 2 years before the day. You can choose your date based on the availability of the venue or decide it before securing the venue. You will have more freedom to negotiate the price if you book it months or years away from your wedding day. Then, after locking your date and venue, you can start arranging things related to it.
Choose Your Wedding Celebrant
The style of the marriage celebrant will affect your ceremony. Would you like a serious or the fun one? Find some recommendations from your friends, wedding forum, or family. You need to book your celebrant months before because you will need time to discuss the concept. The celebrant will also need time to know you and your partner to tailor a personalized ceremony. Find your celebrant and tick this on your wedding planning checklist.
You might have your preference in choosing wedding photographer. Try to find one that suits your style. You might need time to choose and to discuss your concept with the photographers. Whether you prefer candid or posing ones, you can discuss it with the photographers. Besides pictures, you might want a video for your day. If it is the case, you can also search for videographer.
Decide your wedding music
Do you prefer a wedding DJ or band? Both will deliver different experience for your guests. They also offer distinct ambiance to your event. You might already have in mind your wedding playlist that you will discuss with your DJ or band. If you have not decided one of them, there are some
pros and cons of wedding DJ and band
that you should know.
Appoint your bridesmaid and groomsmen
The next point on your wedding planning checklist is to choose your bridesmaid and grooms men. You will need to block everyone's day.
Commonly
bridesmaid and grooms men are the closest people to the couples.
Image: Wildflower Portraits 
Which style of wedding dress would suit your taste? The A line? Mermaid? How about your partner's, bridesmaids, and groomsmen outfit? You can make it aligned with the theme and decoration you choose. For example, if it is a rustic wedding, you can choose an earthy colour for the bridesmaid dress. You will need time for fitting and tailoring the outfit. This can include shoes and accessories too.
Book your wedding catering
Does your venue include catering? If it does, your work will be a lot easier. You can choose the menu offered by the venue. If it does not, then, you need to find vendors for your catering. Catering availability can be one of your consideration when choosing venue. Do not forget to take note on your guests' dietary restriction. So, the chef can prepare special food for those with specific diets.
Book your vendor for wedding decoration & flowers 
Decorations and flowers for your bouquet, for example, depend on the theme of your wedding. Traditional weddings might need simple decoration and flowers, such as white roses. Yet, for modern wedding, you can choose more colourful flowers. Some venues also include decoration on the packages.
Hire your Wedding Cars
You should not miss your wedding car to transport you to the venue. Choose that suit your style, whether it is a vintage or a luxury one.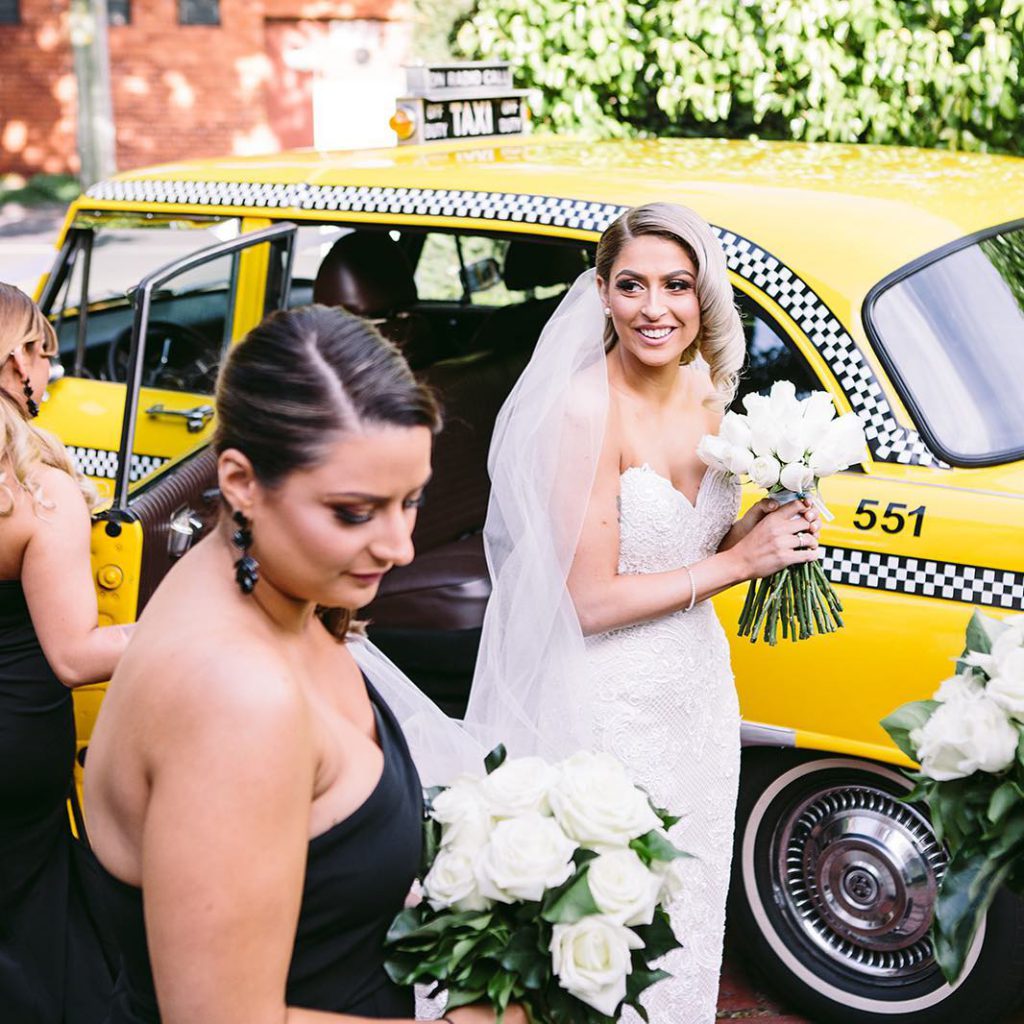 Wedding Planning Checklist for

8 Months Before the Wedding
Design wedding Invitations
You can have either digital or printed invitations. Both still need time to design. Yet, printed invitations might need a longer process, from designing to printing.
Decide your wedding cakes
Wedding cakes can go with your theme too. Two-tier cake is the most common one. Yet, if you prefer traditional wedding, the higher the cake, the better.
Book wedding make up artist & hairdresser
Image: Vivian Ashworth Hair-Makeup
Buy bridesmaids' and groomsmen's outfit
The next thing on the wedding planning checklist is to prepare the outfit for your bridesmaid and groomsmen. It is better to match the theme of the weddings.
Wedding Planning Checklist for

3 months before the wedding
Send the invitation
If you send printed invitations, it might need days to send it. E-invitation might be faster, but you need to make sure everyone's email address or phone number.
Wedding Planning Checklist for

1 week Prior to Wedding
Create Seating Chart
It is time to create a seating chart for those who confirm the attendance.
In brief, wedding preparations include a lot of details. In the journey, it might be challenging to search and find the right vendors. Parties2Weddings wedding concierge will connect you with the right vendors. Chat her on Parties2Weddings official website and let her know your needs. Last but not least, let's tick your wedding planning checklist!
What's More
Parties2Weddings is the largest Australian-based Wedding Marketplace. We help couples to plan as well as booking their destination wedding on the platform. We connect couples to over 40,000 vendors across Melbourne, Sydney, Queensland to Bali.
Compare prices & book all wedding services on Parties2Weddings Marketplace
3 steps to compare prices and book all wedding services on Parties2Weddings Marketplace:
1. Select Location/Region
2. Chose the service
3. Chose the budget range.
Check also All-Inclusive packages coordinated by Parties2Weddings wedding concierge
Planning to celebrate in Bali?
Check our amazing Bali Wedding Packages & Bali Experiences? Check our Amazing Deals & Options:
Parties2Weddings provides Wedding Concierge to help couples to finding and shortlist venues. We also assist couples to customize packages to meet special requirements. Above all, the professional team has great experience will help you to prepare for your big day.
Contact our Wedding Concierge to connect you to vendors. We work with professional Photographers, DJ, Fireworks, Fire-dance. Then, fill in the Quote request/ Enquiry form here to continue the process.