Incredible Winery Wedding Venues in Yarra Valley
Yarra Valley is a home for winery wedding venues in Victoria. The combination of its cool climate, altitude and soil makes this region ideal for vines to grow and produce the wine. Check out our list of Incredible winery wedding venues Yarra Valley has to offer. These green lush wedding venues with vineyards have been searched by thousands of times by brides and grooms to plan their dream wedding. Here are the 7 best Yarra Valley winery wedding venues.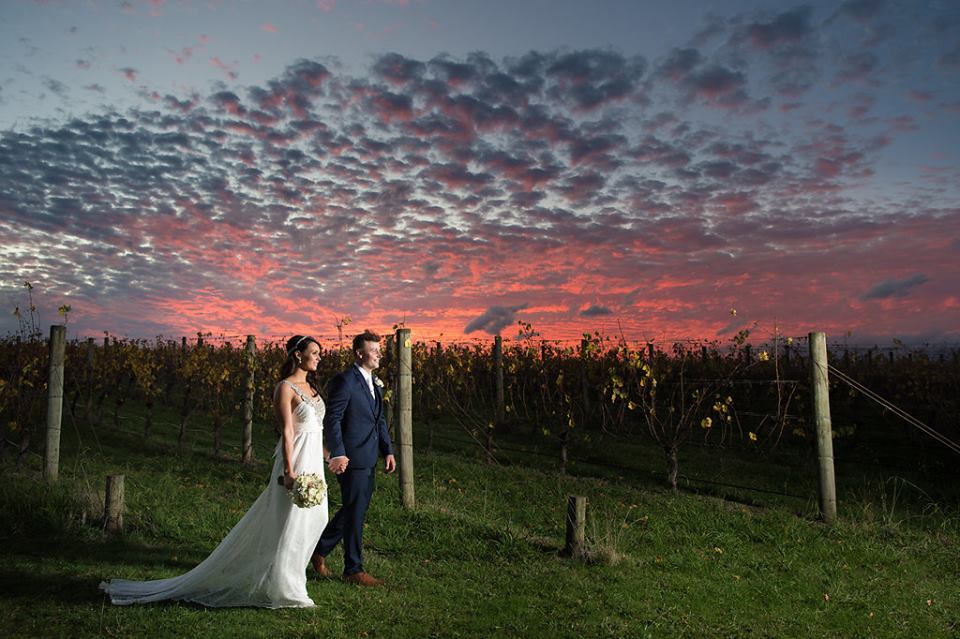 Oakridge Wines is one of the best winery wedding venues located in the heart of Yarra Valley. Surrounded by stunning views of mountain ranges and vines stretching across the mountain. The dining room can cater up to 150 guests seated. As an option, The Barrel Hall is provided. This hall can accommodate a cocktail event for up to 250 people.
The winery wedding at Oakridge will be a moment to remember. The food is freshly cooked from selected produce in the regional garden and the fine taste of the dishes complements the wine that this place produces. The function team is available to tick your wedding-to-do list about your special day at this winery venue.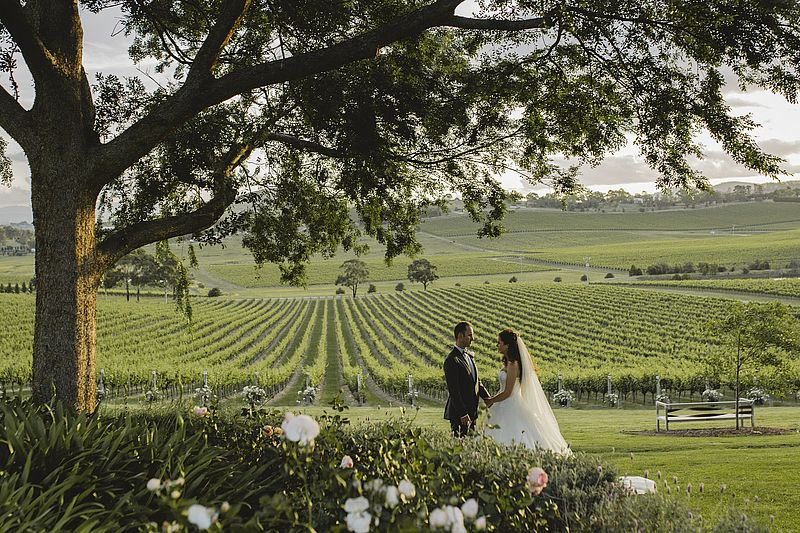 The lush vineyards and the mountains of Great Dividing Ranges seen from De Bortoli Wines will be a dramatic backdrop for your wedding photos.
If an indoor wedding is what you dream of, the Locale Restaurant of De Bortoli Wines serves sophisticated food with Italian accent specially crafted to match the taste of wine. The vineyards-view restaurant can set a maximum of 100 seats at the restaurant. Your bespoke winery wedding will be memorable in the hands of the wedding coordinator and the team of the establishment. They will make sure that you and your guests have the truly unique experience of De Bortoli Wines.

3. Vines of the Yarra Valley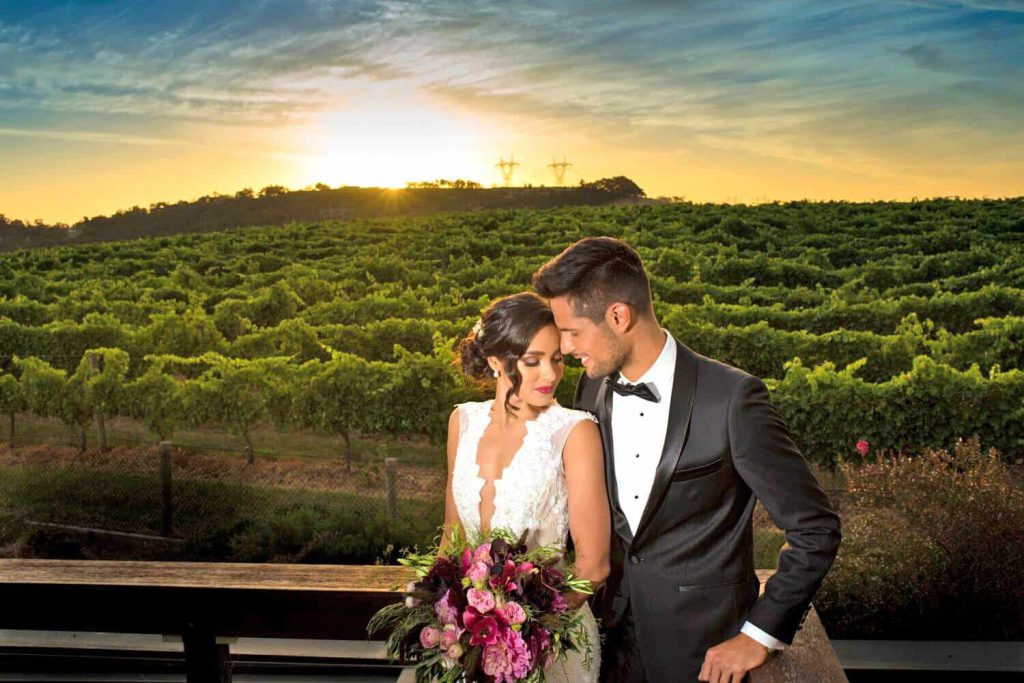 Pic: Vines of the yarra valley – wedding venues yarra valley – parties2weddings
Coldstream, Yarra Valley
An exclusive and personalized wedding is what Vines of the Yarra Valley proud to offer. The bridal team will turn your wedding dream into a beautiful event. They will go extra miles for you from the planning stage to the execution so you will be away from worry.
Surrounded by lawns and rose garden, Vines of the Yarra Valley is one of the most romantic winery wedding venues. The main dining room is designed with a clear glass wall that overlooks the spell-binding views. This room can accommodate up to 120 guests seated or 140 guests for a cocktail arrangement. With over 30-year experience of handling a winery wedding, Vines of The Yarra Valley knows well on how to make an immaculate wedding.
4. Bianchet Yarra Valley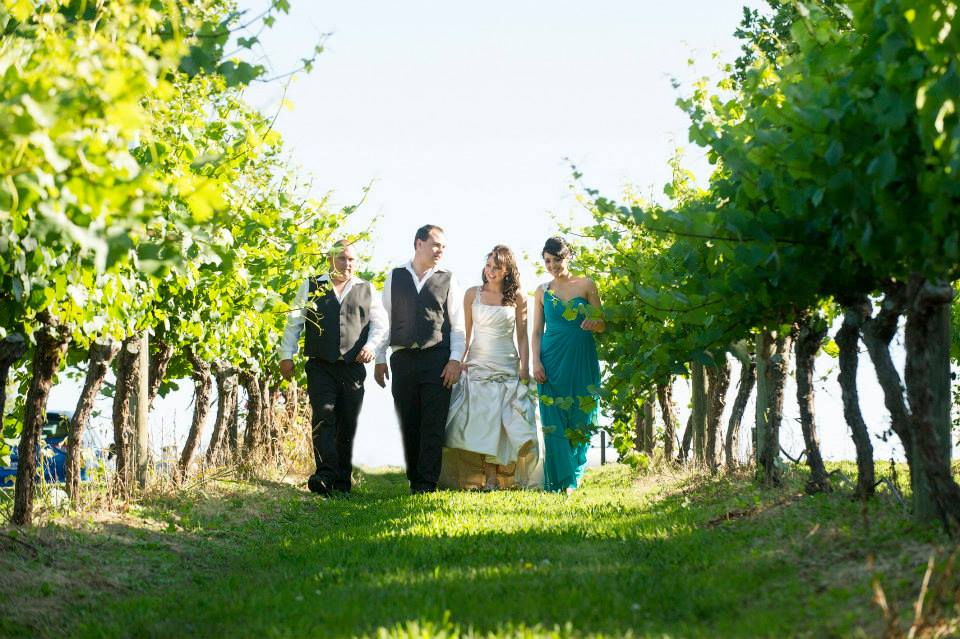 Lilydale, Yarra Valley
Being the oldest vineyards in Yarra Valley, the classic winery charm of Bianchet will blow your mind. A warm atmosphere from the hospitable service, breathtaking scenery across the valley, and its flower-draped gazebo make Bianchet a stunning venue for a winery wedding. As a complement to the produced wine, delectable dishes will be served to your dining table. The experienced wedding planner will help you to realize your wedding dream. On top of that, the chef who is always ready to pamper your and your guests' palate. Your day will be taken care of by the passionate team, so, you do not need to worry about the details.
Dixons Creek, Yarra Valley |  Enquire for Wedding Packages
Immerse is one of the breathtaking winery wedding venues in Yarra Valley that provides the best wedding experience, convenient classic accommodation for your guests to sleep in, and exquisite food. The green rolling hills of vines and manicured gardens are an immaculate match to your elegant wedding gown. The served food combined with fine wine will indulge & satisfy your palate. Two stunning chapels are available for your ceremony. To complete everything, a helpful wedding team will take care of all the details. They will ensure you will have a winery wedding moment to remember in Immerse.

6. Bulong Estate Winery
Yarra Junction, Yarra Valley
Bulong Estate is one of winery wedding venues that has a dedicated wedding planner, Monica, to be attached to you from the first day of planning through e-mail or call until the event day. A bigger team will work together to ensure that your wedding in this winery venue is flawless.
Bulong Estate is magical with rows of vines on mountain ranges- a dramatic spot for your photo sessions.
The dining experience at Bulong Estate is exceptional. They will adjust the style based on your taste. Is it a food truck meal? Well-plated dishes? shared plates? Or any other styles. You and your guests will be surely pampered at Bulong Estate.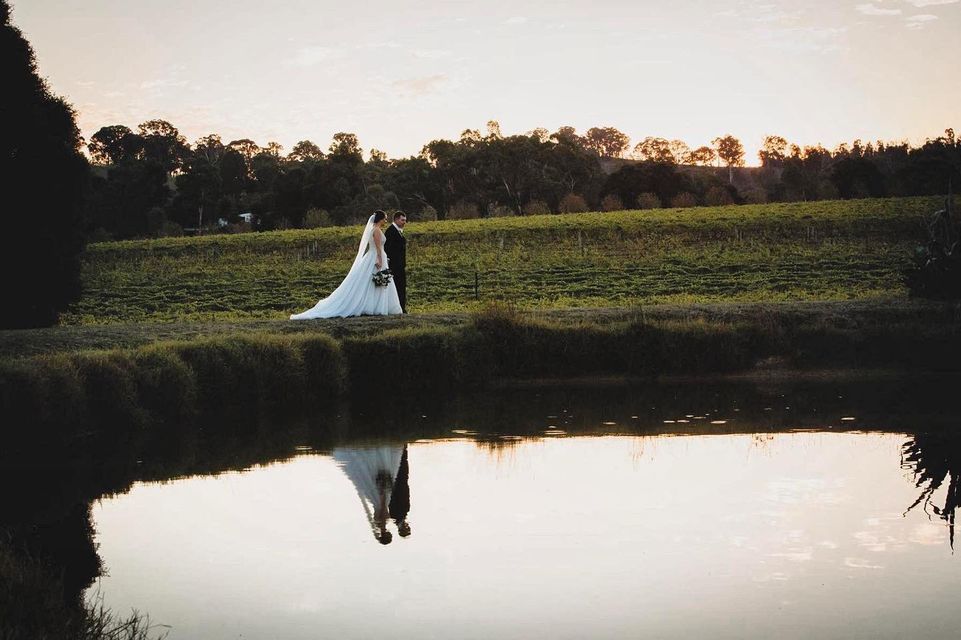 A marriage of a rustic and winery wedding is the highlight of this place. A selection of venues is available for your whimsical wedding, set on the farmland near the Secret Garden of this Fergusson Winery & Restaurant, a chapel with a timber façade is a space for a rustic ceremony. For a reception, the Barrel Room offers a space for 80 seats. A longer list of invites will suit the Rustic Restaurant better. This restaurant is blessed with the jaw-dropping view of vineyards. Sophisticated food is served to complement the wine and the ambience of the rustic place. This makes Fergusson special among winery wedding venues.
Why Wedding in Yarra Valley?
Yarra Valley is the right answer for vineyard-wedding. Besides unlimited choices of venues with a team to assist you during the process are available, it is an only 45-minute drive from Melbourne CBD. It is about a comfort that the place offer to make your day unforgettable one.
What's More? 
Parties2Weddings is the largest Australian based Wedding Packages Platform for couples to plan & book their dream destination wedding in Asia. We connect couples to over 40,000 vendors across Melbourne, Sydney, Queensland to Bali.
Planning to celebrate in Bali? – Check our amazing
Bali Wedding Packages &  Bali Experiences? Check our Amazing Deals & Options:
Parties2Weddings provides Wedding Concierge to help couples to browse fixed cost packages, shortlist the venues. and customize packages to meet special requirements. The professional team has great experience will help you to prepare for your big day.
Contact our Wedding Concierge, to help connect you to vendors for Photographers, DJ, Fireworks, Fire-dance, etc. Fill in the Quote request/ Enquiry form here.