Intimate Winery Wedding Venues in Melbourne
Melbourne is surrounded by beautiful lush wine-growing regions. The serenity, scrumptious food, fine wine that wineries offer have attracted couples who want to indulge the family and friends with intimate surroundings.  Less than an hour drive from Melbourne, here is a list of top intimate winery wedding venues in Melbourne :
1. TarraWarra Estate, an intimate winery wedding venue in Melbourne with farmlands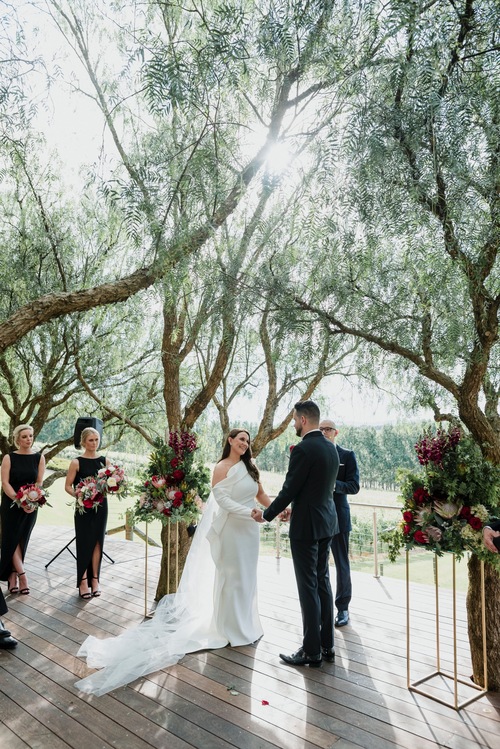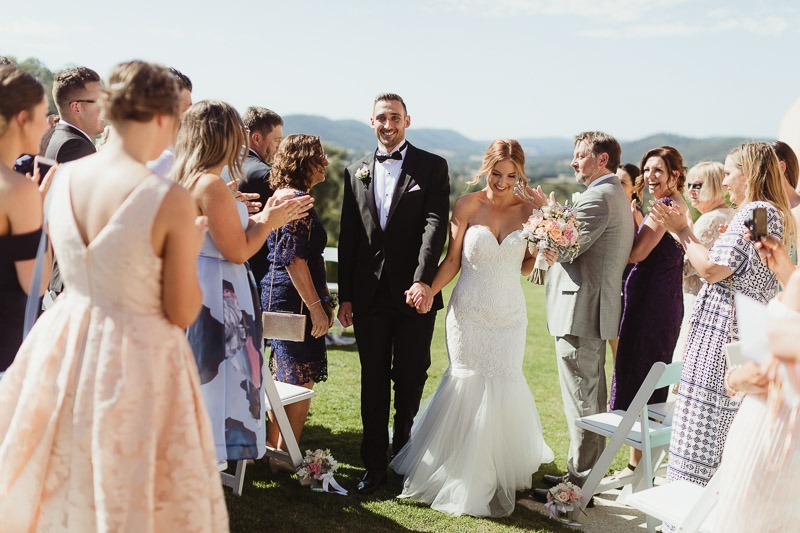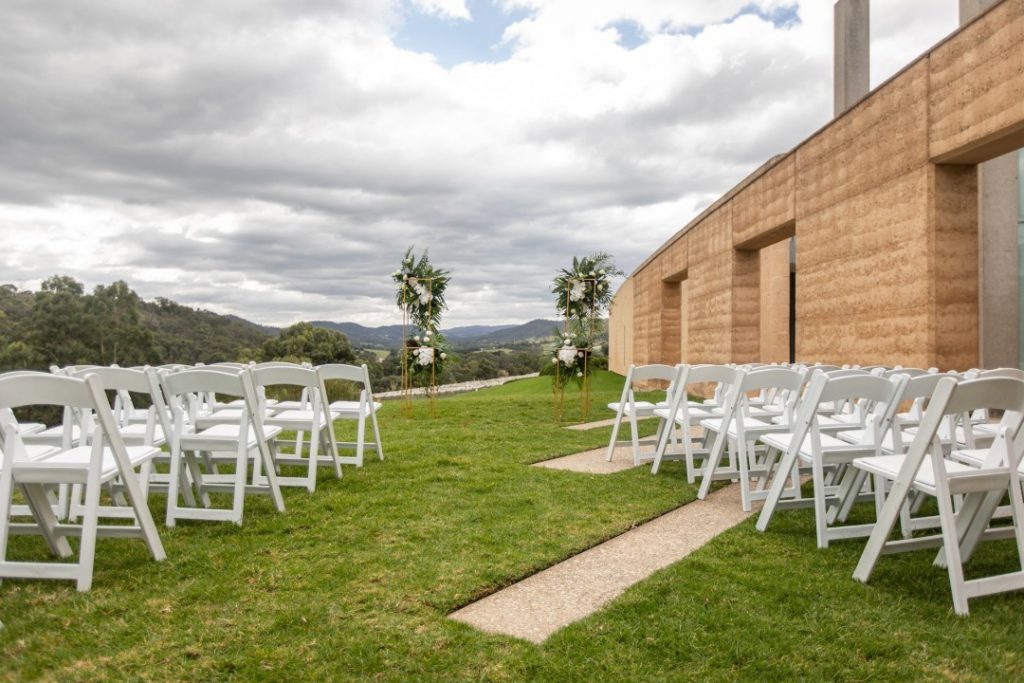 Located in Yarra Glenn, TarraWarra stands elegantly on 10 acres of farmland enclosing 400-hectare of vineyards since 1983. It is an ideal serenity to have a moment with family and friends on your special day. TarraWarra is one of winery wedding venues that exudes rustic charm of a vintage country-side winery with its subterranean cellar door and deck shaded by berry trees. Both the indoor and outdoor venues can accommodate up to 60 seated guests.  The food is freshly cooked from the ingredients grown in kitchen garden and local produce. A wedding coordinator is available to unfold your winery wedding.  She will ensure that every detail of the day meets your expectation, for instance the decoration, and food. In brief, TarraWarra Estate knows well on how to take care of a wedding because of its long experience.
Also read: Top Wedding Venues Melbourne City CBD
2. The Little Vineyards,

an intimate winery wedding venue in Melbourne with the view of rolling hills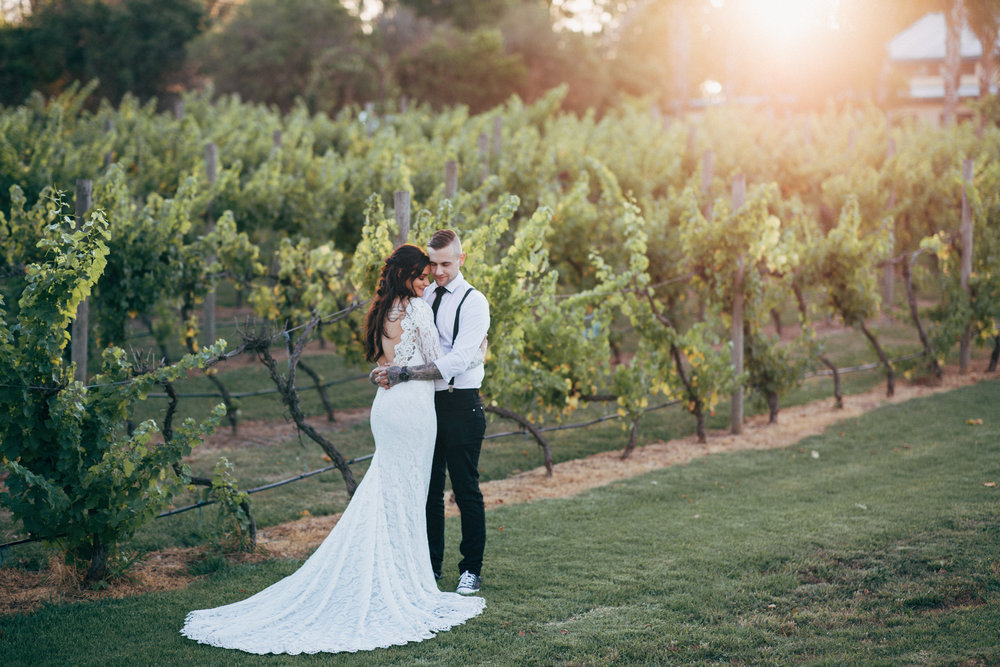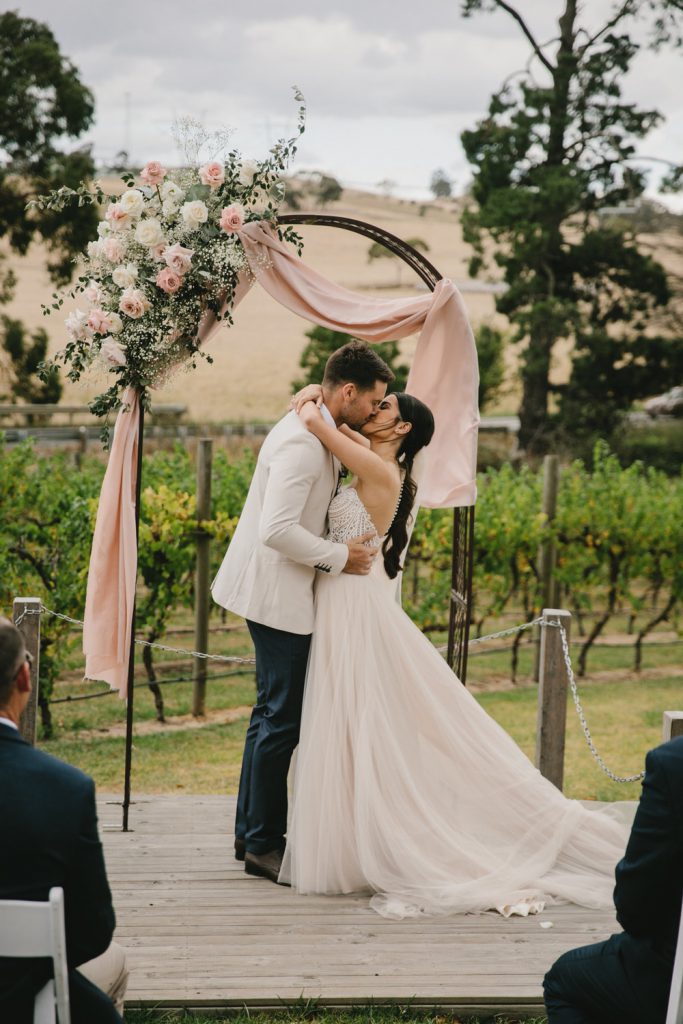 The Little Vineyards is located on Yarra Valley, only 40-minute-drive from Melbourne. This winery overlooks the stretched view of rolling hills. The Little Vineyard offers both indoor and outdoor winery venues. Say "I do' under the arbour on the courtyard with the rolling hill as the backdrop. Besides the meadow, a function room is available to anticipate the wet weather. The space can accommodate up to 90 guests, a common number of people that the chef pampers in the events. With his expertise, the chef will design a seasonal menu cooked from the fresh ingredient for your wedding day. Therefore,  The Little Vineyards is one of the winery wedding venues that serves appealing food for any taste buds. In brief, couples love the delight of the food and the stunning view of The Little Vineyards.

Related: Incredible Winery Wedding Venues in Yarra Valley
3. Brown Brothers Winery, an intimate winery wedding venues in Melbourne for more than a century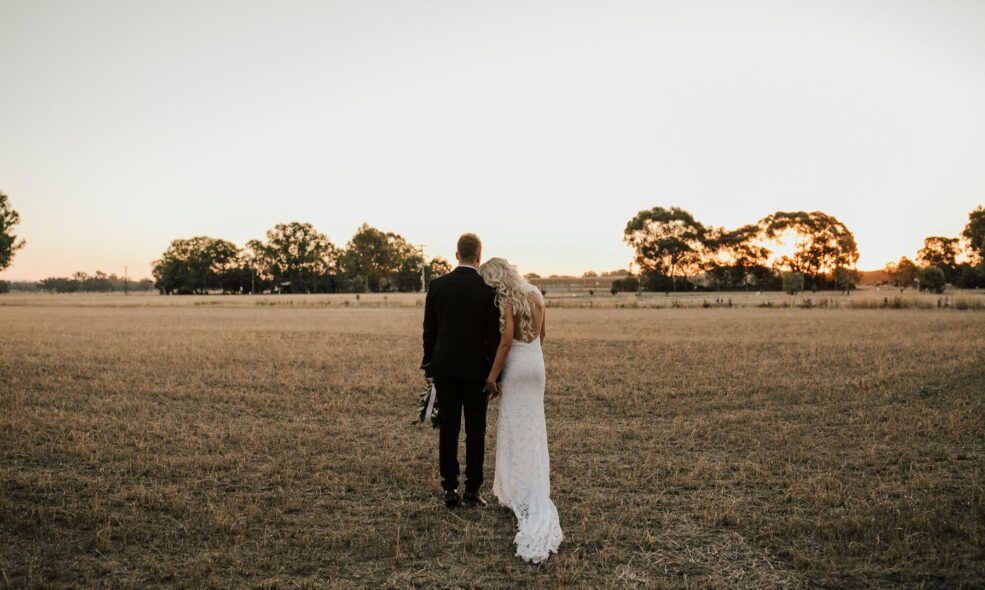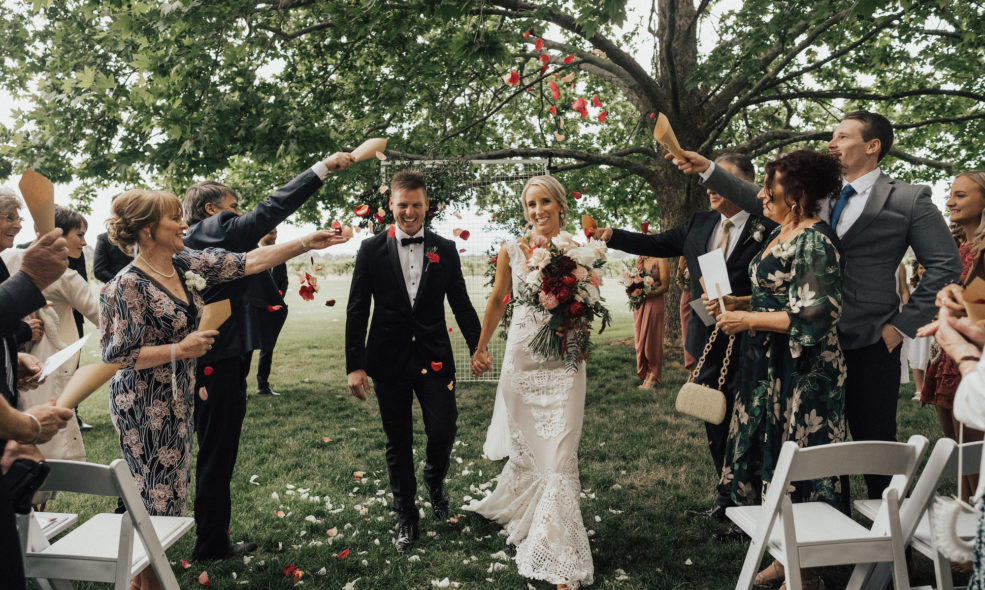 The Brown Brothers has produced its wine for over 130 years. It is one of historic winery wedding venues located on King Valley's Gourmet hub of Milawa. Blessed with beautiful view of mountain and vineyards, Brown Brothers Winery owns a garden, a home for its oak tress just against the vineyards. The towering aged trees have formed a natural canopy shade that is ideal to say "I do". For the celebration, Brown Brothers offers a historic barn built in 1860. The venues can accommodate up to 140 seats or 160 people in a standing party. Personal coordinator is available to assist you in setting up your winery wedding. To sum up, this historic winery offers the beauty of vintage grounds.
Related: Winery wedding venues on the Mornington Peninsula
4. Captains Creek Organic Wines, a charming rural winery that couples seek for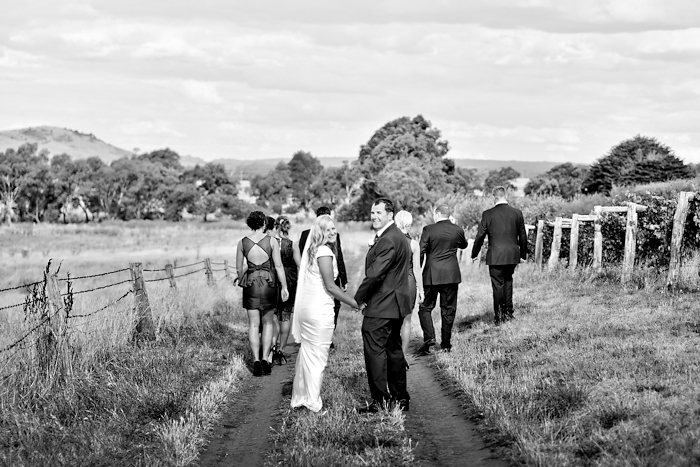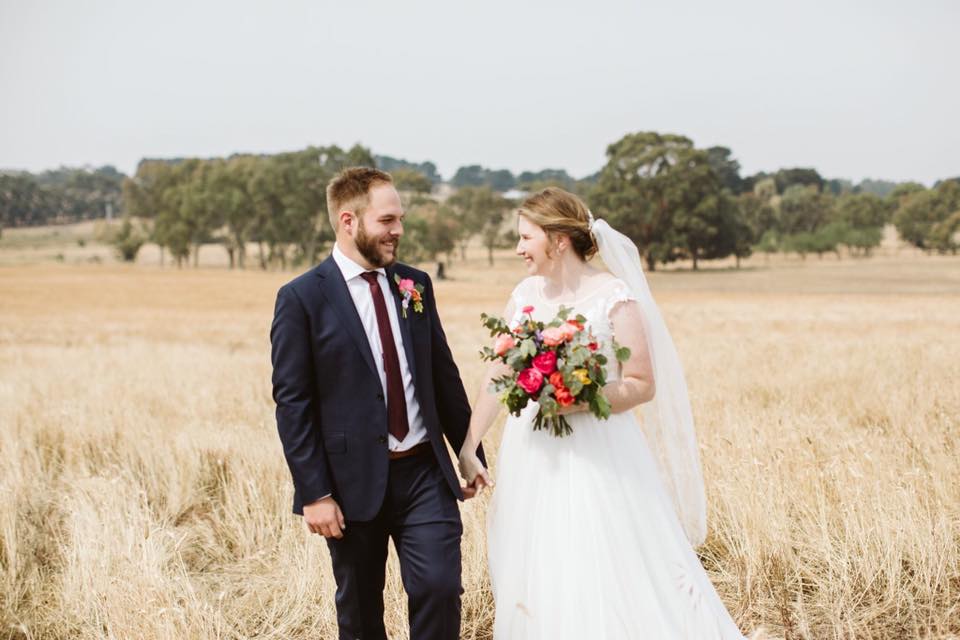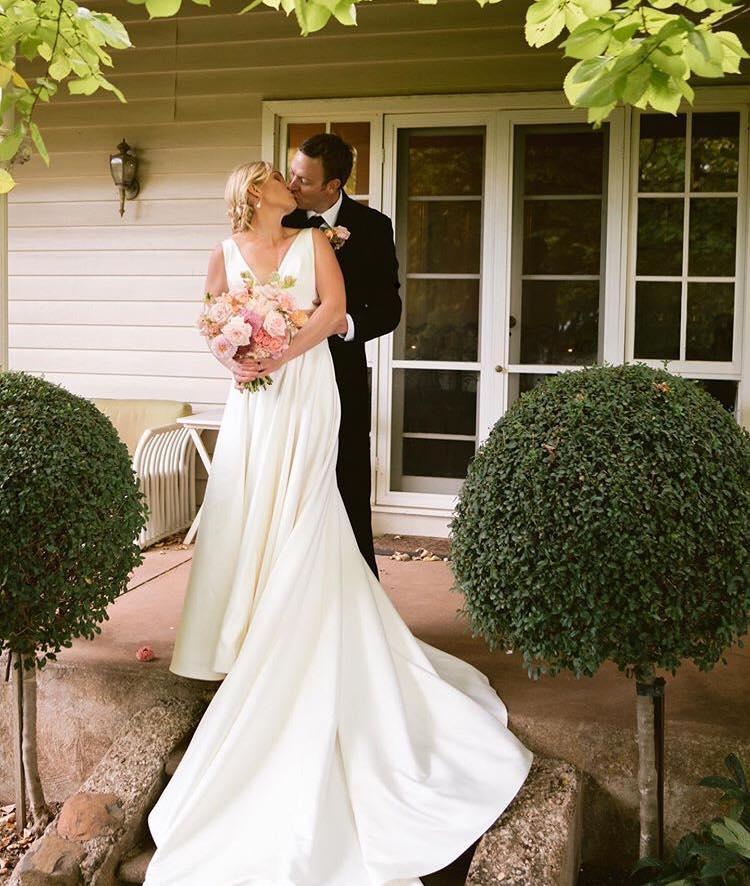 Located at Blampied, at the foot of Kangaroo Hills, Captain Creek Organic Wines exudes the rural charm. The winery is stunning with the view of its vineyards and neighboring Wombat Forest. Captain Creek offers its cellar door as a wedding venue. Built from 100-year-old workers hut, the cellar door still leaves some vintage parts.  Therefore, couples find this winery unique.The venue can accommodate up to 60 seated people or 100 people in cocktail style.  Captains Creek Organic Wines is one of the historic winery wedding venues in the region.
A range of catering menu is available from formal to casual for our winery wedding. In other words, the choice is in your hands.
Also read: Rustic Wedding Venues in Melbourne
5. Vines of the Yarra Valley,  a private secluded winery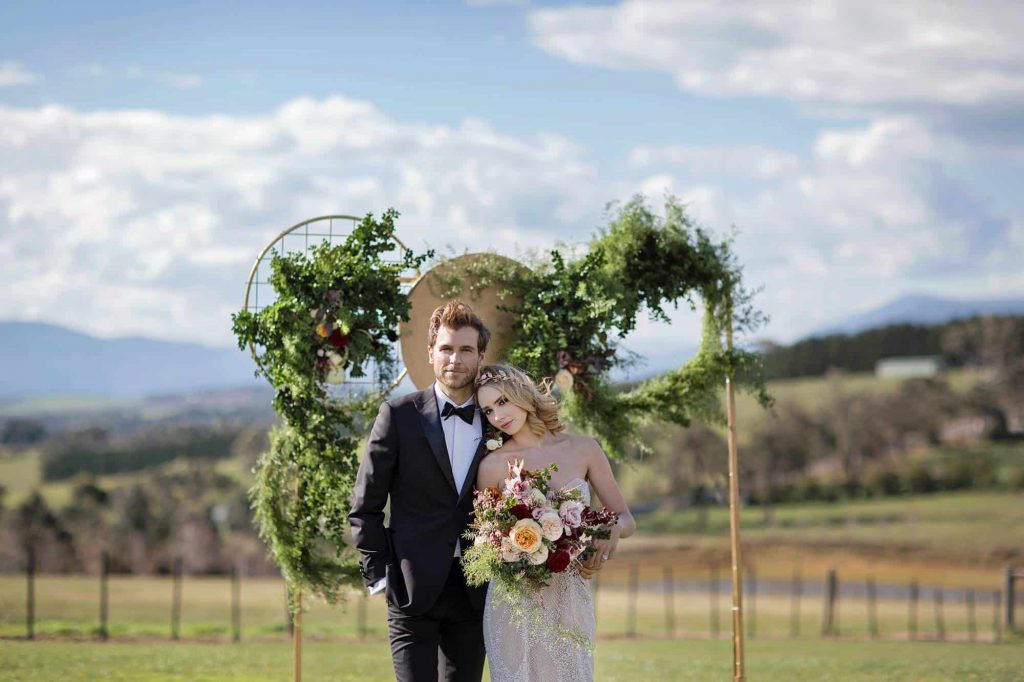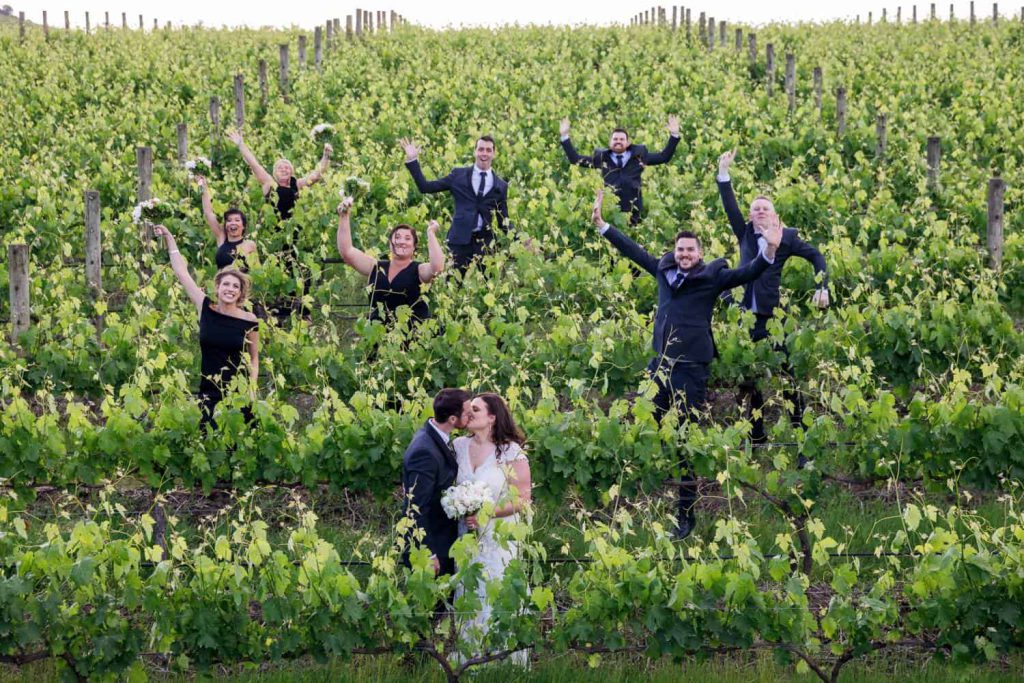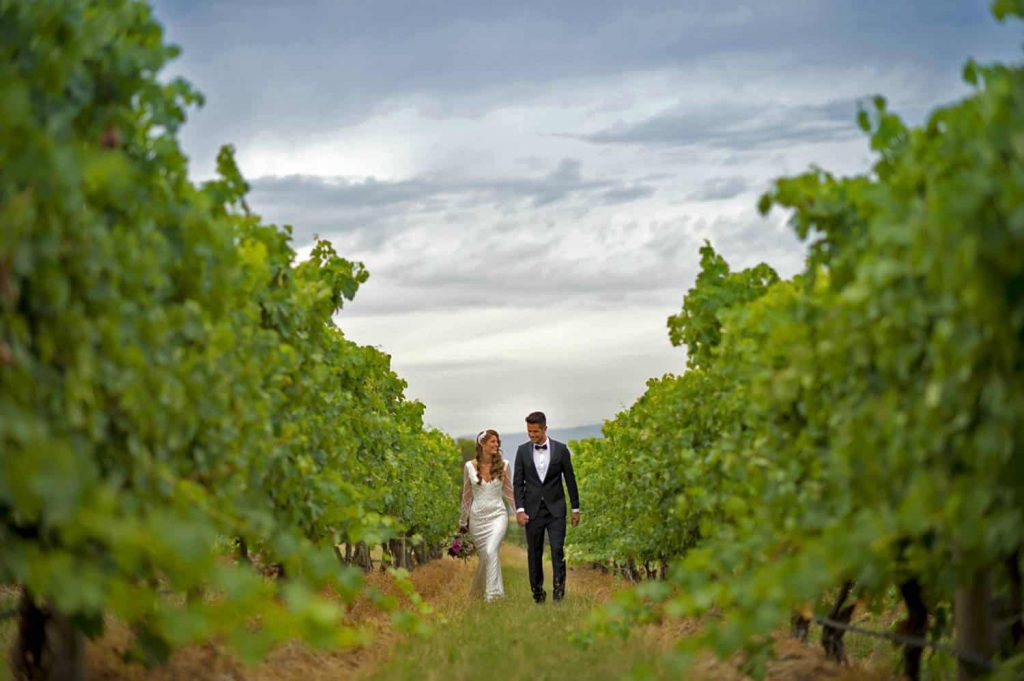 Vines of the Yarra Valley can be reached within 45-minute-drive from CBD. The winery sits on 150-acres of land with the stunning view of valley and mountain ranges. Both indoor and outdoor venues are available here with the capacity up to 120 seated people. Exchange your vows with the vineyards and rolling hills as a backdrop. Besides that, you can feel the breeze blowing your elegant gown softly during your outdoor wedding ceremony. It also has an extra room upstairs for an intimate wedding celebration with maximum capacity up to 50 people.
The chef curates appealing and tasty food that match the wines. Vines of Yarra Valley is one of winery wedding venues run by George And Angel Ross who have over 30-year-experience in wedding and event industry. Therefore, this location for winery wedding is renowned for its professionalism. In brief, Vines of the Yarra Valley is  the fruit of their passion and joy. 
Also read: Beach Wedding Venues in Melbourne
6. Russo Estate, an award winning winery in Melbourne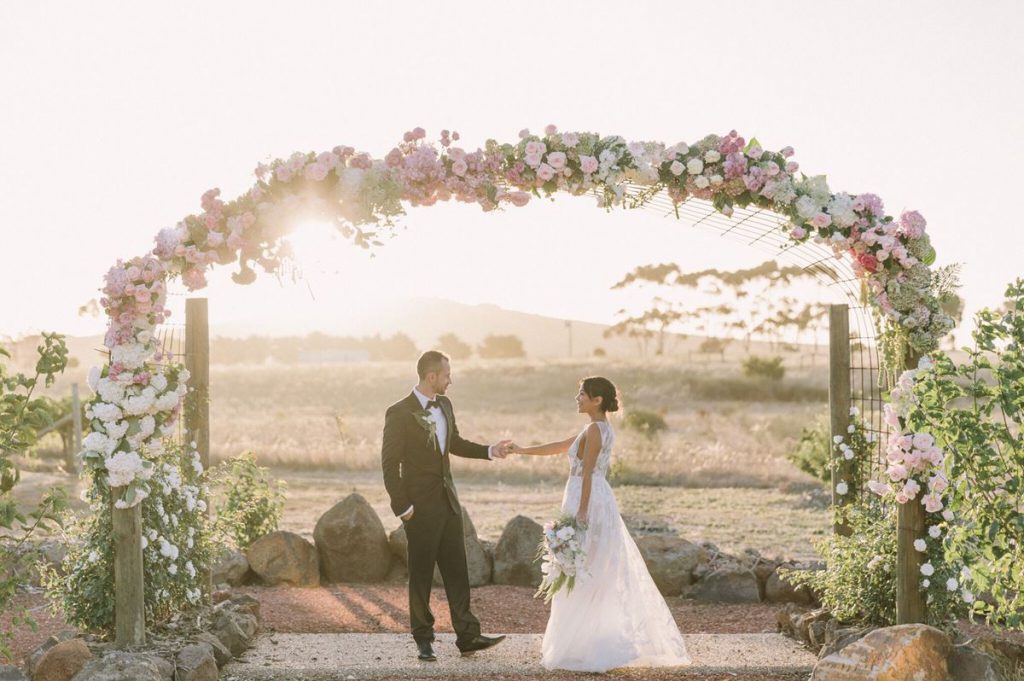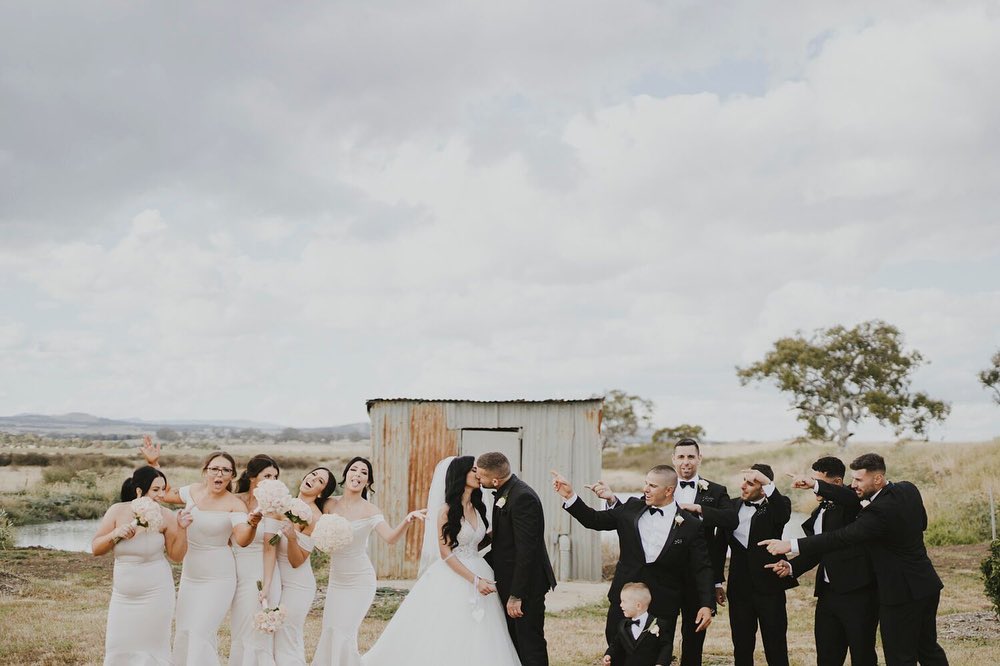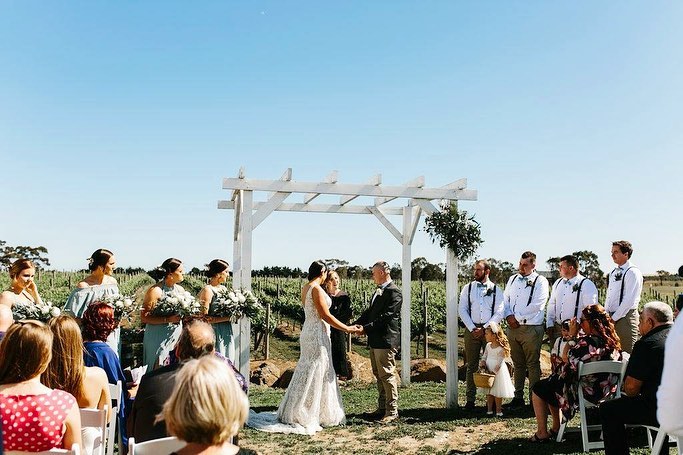 Russo Estate is located only 35 minutes away from Melbourne CBD. The estate is one of winery wedding venues with the view of three-tier waterfall. Russo Estate offers 5 idyllic outdoor ceremony location: horse shoe arch, wine garden arch, the arch, under the gum tree and the outlook. Besides that, it has 5 indoor winery wedding location that have different magnets: vine room, restaurant with the view of vines, dining terrace, outlook terrace, and copper room. The venues can accommodate up to 300 guests. On-site catering is available to make your wedding easier at Russo Estate. The tasteful food is curated to complement the wines it produces. To sum up,  with various of spaces Russo Estate offers, you have a freedom to choose your dream wedding grounds.
Also read: Rustic Wedding Venues in Macedon Ranges
The location, the view, the budget, the capacity, and the food suitable for your taste buds, and the wines might be the points of consideration when it comes to choose a venue for your winery wedding. Therefore, we prepare the list of winery wedding venues in Melbourne to help you choosing the best from the best. Once you find a winery venue that meets your expectation, lock your date to anticipate the price increment. Last but not least, happy hunting!
Why Wedding in Melbourne?
Melbourne is the capital of Victoria. Unique venues dot this city, for examples, cafes with rustic concepts and waterfront venues. In addition to it, Melbourne is in the proximity with regions known for the natural environments. In brief, if you are looking a wedding venue in the city, there are tons of choices.
What's More? 
Parties2Weddings is the largest Australian based Wedding Packages Platform for couples to plan & book their dream destination wedding. We connect couples to over 40,000 vendors across Melbourne, Sydney, Queensland to Bali.
Compare prices & book all wedding services on Parties2Weddings Marketplace
Compare prices and book all wedding services on Parties2Weddings Marketplace in 3 easy steps:
1. Select Location/Region
2. Chose the service
3. Chose the budget range, filter by venue type, badges etc
Check for all Inclusive packages coordinated by Parties2Weddings wedding concierge
– Elopement Packages
– Wedding Packages
Planning to celebrate in Bali?
Check our amazing
Bali Wedding Packages &  Bali Experiences:
Parties2Weddings provides Wedding Concierge to help couples to browse fixed cost packages, shortlist the venues as well as customizing packages to meet special requirements. Above all, the professional team has great experience will help you to prepare for your big day.
Contact our Wedding Concierge to help connect you to vendors for Photographers, DJ, Fireworks, Fire-dance,  then, fill in the Quote request/ Enquiry form here