Desa Visesa Ubud, The True Balinese Heritage
Ubud Bali is the cultural center of this beautiful paradise. Here you can see Balinese culture at its purest form while still enjoying world-class amenities. The verdant tropical forest, ancient temples, and a lot of extraordinary accommodations. You can pick from many wonderful Ubud Bali Hotels and Ubud Resorts. Most of Ubud Resorts commonly try to incorporate themselves in the natural grandeur. Lots of Ubud Bali Hotels are discreetly perching on the side of a green hill. For a complete experience, you need to try to know the local culture. The best place to enjoy them all is in Desa Visesa Ubud. Desa Visesa Ubud combines the beauty of Ubud. With world-class accommodation, fine dining, wonderful wedding venues and packages, great spa and wellness services, and also great meeting rooms. In other words, this is a great all-round resort that is perfect for any occasion. Here are some of the amenities you'll find in Desa Visesa Ubud.
Top-Notch Accommodation at Desa Visesa Ubud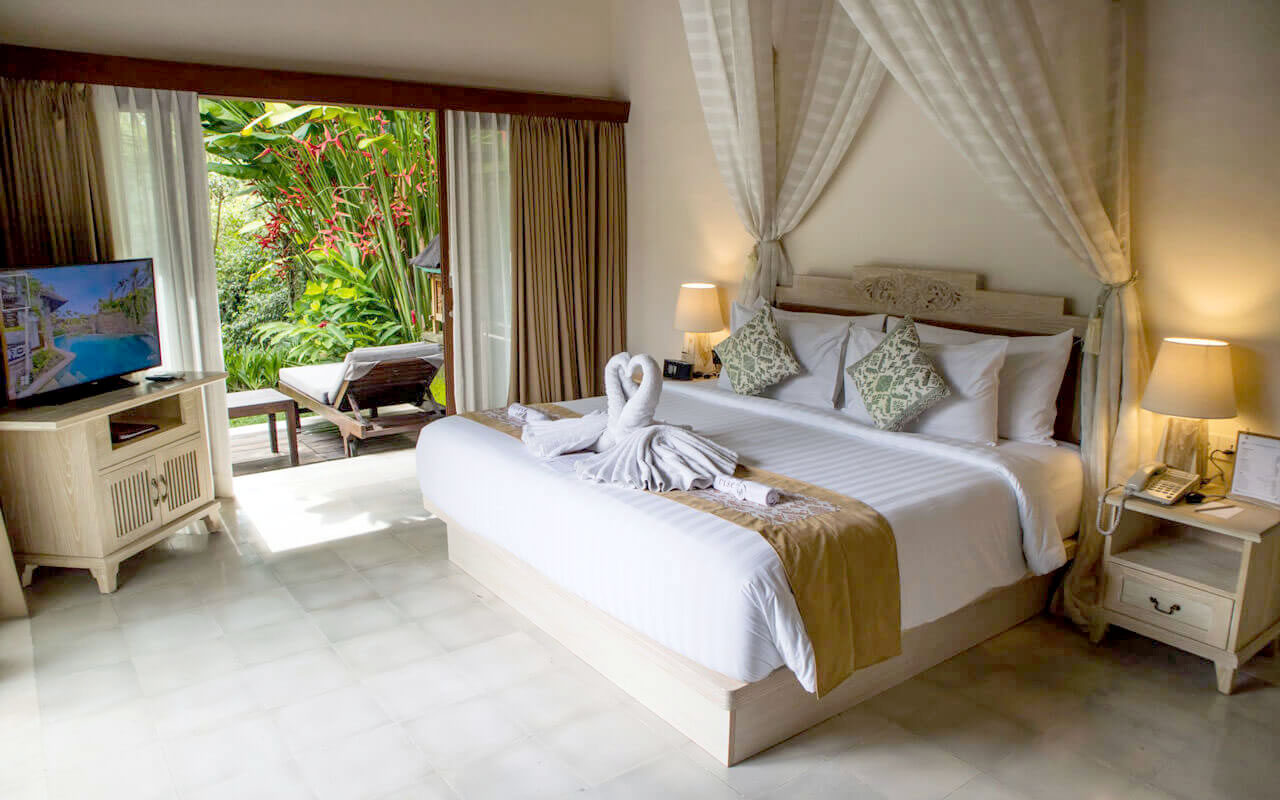 This is obviously the most important part of any resort and hotel. You must be able to stay in a comfortable room that lets you rest really well. In Desa Visesa Ubud, they have lots of them. There are 60 elegant villas and 40 suites sitting on 6.5 hectares of Ubud Bali. Right in the middle of the rice paddy fields.
Luxury villas are divided into four categories, each of them has a private pool. There are One Bedroom Pool Villa, Two-Bedroom Pool Villa, Two-Bedroom Family Pool Villa, and Two Bedroom Pool Sky Villa. You can expect ultimate privacy in every one of them. All villas use natural material for its building, including sustainable hardwood and paras stone. Every villa provides a great room, a private pool, and larger living areas. It allows a dining alcove, a dressing area, and an opulent bathroom with the option of private outdoor rain showers and bathtubs.
There are also 40 luxury suites, each of them is 53 square meters large. The elevated location of these suites lets guests appreciate the beauty of the surrounding very well. Just in case you want to stay with your extended family, you can have the interconnecting suites. Your stay will be really comfortable because each suite is fitted with canopy king-size beds or twins with fine linens.
The Dining Experience at Desa Visesa Ubud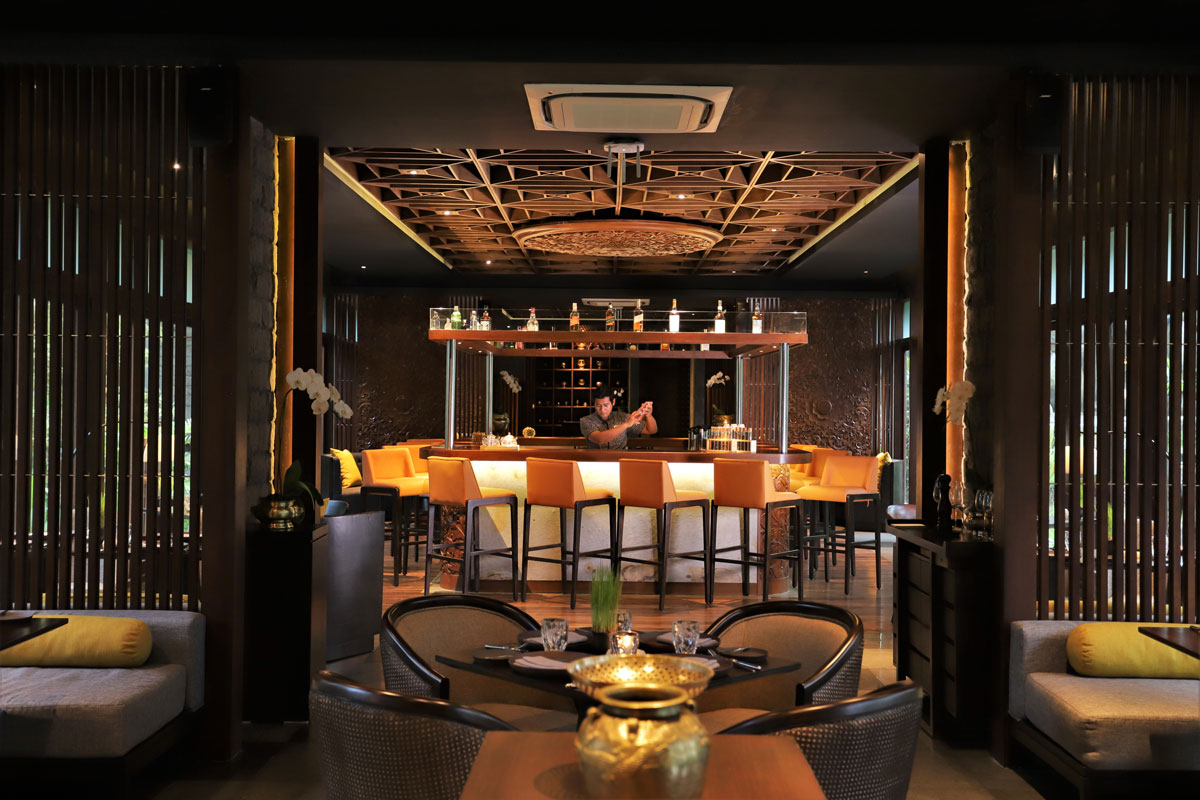 Delicious foods are easily found within this Ubud Resorts. Lumbung Restaurant provides authentic Indonesian culinary delights. With local ingredients and authentic recipes and techniques. Lumbung means a storehouse where ancient people keep their rice grains. Now, Indonesia is a really large country and it is well reflected on its culinary wealth. The chefs in Lumbung Restaurant has the mastery to create more than five thousand different dishes from all over the archipelagic nation.
Padi Fine Dining serves a combination of eastern and western delicacies. This restaurant is known as one of the most remarkable dining venues in Ubud Bali with its 'Pescatarian' cuisine. Padi only serves ethical and healthful ingredients. They don't even serve meat or other land-based animal flesh. They do, however, offer delicious seafood and vegetable-based dishes.
The main restaurant of Desa Visesa Ubud is a Lesung restaurant. This is the place where you can enjoy the scrumptious buffet for breakfast, relaxing lunch, and a nice family dinner. This restaurant will let you enjoy some of the most popular and delicious Indonesian recipes. The ingredients are unique to Indonesia. There is also a unique Indonesian menu, from the appetizer to the dessert. However, you can also enjoy the international and children menu here.
Countryside Wedding Style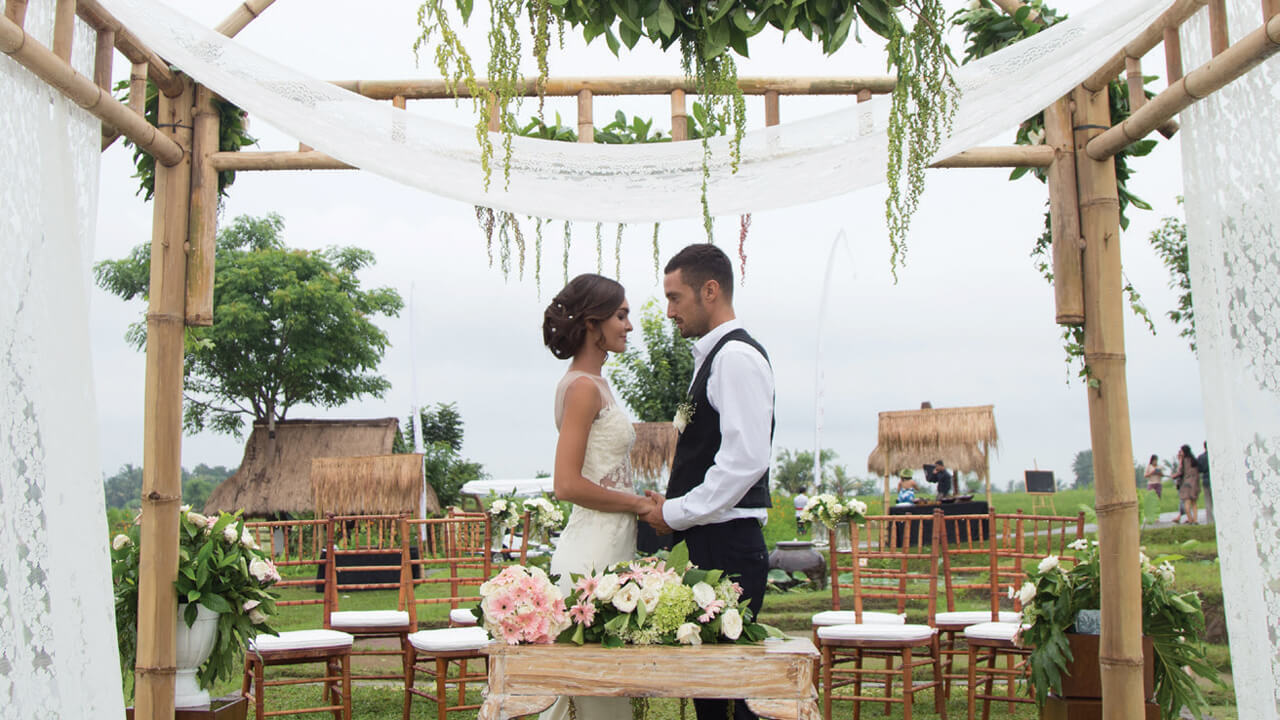 Desa Visesa Ubud, as with the Balinese, believes that marriage is an important rite of passage in life. Marriage is a unification of two families with the purpose of maintaining the balance in the society. Surely such an occasion is worth an extraordinary celebration.
Wedding in Desa Visesa Ubud means celebrating your holy matrimony in the midst of the beautiful Taman Sari area and its rice terraces. You can also do that at Pura Desa, a sacred temple by the river. And if you truly want to know the splendor of the Balinese royal wedding, you can have an actual Bali Palace as your wedding venue. And for a more simple and intimate wedding, you might choose the Kahiyang Chapel which sits nicely among Ubud's most beautiful greenery.
Desa Visesa Ubud offers several packages, from a very intimate wedding to a royal wedding at Ubud Royal Palace. The packages are Simply Blessing Package, Private Blessing Package, Elegant Blessing Package, Enchanted, Eternity, and Royal Intimate. The package starts from IDR 17,500,000  before tax.
Rejuvenate Yourself at the Spa and Wellness Desa Visesa Ubud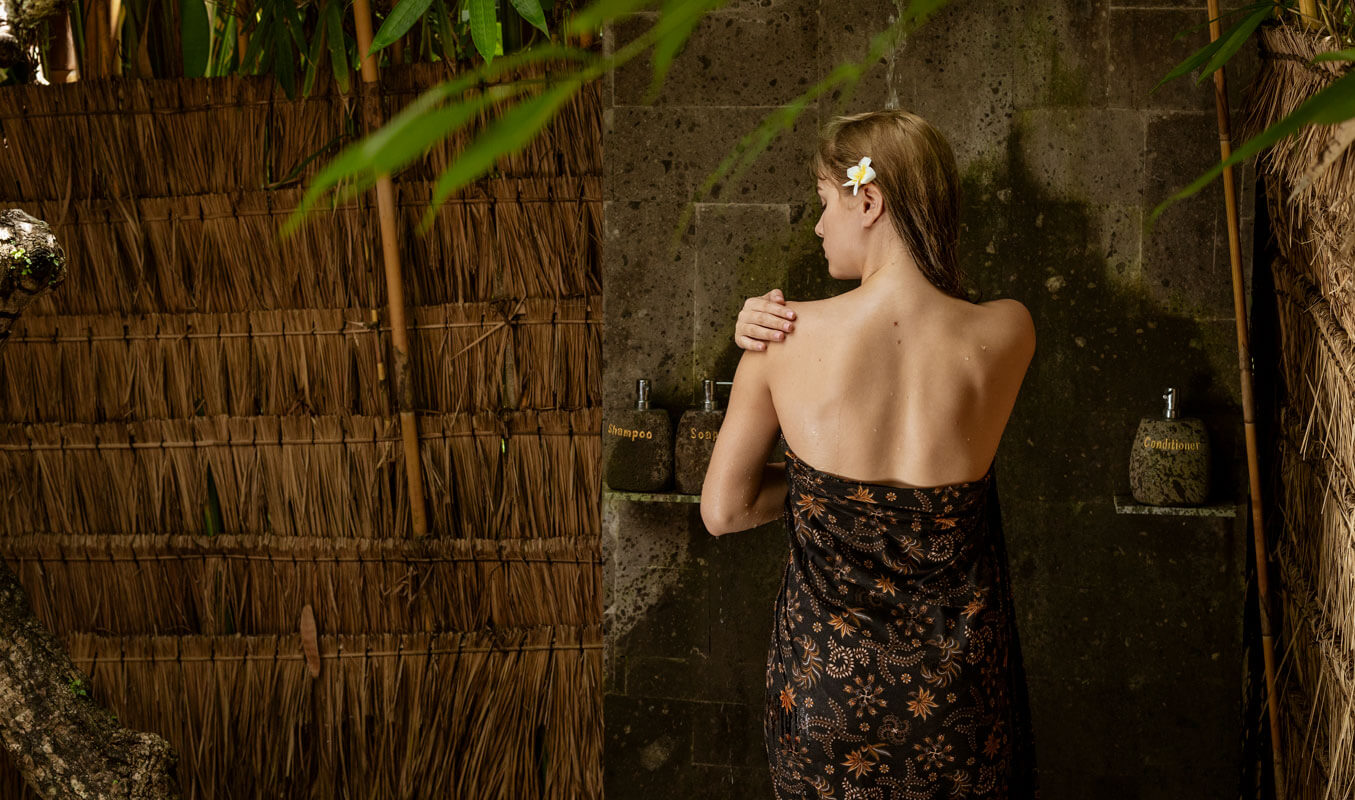 Visesa Spa is all about balancing body and mind to achieve a holistic healing experience. Right from the go, you will realize that this is a truly Balinese spa, with a lot of Balinese philosophy. Including Usadha principles; a traditional knowledge for curing ailments with the use of Ayurvedic medicinal plants, herbs, and spices.
You can enjoy the treatments in some unusual places; natural caves with jungle view,  bamboo pavilions, Loloh healthy bar, and Padukuhan. Each place offers different treatments. For example, you can indulge yourself in a treatment symbolizing five basic elements in the cave; Fire, Earth, Water, Air, and Space. Bamboo Pavilions are outdoor spa huts that let you enjoy the treatment while also immerse yourself in the resort's natural surroundings.
Meetings, Outings, and Leisure Activities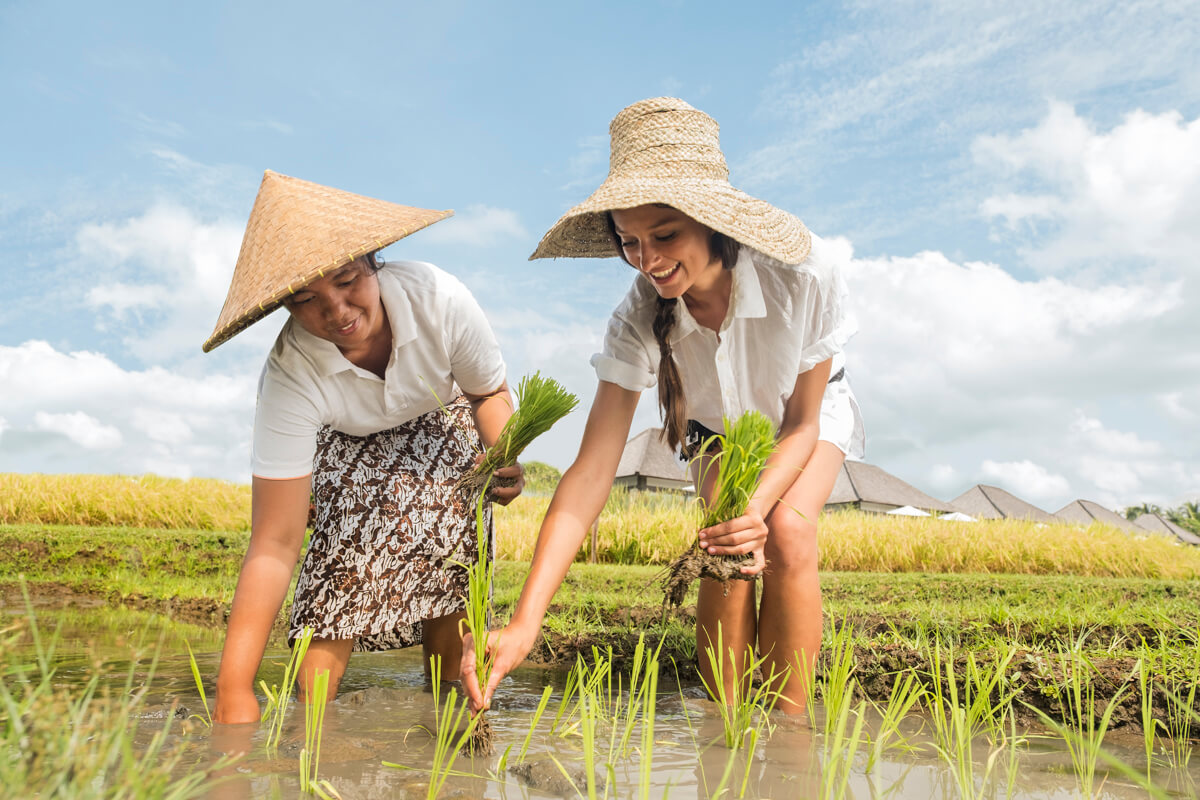 Desa Visesa Ubud is also a nice place for a small to a medium meeting. Whether a half-day or full-day meeting, you can do that all here. This Ubud Bali Hotels will prepare everything. Even when you need presenters, additional equipment, and team building programs, you can have them with additional costs.
For bonding activities, you can try their outing packages. It can be personalized according to your group's needs. Most activities will be in D'Kampoeng Ubud, so it will be fun and usually close to nature. You can enjoy traditional games and other activities that will reconnect you not only with your group but also with nature.
Activities for families are also abundant here. You can learn all bout Bali Permaculture (agricultural system that aim for sustainability and self-sufficiency. In this place, learn about the organic agriculture with only natural compost on this resort. You can also learn about Balinese daily ritual.
What's More? 
Parties2Weddings is the largest Australian based Wedding Packages Platform for couples to plan & book their dream destination wedding in Asia. We connect couples to over 40,000 vendors across Melbourne, Sydney, Queensland to Bali.
Planning to celebrate in Bali? – Check our amazing
Bali Wedding Packages &  Bali Experiences? Check our Amazing Deals & Options:
Parties2Weddings provides Wedding Concierge to help couples to browse fixed cost packages, shortlist the venues. and customize packages to meet special requirements. The professional team has great experiences that will help you to prepare for your big day.
Contact our Wedding Concierge, to help connect you to vendors for Photographers, DJ, Fireworks, Fire-dance, etc. Fill in the Quote request or Enquiry form here.