Honeymoon Ideas in Bali for Newlywed
You have your marriage vows, and now are officially newlyweds. After an exciting – and stressful – day leading to your wedding ceremony, it is time for you and your spouse to enjoy your honeymoon days with best Bali Honeymoon & Honeymoon Ideas. Whether you are having your wedding in Bali or only visiting this Best Honeymoon Destination. there is always a lot of Best Honeymoon Places to explore. Starting from, Bali outdoor activities, All-Inclusive honeymoon resorts, fun, romantic, adventurous activities, and many more. There is plenty of Bali honeymoon packages you can find in Bali. But if you want more freedom to choose yourself what you want to do, here are some Honeymoon Ideas you can try during your stay in Bali.
1. Honeymoon Ideas: Mountain climbing
It is adventurous, yet it can be romantic if you do this activity with your loved one. If you are a fan of mountain climbing, Mount Batur is the Best Honeymoon Destination to explore. Mount Batur is an active volcano with 13 km caldera lake, a perfect setting for your Bali Honeymoon.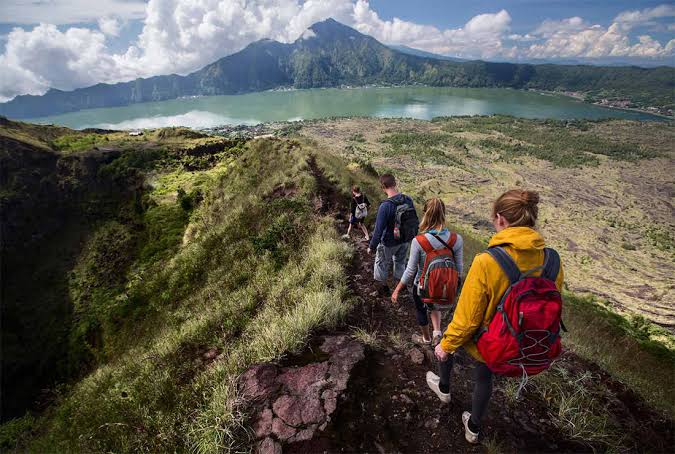 It usually takes around 2-3 hours to climb this mountain but of course, it depends on each person's fitness level. Although climbing a mountain is not an easy task, but you will be granted with a stunning view of sunrise at the top. Not only challenging but can be romantic as well. What else is more romantic than viewing a sunrise together on top of a mountain?
2. Best Honeymoon Destination: Climb to Peguyangan Waterfall
It is a thrilling journey to reach the beautiful Peguyangan Waterfall. Despite its name, Peguyangan Waterfall is actually a series of short cascading fountain springs. To reach the springs, you will have to walk through narrow stairs at the wall of a steep ravine.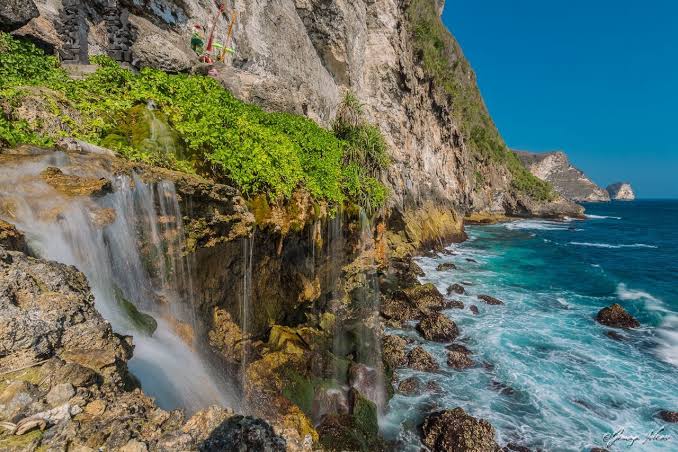 Despite the thrilling 460 steps of stairs, the surrounding views are so stunning that you will quickly forget that you are standing high by the ravine. Then, once you arrive, you can enjoy a dip in a shallow natural pool overlooking the ocean. You can also get a natural 'massage' by sitting under the waterfall and feel the waterfall to your body. What the Best Honeymoon Places!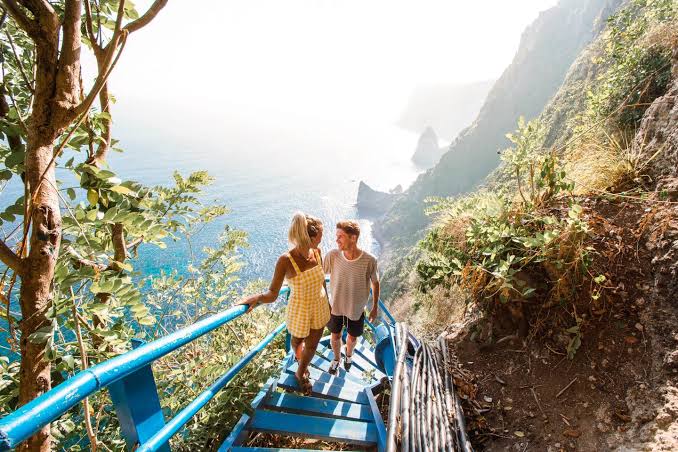 3. River Rafting, Take Your Bali Honeymoon to Another Level!
Another great adventurous activities you can try is river rafting. There are a few places in Bali that offer River Rafting, they are Ayung River which is close to Ubud, Telaga Waja in Karangasem, and Melangit River in Klungkung.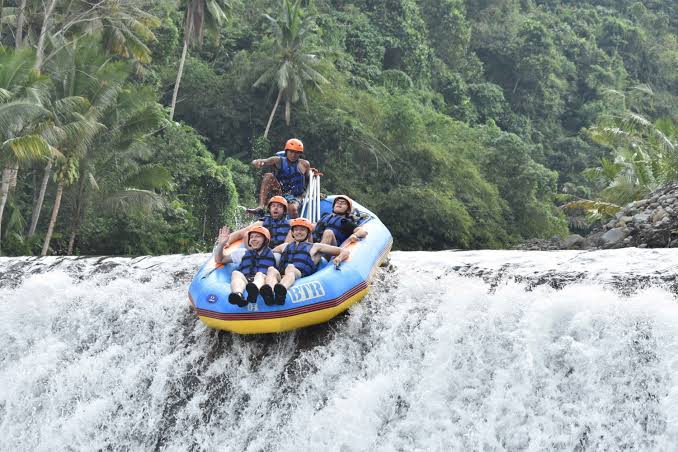 If you love the thrill of rafting, we recommend you to try rafting in Telaga Waja, Karangasem. It has a longer rafting route than the other two with 16 kilometers length. Not only it has a longer route, but the rapids are also more challenging.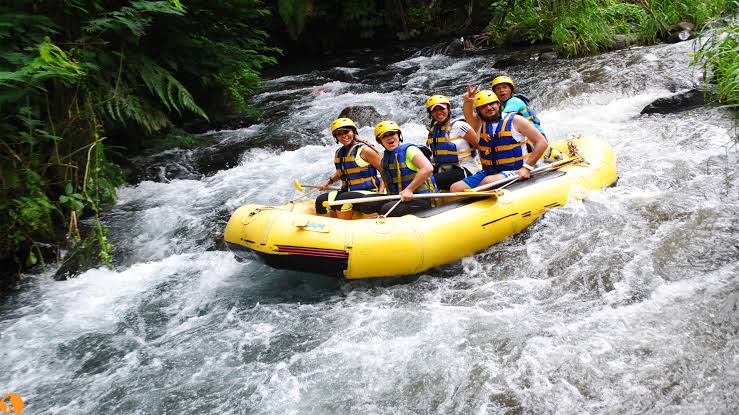 In addition to the challenging and aggressive rapids, it also has a 5-meter fall which certainly will make anyone scream. If you love adventures that much, that you definitely should try the Telaga Waja River Rafting.
4. Watching Stunning Sunsets, the Best Honeymoon Ideas Ever!
What is more romantic than watching stunning sunsets with your most loved person? There are plenty of Best Honeymoon Places in Bali to watch the beautiful sunset. If you love watching the sunset by the beach, then you can visit Tanah Lot Temple, Uluwatu Temple, Jimbaran Beach, Kuta Beach, and many other beaches in Bali.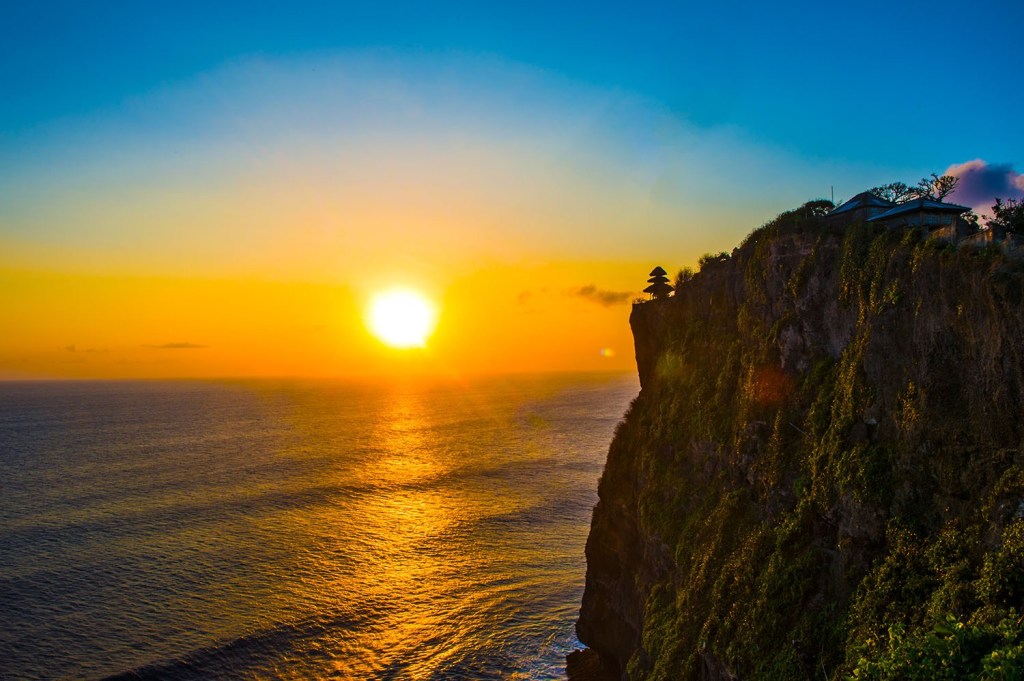 Uluwatu Temple also offers a stunning view of the sunset on top of a cliff with the vast ocean as the backdrop. Interestingly, Uluwatu Temple also holds Kecak dances at sunset, creating a wonderful and magical scenery.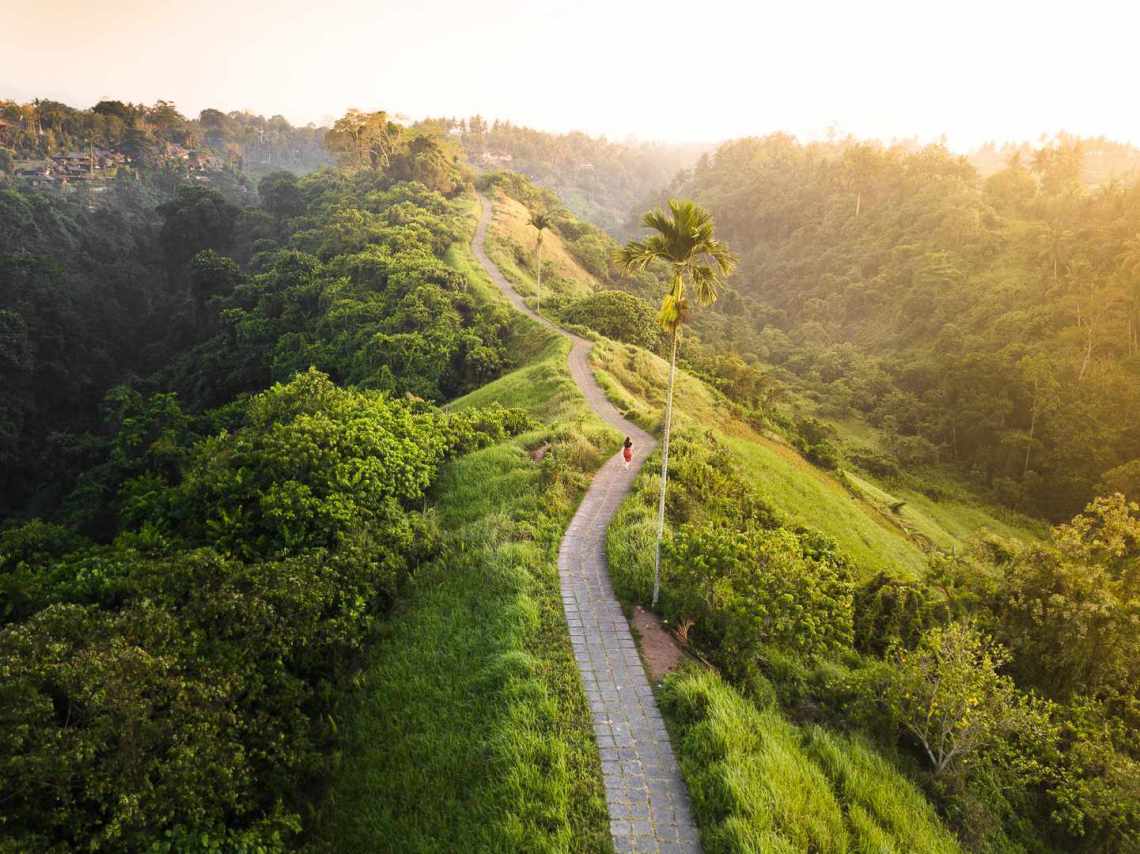 However, if you prefer to see the beautiful sunset on the hill, try going to Campuhan Ridge instead. It is a 2km walking track in Ubud, which is famous for the smooth path and mesmerizing lush scenery surrounding it.
5. End Your Adventurous Day With a Romantic Honeymoon Ideas by the Beach
Another romantic Honeymoon Ideas you should definitely try is having a romantic dinner with ocean views. Since Bali is famous for its stunning beaches, it is not really hard to find a beautiful restaurant by the beaches. Many of them also offer delicious meal courses as well.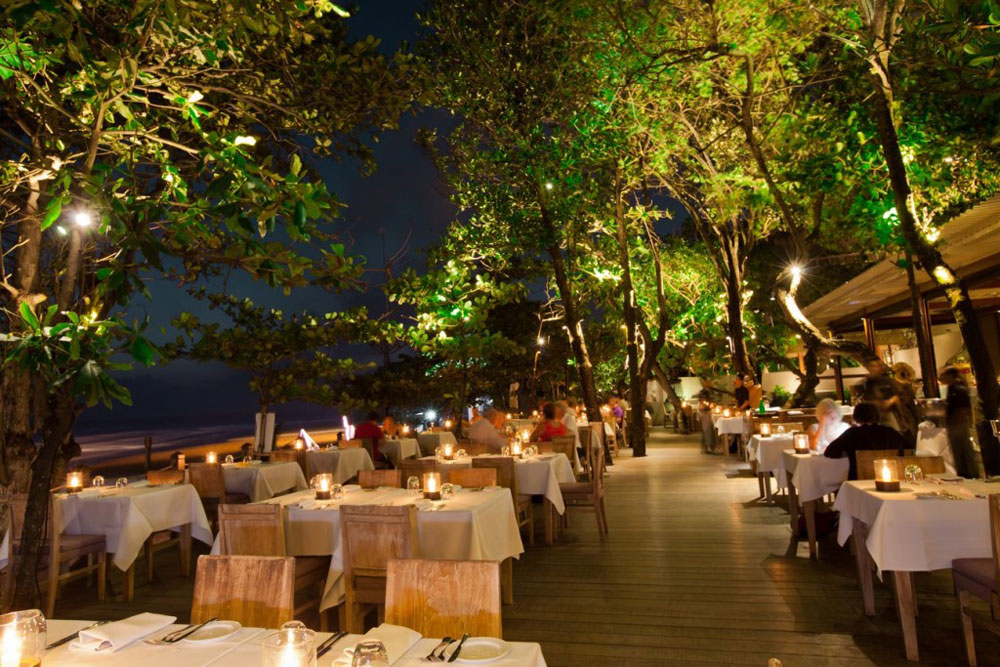 Try the Chez Gado Gado Restaurant, it is a fancy dining place by the beach where you can enjoy a delicious dinner while admiring the sunset. Despite being a fancy restaurant, it is relatively cheaper compared to other restaurants by the beach!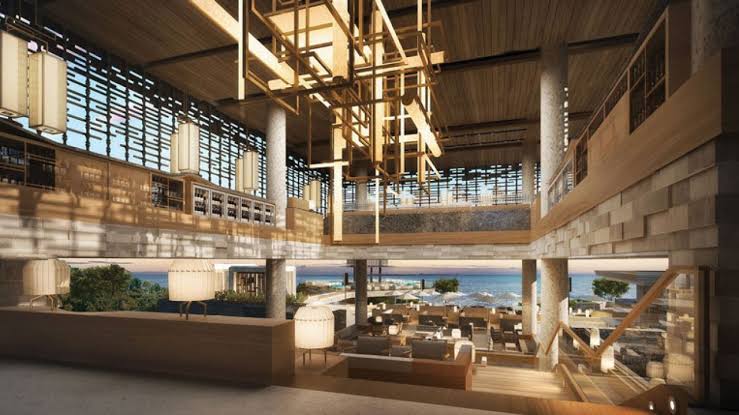 If you want to enjoy Japanese cuisine, Sake No Hana is also a recommended restaurant where you can enjoy the amazing view of the Indian Ocean. The restaurant is located on top of the cliff overlooking the ocean. Not only offers a wonderful view, but it also offers delicious and premium Japanese cuisine such as sushi, sashimi, and many more.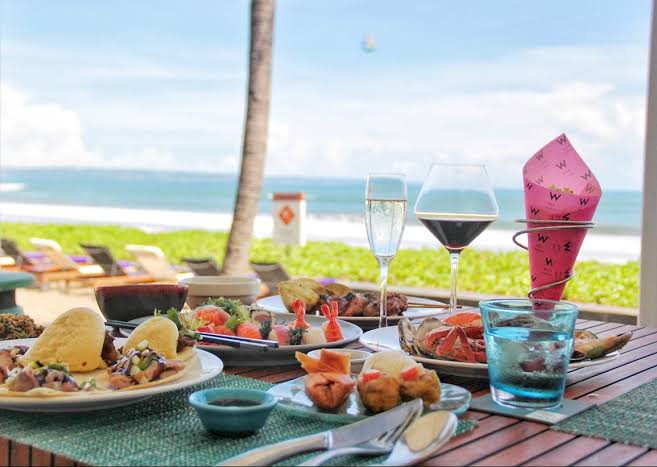 Or, you can enjoy delicious seafood by the beach at the Starfish Bloo in Jimbaran where it offers the freshest catch of the day. Enjoying mouth-watering seafood by the beach with your loved one will never be this wonderful!
Those are just a few examples of Bali honeymoon ideas you can try in this wonderful island. However, there are certainly a lot more adventurous activities you can try such as scuba diving, surfing, and many more. But if you want more relaxing holiday activities, Bali also offers plenty of tranquil and calming activities such as enjoying the spa or sitting by the beach while enjoying the view.
Whatever your choice of activity is, Bali is the Best Honeymoon Destination to visit!
What's More? 
Parties2Weddings is the largest Australian based Wedding Packages Platform for couples to plan & book their dream destination wedding in Asia. We connect couples to over 40,000 vendors across Melbourne, Sydney, Queensland to Bali.
Planning to celebrate in Bali? – Check our amazing
Bali Wedding Packages &  Bali Experiences? Check our Amazing Deals & Options:
Parties2Weddings provides Wedding Concierge to help couples to browse fixed cost packages, shortlist the venues. and customize packages to meet special requirements. The professional team has great experience will help you to prepare for your big day.
Contact our Wedding Concierge, to help connect you to vendors for Photographers, DJ, Fire works, Fire-dance etc. Fill in the Quote request/ Enquiry form here.