Home to paradisiacal beaches, thick with culture, spoon-feed culinary, a place you called Bali. Bali is widely known as the Island of Gods or you may once see it in the famous 'Eat, Pray, Love' movie starring Julia Roberts. All the goods make (we guess) mostly everyone in the world wants to visit Bali although once. If lucky, to get married here. True, the beauty of Bali makes some couples want to celebrate their wedding here. Who can resist exchanging vows with various options of views as the ocean, Beachfront Wedding Venue, or natural green in the world's eight most Instagrammable places? Or to spend a romantic honeymoon at Beachfront Hotels? We know you are now tempted too. So, convince yourself to pick your dream Beachfront Wedding Bali. 
The Legian Seminyak, Perfect Place to Enhance Your Beachfront Wedding Celebration
Among of thousand options of the Beachfront Wedding Venue, let's take a look at this one located in a famous area in Bali, Seminyak. Namely The Legian Resort, located on the known Seminyak beach shores. With modern architecture, swaying coconut palms, and beautiful sunset,  This Beachfront Hotels at The Legian will be the perfect place to enhance your Beachfront Wedding celebration. 
Promising the best, The Legian  Resort has so much to offer but to convince you, here are three things you will get:: 
1. Truly Experience for your Beachfront Wedding Bali 
Bali is very thick with culture, you may see it around. There are a lot of ceremonies, festivals and rituals happening anytime you go to Bali. Indeed they are very appreciative of the ancestor, nature, and blessing. For example, in most of all ceremonies or festivals in Bali, you can easily find penjor. It is a sign made of bamboo, decorated with coconut leaves with some offering at the base. It is not merely a decoration but how the Balinese show gratitude to God. 
This one you can get into your Beachfront Wedding Bali because why wouldn't you have a bit of Balinese touch in your wedding celebration? You can still have your nuptials run as modern as it can be, or make it contemporary by having a touch of Balinese culture in it. 
2. Own Your Beachfront Wedding 
Do you ever imagine how it feels to have a beach on your own? It feels special. To have it on your wedding day? It will be super special. This is another thing The Legian offers to perfect your day. The Legian is located very close to Seminyak Beach, then you can have your Beachfront Wedding Venue.
Green grass will be placed as a base for your aisle and guest's seats. You will walk along with white or colorful flower petals. You may also have the first kiss with the ocean, swaying coconut palms, and murmured sea waves behind you. Such a dream wedding at the Beachfront Hotels The Legian can make it come true. 
3.Best and Dedicated Hand to Help
Trust is not cheap, it can't be done carelessly. But it's nothing you have to worry about when you have The Legian events team. Anything can happen when you do a good collaboration. Do you want to use The Legian popular wedding package? Cool. You have another thing in mind and want to custom the wedding as you want? Great! All you can have with the help of the best and dedicated hand of The Legian. 
Here are three best packages you may choose in The Legian : 
1. Beachfront Wedding Venue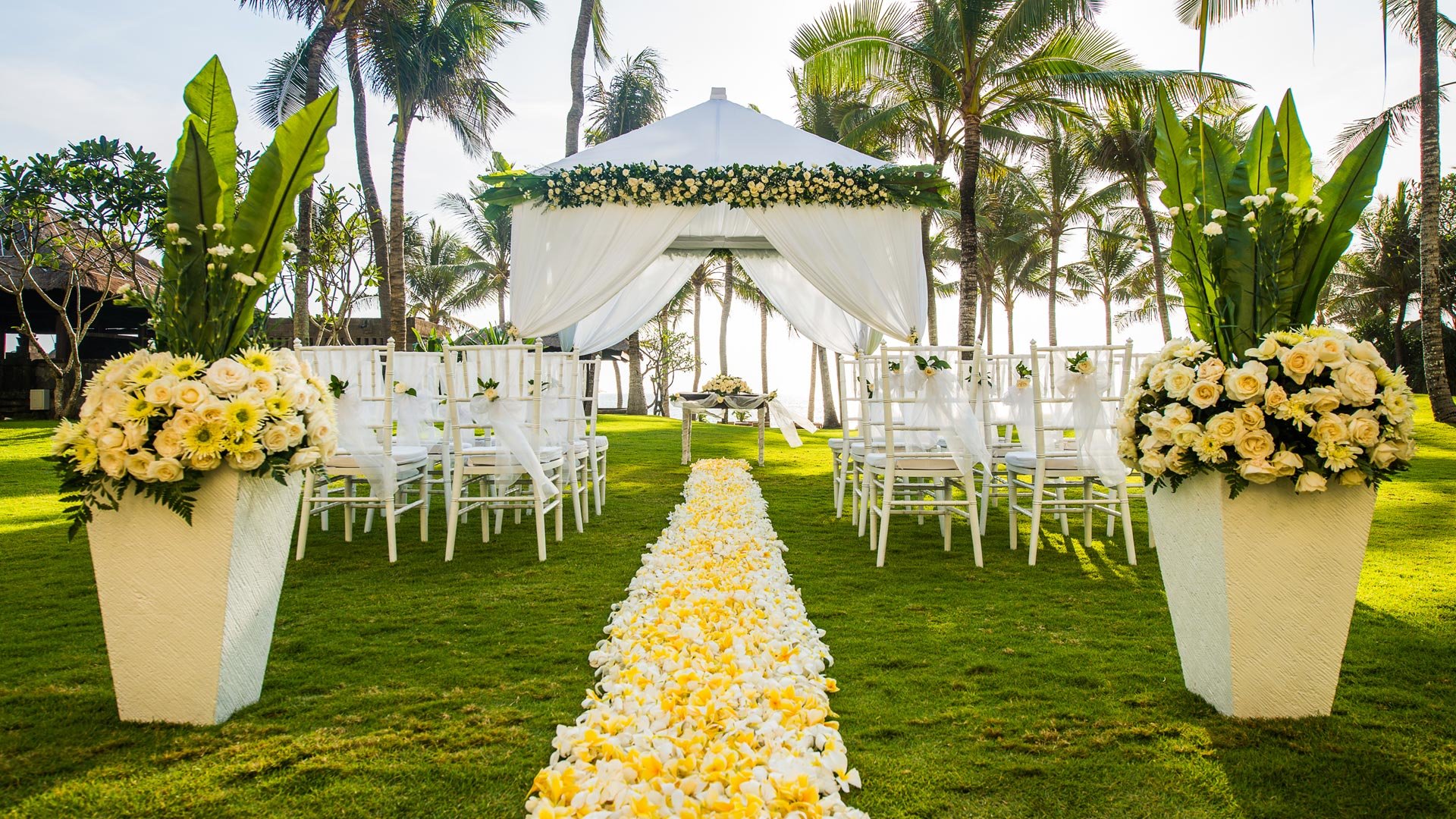 A classic Beachfront Wedding package to have when you choose Bali as your wedding destination and venue. Famous for its beaches, it is totally right to have a Beachfront Wedding Bali. As we repeatedly said before, The Legian is located in Seminyak so you will enjoy Seminyak Beach to your heart's content during the wedding celebration.  
Balinese Gong will welcome your coming, two large flower arrangements will be on the entrance side of your walkway. You will walk in loose flower petals to your altar, live Balinese Rindik music will be played during the ceremony. Your guests will be filled by happy tears as you walk in your best wedding dress and frangipani bouquet by The Legian.
2. Beachfront Wedding Venue at The Beach House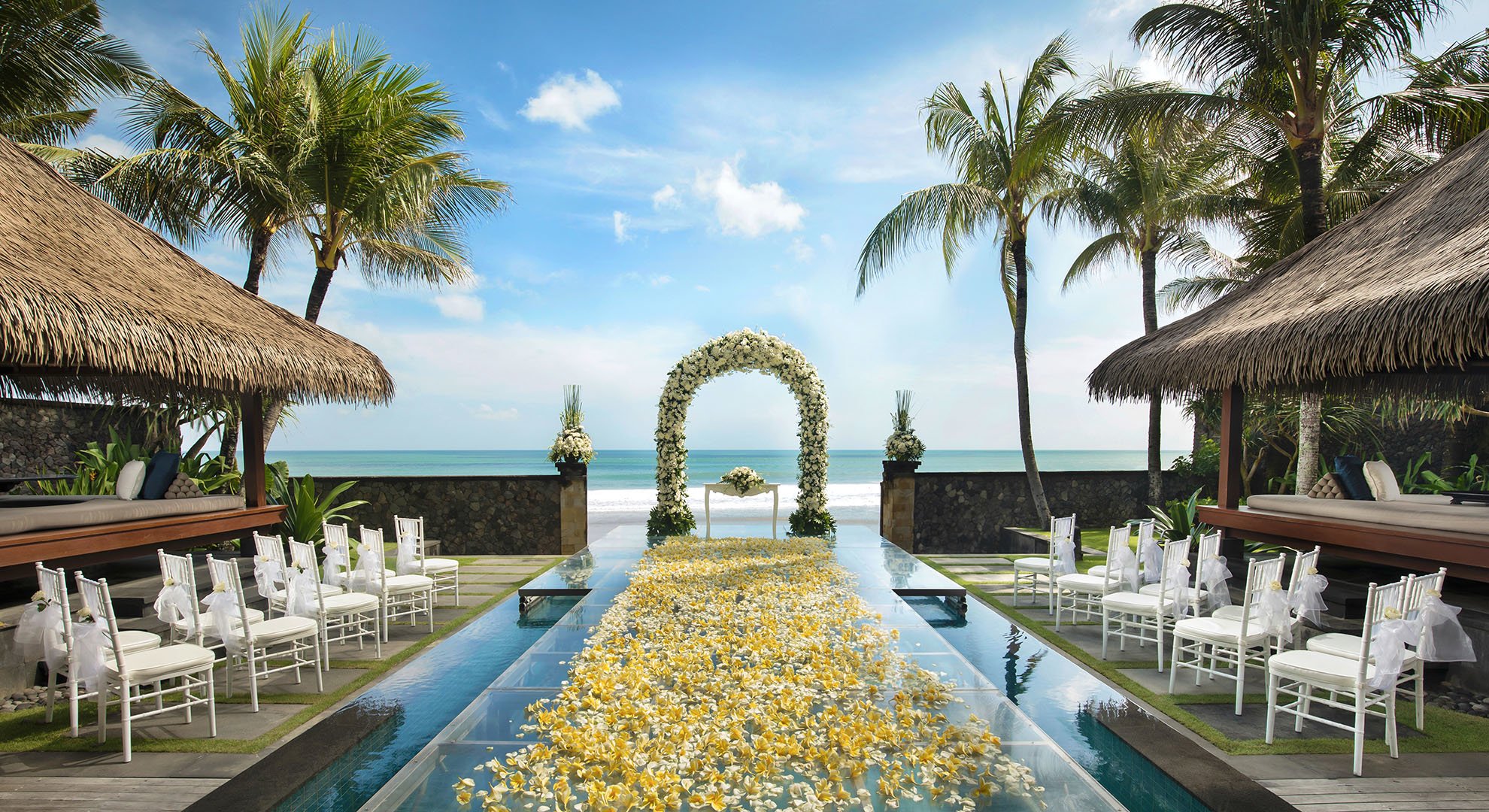 Still, with the beautiful view of the Indian Ocean, nearby Seminyak Beach is the location for a water wedding by Beachfront Hotels at The Legian. What makes it different is The Beach House will be your venue. It is the perfect place to bring the ultimate privacy for a stay or special event. It is a three-bedroom villa in a walled tropical garden setting with unlimited access to Seminyak Beach. The 16-meter infinity pool is perfect for chilling or for your wedding venue. 
Not much different from the Beachfront Wedding package, the ultimate intimate experience also you can have in this package. But you get some extras such as legal and religious wedding ceremonies with Christian priest and marriage certificate, 2 Balinese flower girls, and 2 night stay in The Beach House with club benefits for 6 people (max). 
These two package options are not enough for your dream wedding? No worry, you can still tailor and custom your wedding with the help of a dedicated team from The Legian. To make the best as you want, to make the day as memorable as you wish. 
What's More? 
Parties2Weddings is the largest Australian based Wedding Packages Platform for couples to plan & book their dream destination wedding in Asia. We connect couples to over 40,000 vendors across Melbourne, Sydney, Queensland to Bali.
Planning to celebrate in Bali? – Check our amazing
Bali Wedding Packages &  Bali Experiences? Check our Amazing Deals & Options:
Parties2Weddings provides Wedding Concierge to help couples to browse fixed cost packages, shortlist the venues. and customize packages to meet special requirements. The professional team has great experiences will help you to prepare for your big day.
Contact our Wedding Concierge, to help connect you to vendors for Photographers, DJ, Fireworks, Fire-dance, etc. Fill in the Quote request or Enquiry form here.