The classic wedding vows are too boring for you? You can write your vows and include some personal points in it. A customised vow will touch your partner and the guests. So, the event will be unforgettable for everyone celebrating it with you. However, creating the text can be overwhelming. There is so much thing to say, but you do not know how to say it nicely. Therefore, we are here for you. We worked on some tips on writing your vows.
List What Comes in Your Mind
Note what you will include in your wedding vows, such as your promise to be with your spouse during the ups and downs, the three magical words, and some personal stories. Then, in the story part, you can write about the journey, starting with how you first met, the similarities that unite you, some romantic moments until what you expect on your marriage. Next, when you have all the ideas mapped in front of you, you need to re-arrange them.
Civil Celebrant – Parties2Weddings
Keep the Wedding Vows Short and Simple
After you gather all the ideas and put them in order, simplify them. Avoid too-long sentences because they will make your audience lost. Simple words and sentences are the keys of easy-to-follow story. Then, keep your vows short with a maximum of 3 minutes. Longer than 3 minutes, people will lose the magnets of your text. Make sure to let your officiant know about your customized vows, so he can merge in the story and tell it in such an engaging way.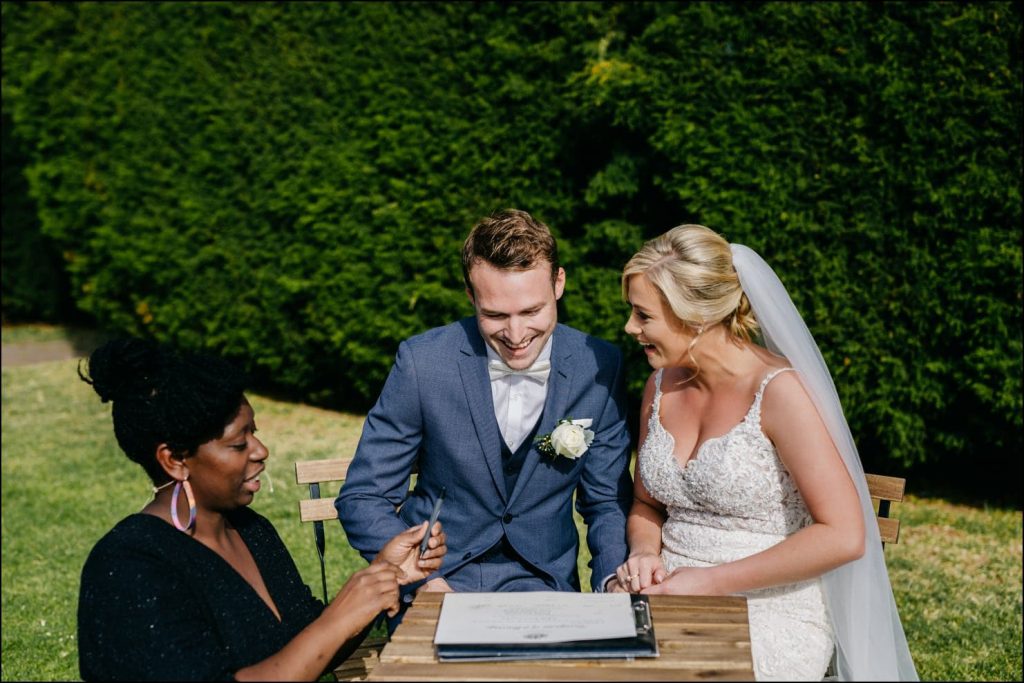 The British Celebrant – Melbourne – Parties2Weddings
Find Some Inspirations in Books, Movies, and Songs
Maybe you both like Sherlock Holmes, then you can write a vow based on it; for example, to tell how you both solve the issues like Holmes and dr. Watson. Alternatively, you can make it engaging from different angles. You can also quote some songs or some movie dialogues to be put in the text of your wedding vows. From there, you can explain why the quote means so much for you related to your relationship. There is always something in books, movies, and songs. In addition to it, you can find inspirations from the quotes you find on the internet.  
Do Long Before the Day
The wedding preparation will be tougher day by day. It will take much of your time and energy. Writing vows close to your day will give you unnecessary pressure. Therefore, start writing as early as possible. You can start on the day when you decide your wedding date. It will not take long to finish it, maybe a day or a week. Along the way, you can rehearse and edit it to be more interesting. In brief, the earlier you start writing your vow, the less stress you put on yourself.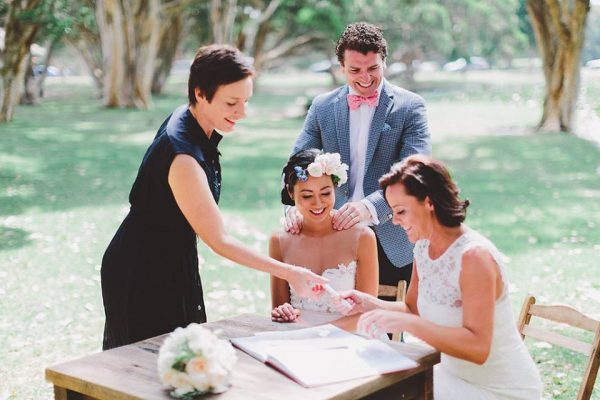 Jessie Cacchillo-Sydney Marriage Celebrant – Parties2Weddings
Ask Your Best Friend's Opinion about Your Wedding Vows
After you create your draft, read it in front of your trusted friend. See what she thinks about it. If she knows your love story from the beginning, it will be easier for you. She might have some feedback on what to add or how to read it. Moreover, she can also notice what you miss on the vows, maybe you miss the word "I love you" or some parts of the promise.
Practice Reading The Wedding Vows Out Loud
Practice to read it out loud to know exactly how many minutes you need for the wedding vows and if you need to shorten it or not. Do you need to find the right tone for the text before you share it to the officiant? Do you need him to read it slowly or energetically? You can also read it by yourself on the altar if you want to. Practising might be a little awkward. Nevertheless, you should continue doing it to make it flawless on the altar. Do not forget to find a hidden place to practice, so your partner will not hear you. Make it a surprise.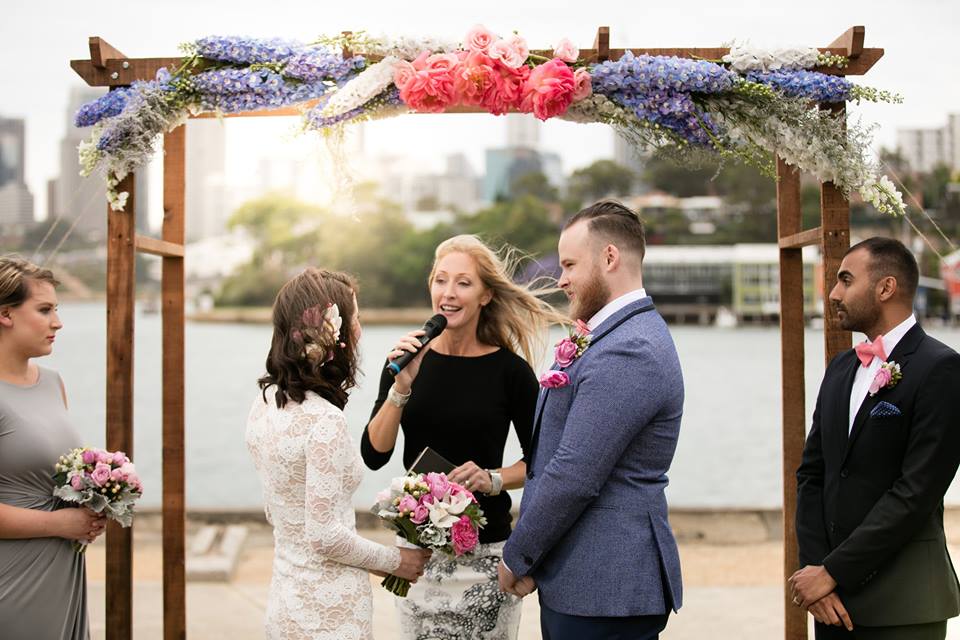 Tara Rennie-Sydney Marriage Celebrant – Parties2Weddings
Make a Copy for Yourself
You need to prepare yourself a clean copy to be kept until the day. In case your hands were sweating, or you spill out water on the vow during the rehearsal, you will still have a readable copy. It might sound cliché. However, if you bring your text with you to practice, it might be accidentally folded and difficult to read.
In conclusion, although writing your wedding vows will need a dedicated time, it is worth it. You can put a personal story to the text to make it more meaningful for you, your partner, and your audience. Start writing as early as possible. The soon you finish the writing, the less stress you have. If you need any help, you can ask your trusted friend or maybe the officiant. It is your wedding, your special day, so do it your way. Make it memorable for you and your partner.
Planning to celebrate in Bali?
Check our amazing Bali Wedding Packages &  Bali Experiences? Check our Amazing Deals & Options:
Parties2Weddings provides Wedding Concierge to help couples to browse fixed cost packages, shortlist the venues. and customize packages to meet special requirements. Above all, the professional team has great experience will help you to prepare for your big day.
Contact our Wedding Concierge, to help connect you to vendors for Photographers, DJ, Fireworks, Fire-dance,  then, fill in the Quote request/ Enquiry form here.