The Best Instagenic Villas in Bali to Celebrate Your 40th Birthday with Your Family
When you are in Bali, you want to do and celebrate everything. After all, people say that everything is better when done in Bali. Celebrating your birthday surely one of them, especially if it is a very special landmark like your fourth decade on the Earth. Occasions like that deserve a banging celebration, especially when you are in Bali.
Don't worry, you can have a wonderful party even though you are with your extended family. There are many establishments that will help you set your party so everyone can have a great time. One of the most popular is by renting a private villa for the whole family. There are several wonderful villas for this purpose, here are some of them.
Villa Kalimaya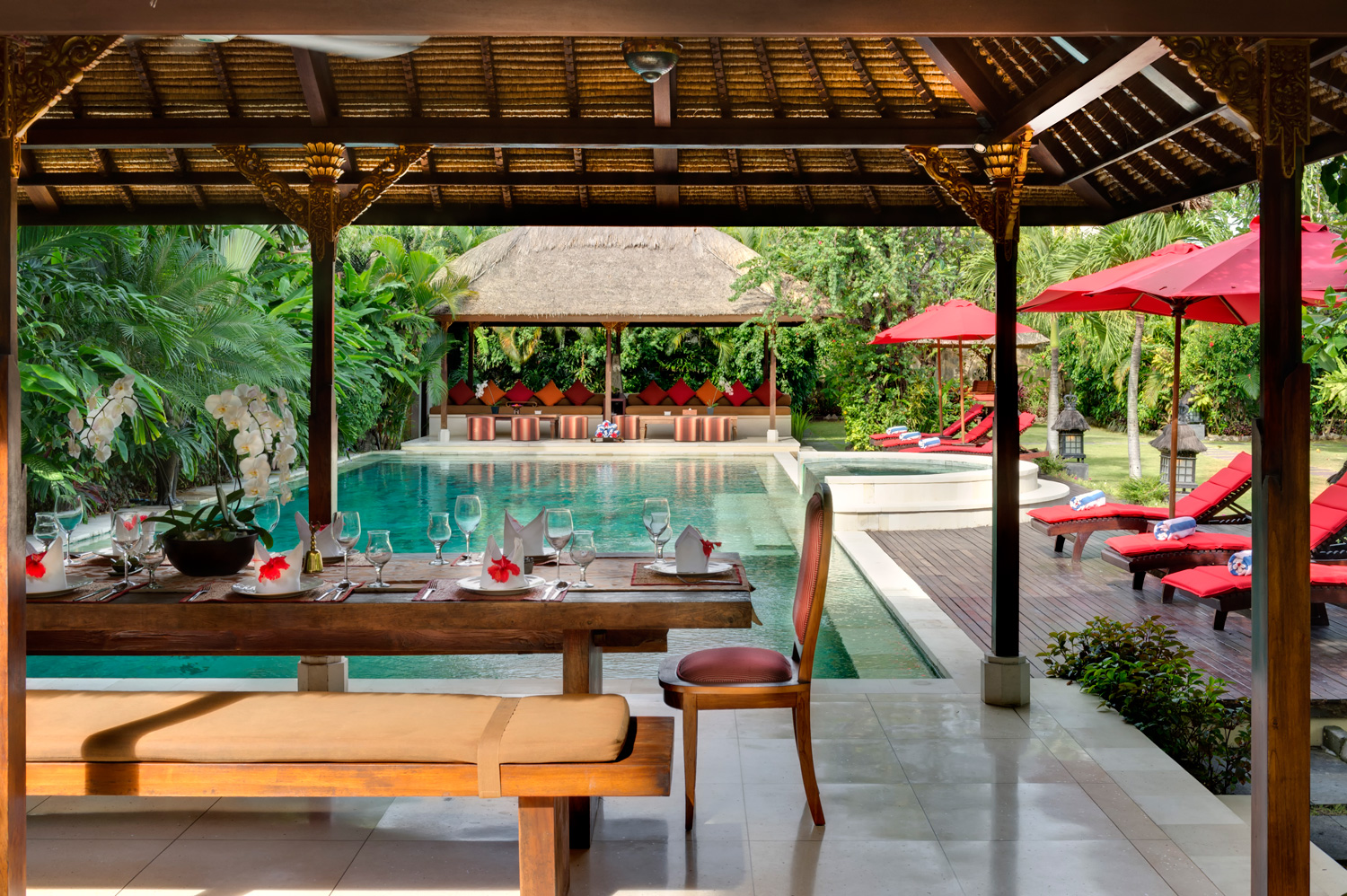 The first thing you'd want from a villa that you will sue for a family party is that it has ample space. Villa Kalimaya does provide that in abundance. You can find lots of indoor and outdoor space in this establishment. This is really the best villa for a grand gathering of a big family. This villa is truly a fresh and silent oasis in the crowded area of Bali.
Located at the heart of Seminyak, you can be sure that Villa Kalimaya is as posh as its neighbors. Tucked away in the sanctuary of a peaceful lane it also offers round the clock security. These beautifully appointed individual private villas can be rented in any combination from two to 12 bedrooms. Inside, you can find rare features like Jacuzzi, in-villa bar, and infrared sauna. They are also just a walking distance away from Bali's most popular beach clubs, bars, and shopping centers.
Address: Pandu No. 20 B, Gg. Bugis, Seminyak.
The Iman Villa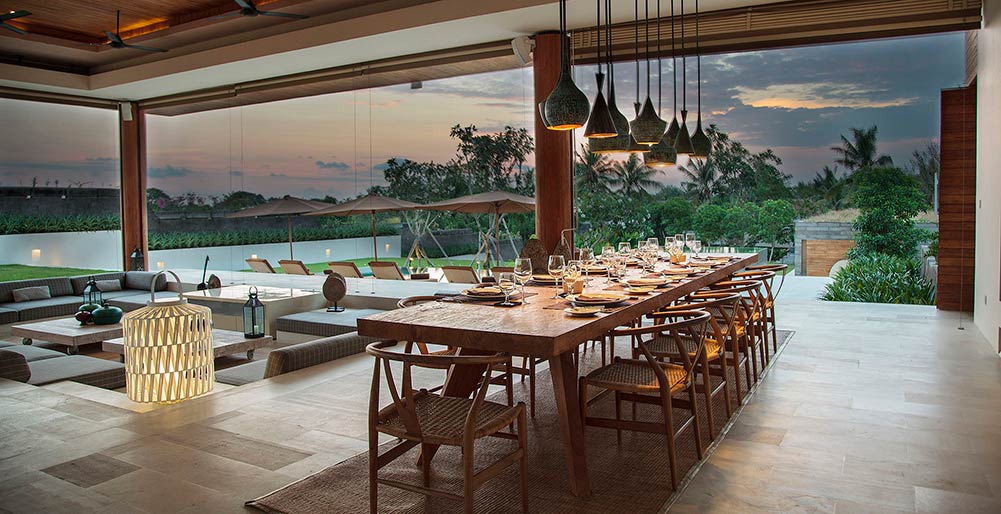 Boasting modern and chic design, this villa shows its cutting edge features that you can't find in most villas in Bali. The Iman Villa includes lots of family-friendly features such as a kids' wading pool, toys, and games.  The well-cared lawns, neatly terraced to make it look like the rice fields nearby. It is also a great venue for weddings and events, including birthday parties. The in-house butler will be happy to serve cocktails and canapés, while the chef will prepare a great dinner.
As for your stay, your family will enjoy the privacy provided by accommodation spread between two buildings. The main house has three bedrooms and a guest kitchen. There are also two-bedroomed guesthouses with a cozy living and dining area with a small kitchen. This is a perfect place for those who are looking for a quiet retreat while being close enough to Seminyak.
Address: Gang Hawaii Banjar Tiying Tutul, Pererenan, Mengwi, Badung.
Villa Asante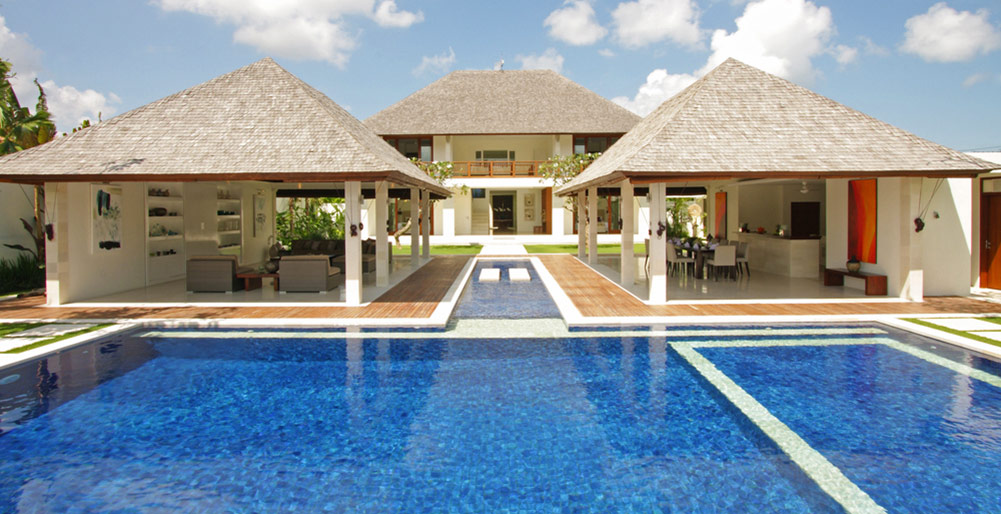 Located only 300 meters away from the famous surf break and Echo Beach, Villa Asante is a four-bedroom villa which is the quintessence of elegant contemporary Balinese living. Surrounded by gardens and trees, you'd love its impeccable symmetrical design. This villa is designed by renowned international architect Ross Franklin. The interior is designed by Dean Kempnich. The result is a combination of beauty and comfort.
Villa Asante is also a perfect place for families, the villa goes a long way to appease the children visitors. The kids can play in the pool, play table tennis or PS3, or watching movies. As for parties, this villa is has a lot of space to spare. Whether you want to have indoor or outdoor parties, you can do it all here.
Address: Jalan Pantai Batu Mejan Padang Linjong Echo Beach, Canggu, Kecamatan Kuta Utara.
Villa Sayang d'Amour

This six-bedroom luxury villa is everything you'd ever need for a family gathering and intimate party. It is friendly toward all family members. It is as if this villa is designed for a sunny, fun family gathering. Situated in the heart of posh district Seminyak, you can easily get to Bali's most popular bars, clubs, and shopping centers from this villa. Despite all that, Villa Sayang d'Amour also provides highly private accommodation for a more intimate gathering.
Marvel in the Moroccan-inspired interiors and architecture that is mixed with the French owners' sense of panache and style. Villa Sayang d'Amours also features a world-class gourmet kitchen with custom-made fittings and imported appliances from France. You can even ask for personalized meals.
Address: Jalan Petitenget, Gang Komplek Villa Kendal 88, Seminyak.
Villa Kalyani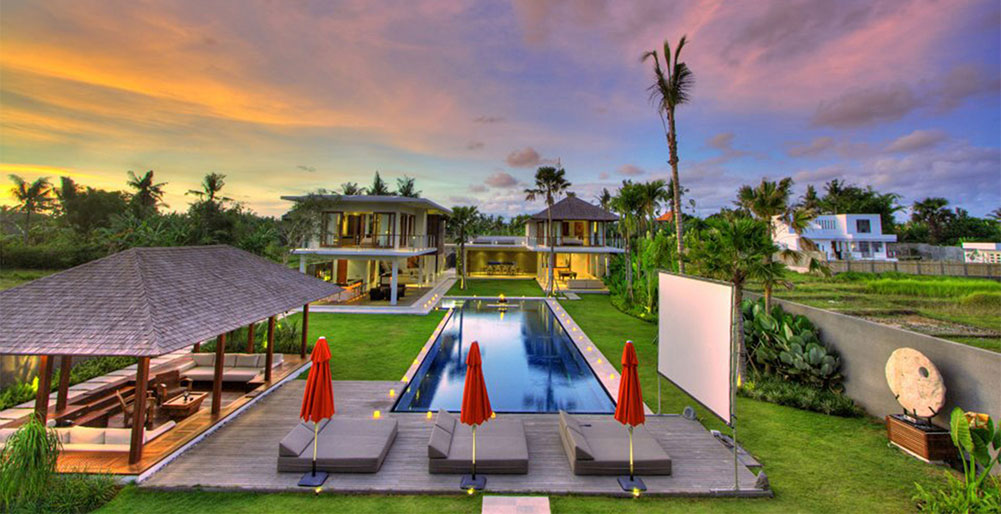 Whoever you are, wherever you come from, whatever inclination you'd want from your accommodation, Bali certainly has them all. But for the family party, you'd definitely want to consider Villa Kalyani. For one, it has its own purpose-built dance floor, formal dining room, two bars, gourmet chef, and indoor/outdoor movie theatres. It's like all you'd ever need for a family gathering.
Aside from five luxurious ensuite bedrooms, Villa Kalyani has so many relaxation areas. Enjoy the day at the sunbed by the pool. If you can bring yourself out of this villa, you'll find that there are many great cafes, bars, and beach clubs nearby. Surely this is one of the best places to stay with your family.
Address: Canggu, North Kuta.
Sungai Tinggi Beach Villa
This six-bedroom villa is situated on the shores of a pristine black-sand beach, in the lovely rural Pererenan village, on Bali's southwest coast. Overall, Sungai Tinggi Beach Villa has a main four-bedroom villa and a secluded two-bedroom riverside guesthouse offering six bedrooms in total. Apart from that, it also has open-sided living and dining pavilion, lush green gardens, and an 18-meter infinity pool.
With direct access to the beach, you can also find a small lagoon nearby, where the river meets the sea. This villa alone has 100 meters of beach frontage. With all those spaces and beauty, Sungai Tinggi Beach Villa is a great place to have your 40th birthday party with your family. On its own, this villa has a lovely ambiance, with strong hints of Balinese culture. You can see that from many local materials that are being used to build this villa.
Address: Jalan Pantai Pererenan Banjar Pengembungan, Pererenan, Mengwi.