Best Places to Visit in Bali with your Little Family
Welcome to Best Places to Visit in Bali with your Little Family.
Let's admit it; traveling is so much easier when you are alone or with your loved one only. You have the ultimate freedom to explore any destination that you fancy. You don't even need any plan and just go wherever you like. But if you already have a small family, traveling could be a little bit complicated. Not only do you have to find a destination that you like, but it also has to satisfy the little ones.
Fortunately, if you're heading to Bali for your holiday with your little family, there are lots of great options you can take. Bali even cater to any trait of children; sporty, artistic, adventurous, and crafty children can all have their fun on this magical island. You can even leave your little ones to have fun with other children at many kid club should you ever need to go without them.
However, if your priority is to find the best places in Bali to visit with your little family, then the destination has to fit everyone. Fret not, Bali has lots of them. It will then depend on your family's preference. For starters, you can check these places.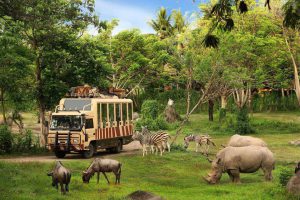 Go on a Safari tour in Bali
Bali actually has so many wonderful places to visit when it comes to interacting with animals. You can watch wild yet friendly dolphins in Lovina Beach on the northern coast, visit Ubud's Monkey Forest, meet unique birds at the Bali Bird Park, encounter wild deer in their habitat on Menjangan Island, and still many more.
For comprehensively exciting animal encounters, though, nothing beats a safari-inspired ride in a wildlife park. You'll get to see thousands of animals from all around the world roaming freely at Bali Safari & Marine Park. Some of the most exotic animals in the world such as Komodo dragon, lions, rhinoceros, zebras, giraffes, and many more call this park their home now.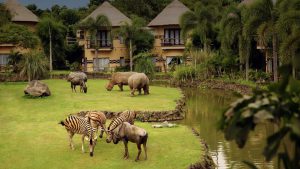 Your kid will be excited to see those wild beasts within the safety of a modern safari bus. They can learn a lot from this tour as the park is also an educational one. In a way, this is like exploring the world via its animals. And if you want to be close with the animal still, you can stay on the onsite lodgings. Zebras and giraffes my pay a surprise visit via your backyard in the morning.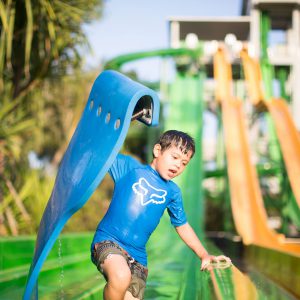 Splashing fun on waterparks
Children love water; that much is known. On a bright sunny day in Bali, take your whole family to have fun in one of many waterparks on this island. Most waterparks are located in the touristy areas of Bali, so usually you wouldn't have to travel far from your hotel to get there.
One of the most popular waterparks in Bali is the Waterbom. Located in the Kuta area, this waterpark is highly accessible from all popular tourism hotspots in Bali. For adventurous souls, there are lots of extreme watery rides to try. Pump your adrenaline on thrilling slides such as Boomerang, Double Twists, Green Vipers, Climax, or Pipelines.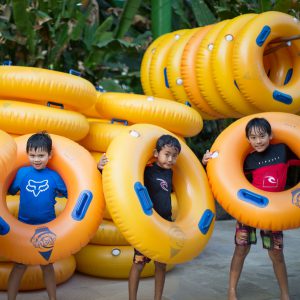 Fun slides such as Superbowl and Python are also available, best enjoyed with friends. And if you come with small children, you can relax and float with them on the Lazy River. Let your kids enjoy themselves in the Funtastic area that is designed specifically for small children. You can also try surf on the artificial waves at Flow Rider or get catapulted nine meters to the sky on Euro Bungy.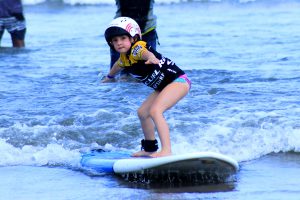 Learn to tame the waves at surf schools
Bali rose to prominence mostly due to its idyllic surfing spots. Decades ago, many tourists from Australia found Bali to be beautiful and peaceful yet has lots of great rolls and surf breaks. That reputation catapulted Bali's popularity worldwide so it becomes what it is now. You can still find those glorious surf spots.
And if you have never surfed before in your life, worry not, Bali has many surf schools that you can enroll yourself and your family in. One of the most popular surf schools is the Rip Curl School of Surf. It has two schools located in Legian and Sanur, both offering a comprehensive list of courses. Not only 'traditional' surfing, but also foil, kite surfing, wakeboarding, stand up paddling, diving, and many more.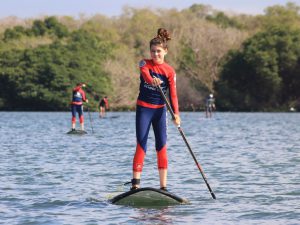 Their classes are available for everyone, from the very beginner to instructors looking for their certifications. At this school, you will learn directly at Bali's best locations, guided by experienced instructors. Even your kids will enjoy the courses here.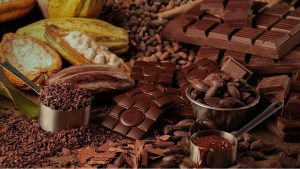 Art, Craft, and Cooking
There are lots of ways to make your children busy in Bali. Depending on your children's preferences, you might want to enroll them in one of so many courses in Bali. Let your kids try their hands in crafting items and learn silversmithing at Canggu Jewelry Classes or making ceramic wares at Sari Api. For artistic souls, get them into classes of Balinese Dancing at Desa Seni, learn music at Ensiklomusika, or Balinese Culture Workshop where they can learn all about Bali culture.
For kids who love cooking, they can express themselves while enjoying a cooking class at Cubby Kids Club. The cooking class here is educational, fun, and definitely scrumptious. And yet, for a more magical experience, your kids can learn all about chocolate in Pod Chocolate.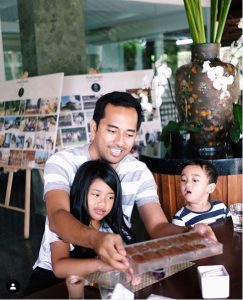 Pod is a comprehensive chocolate producer, making its world-class chocolate form locally grown beans with a sustainable business model that empowers local farmers. You and your little ones can try Fresh Chocolate Making where you can mold your very own chocolate bar. You can even make them your personal souvenirs from Bali.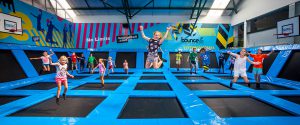 Exciting adventures
For adventurous children, Bali has a lot to offer. Explore the green tropical heaven that is Ubud. You can see the beautiful rice terraces and the forests nearby. If you are brave enough, you can even try the sky swing that will get you so high, great for your Instagram feeds. Outdoor activities also include paintballing if your kids are at least 12 years old.
You and your kids will also have fun at TreeTop Adventure Park where that can crawl, climb, and scramble on the actual forest. This can be challenging, even for an adult. But kids will definitely have fun trying to find their way to move from one tree to another.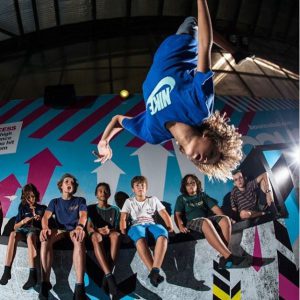 During the rainy days, you can still have a lot of fun in many indoor arenas. Your little ones will love jumping around in Bounce Bali, an air-conditioned indoor trampoline facility. They even provide some jumping classes here. The best part is, you can join the fun too.