Wedding celebration should be one of the best moments in everyone's life. This moment should be special because this event everyone wishes to only have once in a lifetime. That is why, pick all the best wedding preparation out of the best such as wedding venue, catering, wedding dresses, wedding photography vendors, etc. 
There are countless types of wedding venue available in the world, usually you can have it in the hall, park, hotel, house of worship, beach side, and many other unique places. So what's the best to pick? Let's talk about the dreamy wedding destination first. Bali is the latest desired wedding destination, either by Indonesian locals or foreigners. We really have no doubt about it since Bali is truly a dreamy, magical and picturesque destination. It is the island of Gods, people commonly say. This place is rich in natural beauty, great food and culture, the island offers so much. To have your wedding celebration here will feel like another blessing. 
Now, what's the best wedding venue in Bali you should pick? Among probably thousands option you can find, we recommend one of the best. It is in Karma Kandara. Here you can have the best dreamy and utopian wedding venue in Bali. What's that? Let's figure it out. 
Offer the Best Location in Bali
Bali is probably named as one of the best wedding destinations in the world, but where in Bali will you have the best wedding location? Uluwatu can be the answer. Uluwatu means the lands end and rock, that's why it is famous for its cliff. So many great places in Uluwatu area located on the cliff. It offers the view of Indian Ocean and the mesmerizing beauty of sunsets. Imagine having it in your special day? To have wedding celebration on the cliff will actually scale up the experience. 
Karma Kandara is one of the best places that offers this experience at its best. It is located in oceanside cliff and near the popular attractions in Uluwatu such as Garuda Wisnu Kencana and Pura Uluwatu. This will be the most utopian wedding venue you can have. Your wedding celebration not only will be romantic but also placed in the most paradisiacal. 
Great Wedding Packages It Offers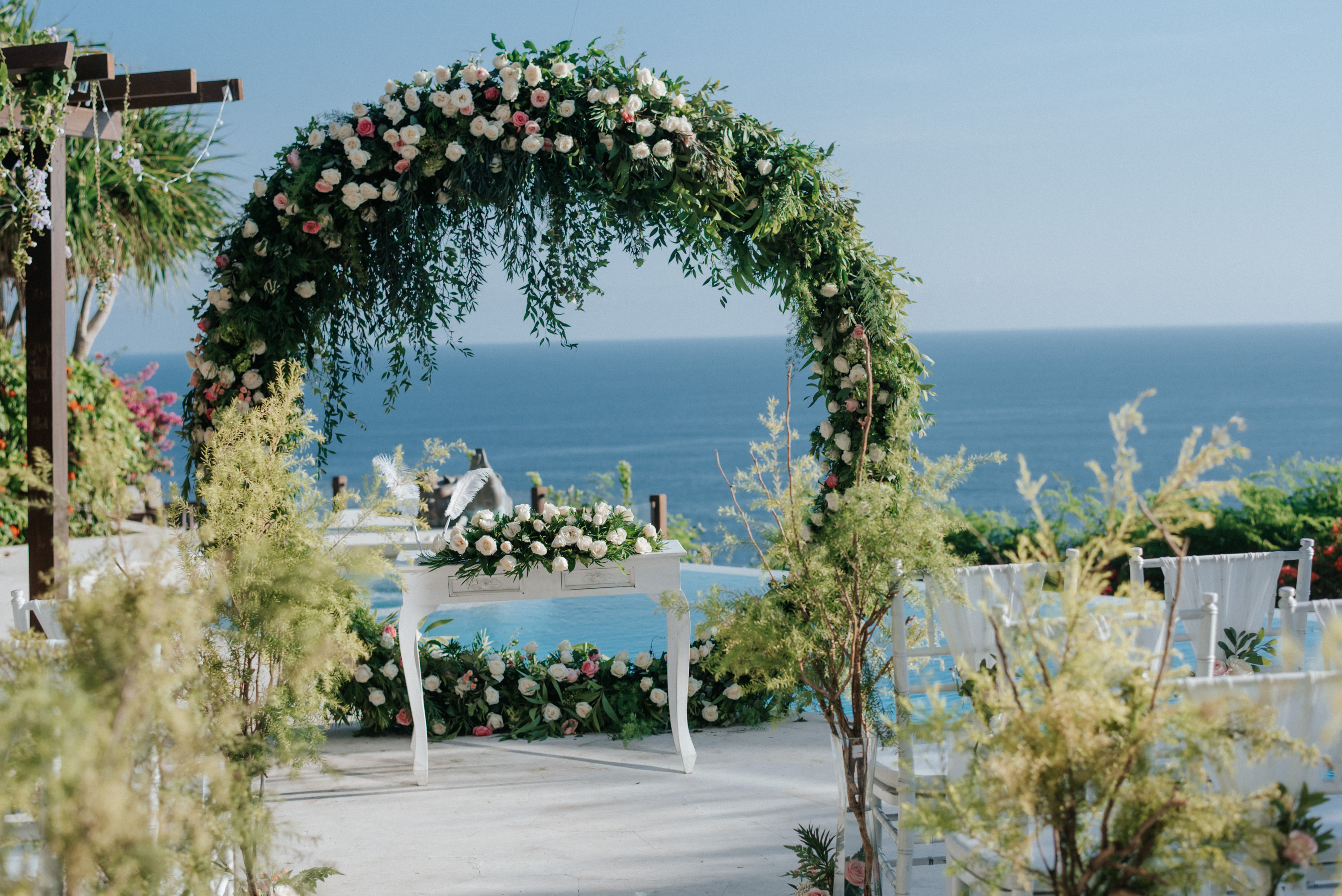 Having a wedding celebration in Karma Kandara will not only create happiness, it also creates experience. The stunning location, expert professional team will definitely make your wedding as you have ever dreamt of. So, to celebrate the moment of love, Karma Kandara have some great wedding packages to offer. They are all great option divided by the location of the venue. 
1.Sunset Beach Wedding
What a waste to choose Bali as wedding destination but not beach wedding as the wedding concept. Bali is famous for its beaches, then Karma Kandara will not miss this. The Sunset Beach Wedding is perfect if you are beach lovers. The wedding will be all decorated in white curtains and flowers and bamboo canopy. The reception is set for 30 guests standing and 30 guests seated. One night stay in Karma Kandara Private Pool Villa is included in this package. Sounds perfect? 
2.Poolside Wedding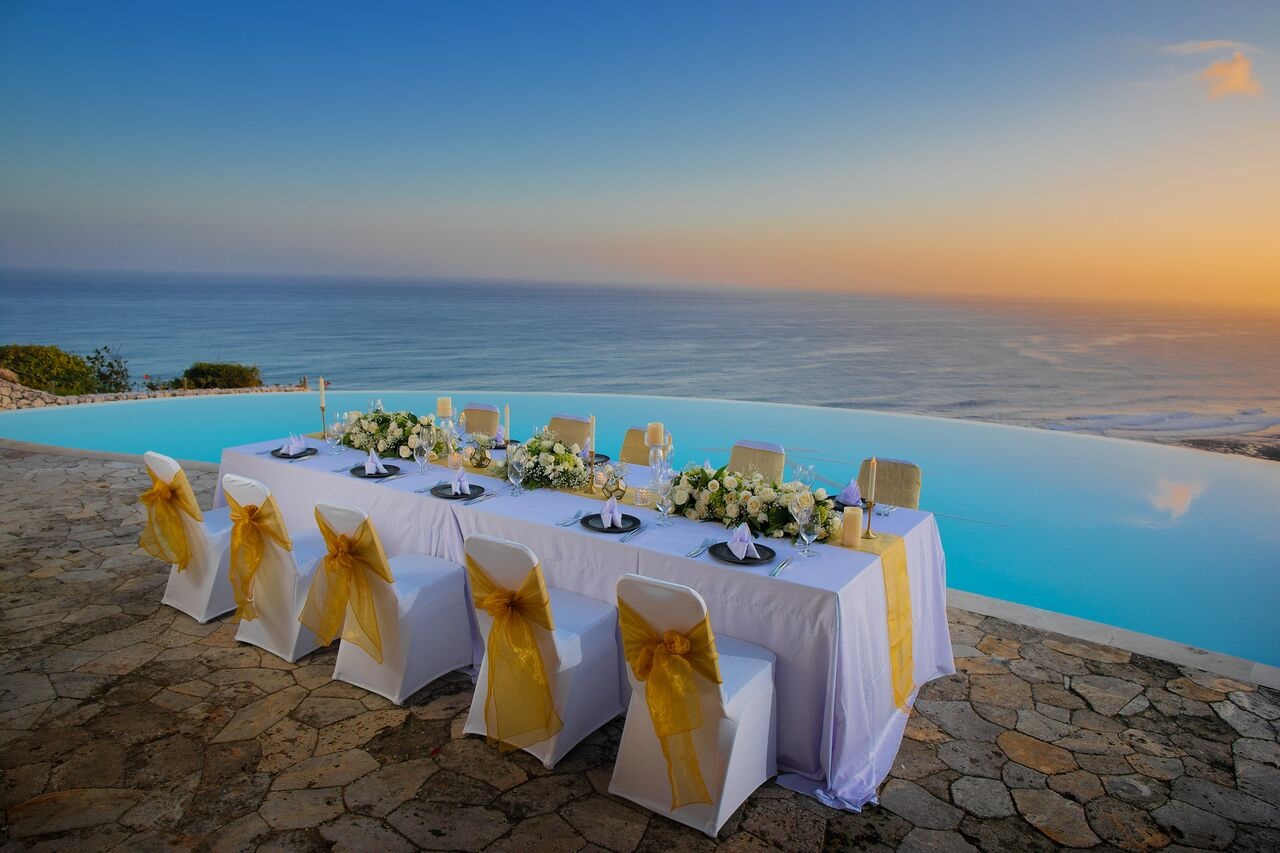 It's okay if you want an ordinary venue like poolside, Karma Kandara can handle it. The venue will be all yours for 2 hours so you and your guests will not be disturbed by other resort guests. Here, you may receive around 60 guests divided into standing and seated. Enjoy the one night stay in Private Pool Villa also for this package. 
3.Lush Garden Valley View
With the same package price to Poolside Wedding, you may also choose garden valley view in Karma Kandara. It offers standard wedding decoration with fresh and tropical flowers for the couple to the aisle. The guests will be amused by the garden view. Such a refreshing wedding package. 
4.Cliff Wedding Poolside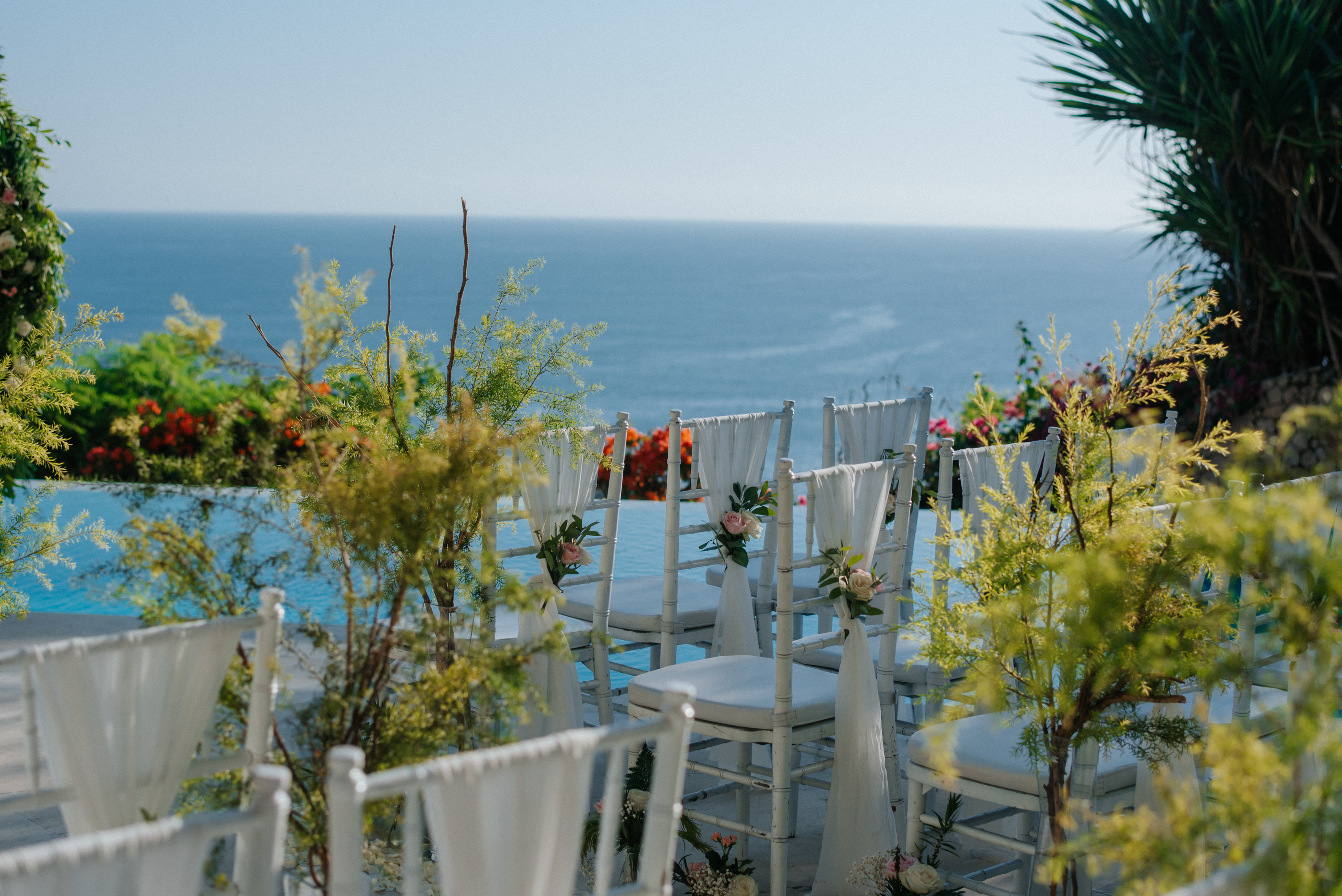 The best view you can enjoy in Uluwatu is always on the cliff. So why would you miss cliff wedding here in Karma Kandara? Located in the poolside also add perfection to your wedding celebration. Imagine exchanging vows and kissing your loved one with a view? Such an unforgettable moment, right? Don't forget to spend the best night also in Karma Kandara's one bedroom pool villa, it's included in the package.
5.Wedding on Water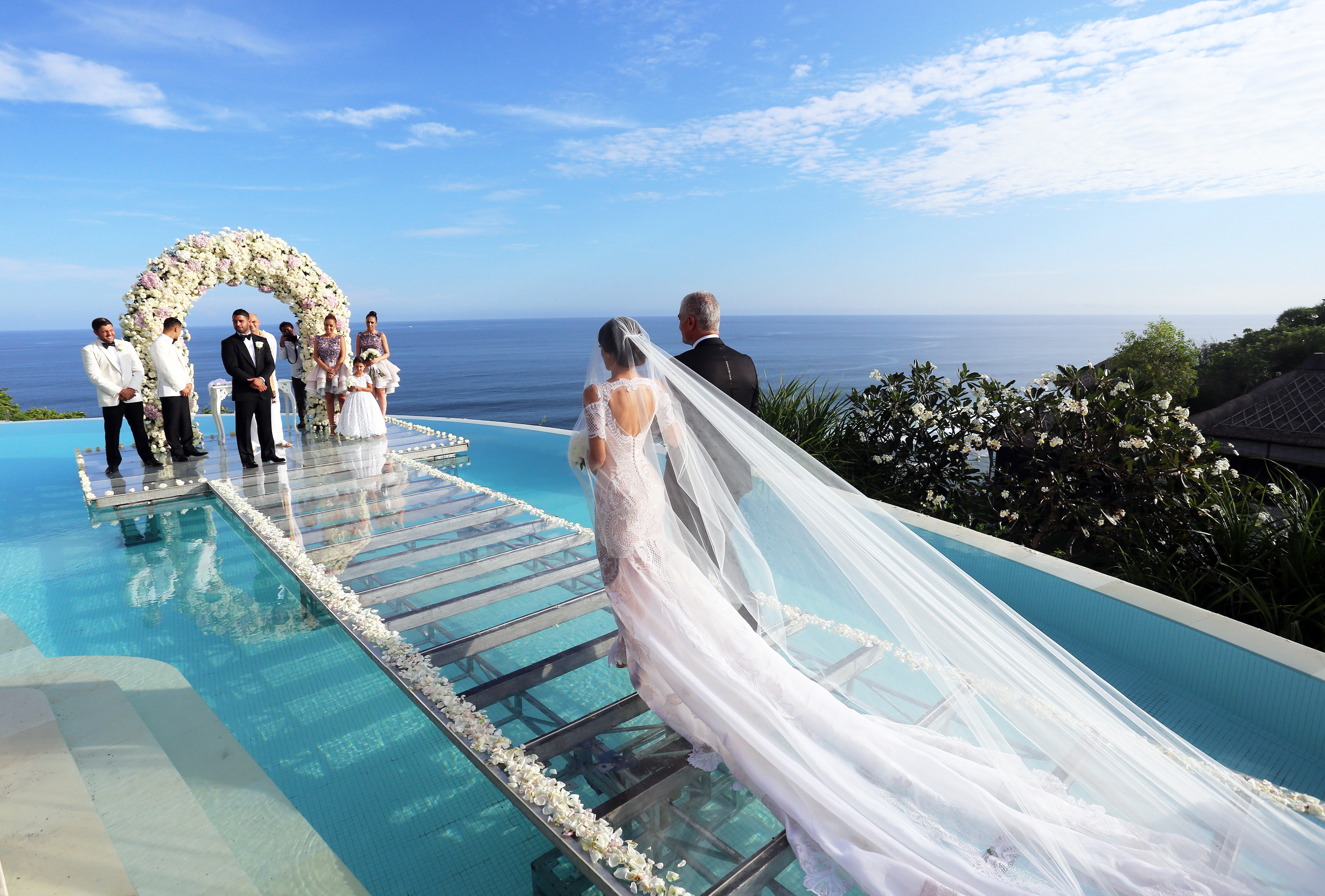 We could say this is the best offer you should catch in Karma Kandara. Your aisle will be on water (it is a clear acrylic stage), your background will be the Indian Ocean. You are the happiest bride and groom, ever. The day will be one you will not forget. Not only you, your max 120 guests (70 standing, 50 seated) also will remember your happiest day. 
What's More? 
Every bride and groom is busy preparing the wedding. From the legal requirement to the celebration itself. How to make it stress less and hassle free? Not only will be your wedding venue, Karma Kandara can set all your wedding preparation perfectly. Their professional team with great experience will help you to prepare all the things from zero to the awaiting day. All you need to do is tell them what and how you want it. The event team will make sure you get the best with no regret. 
Entertainment, decoration & lighting, wedding cake, flower to photography & videography, you name it they will take care of the best of it. Spa after the tiring yet happy celebration time? Or you are too nervous to embrace the wedding celebration? Get yourself into Karma Spa. It will take care of your before-the-wed self to super beauty for the wed. Also, you might not want to miss the Honeymoon spa or couple massage to bring the intimate along with you and your love. 
Dreamy and precious wedding is no more a dream. By entrust Karma Kandara, all you need to do is tell your dream wedding, sit back and relax then let the Karma Kandara magic happen.