Dreamy Honeymoon Resorts in Bali, the Most Romantic Places to Stay as Newlyweds
The big day is behind you now. You are legally bound to your spouse, hopefully for eternity. All the stress from wedding planning, the tiresome search for the best concept and location… they all paid off now. And yet, the celebration should not stop and your marriage should kick off with a banging start. That's right. After the wedding ceremony is done, now is the time to pamper you two together. Enjoy a wonderful honeymoon. That is the concept anyway.
Turns out, even a honeymoon needs thorough organizing as well, just like your wedding. You need to choose the honeymoon destination, pick a hotel or a resort, and the hardest one of all: creating a romantic itinerary that you both will enjoy. Honeymoon is basically a romantic escape to strengthen the bonds between the newlyweds.
There are lots of honeymoon destinations to choose from, one of them is Bali. This resort island has everything you'll ever need for a wonderful honeymoon. There are so many honeymoon ideas you can explore should you choose Bali. From an adventure at Kintamani Highlands, exploring the verdant Ubud, to diving underwater in Balinese coasts. One thing for sure; there are lots of romantic dinner packages you can choose from. Here are some of the most romantic hotels and resorts that are perfect for honeymooners.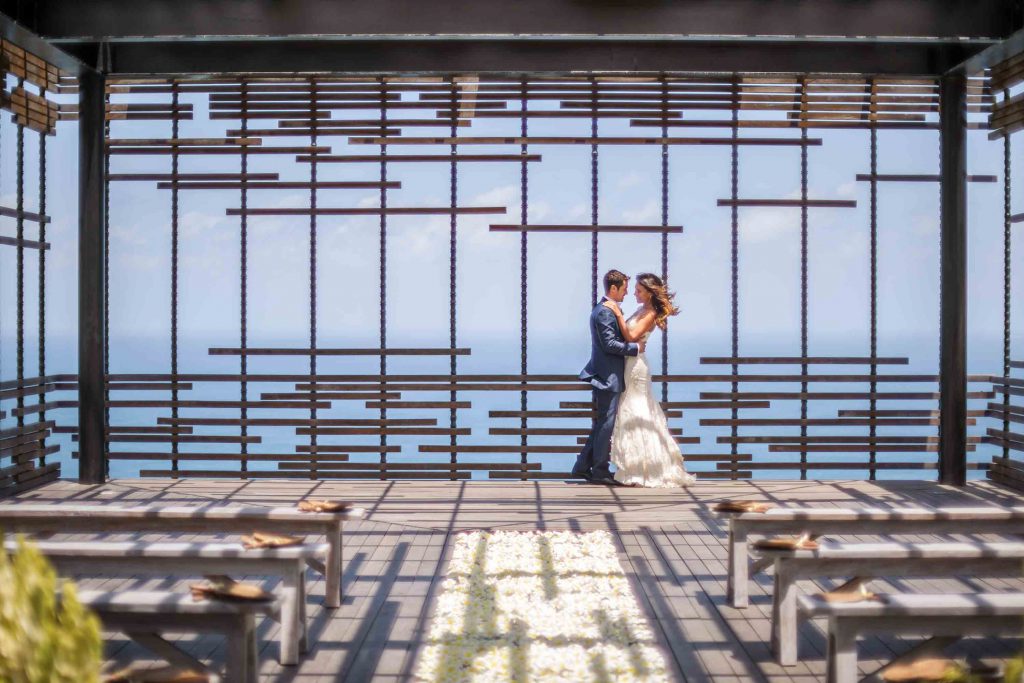 Alila Uluwatu
Alila Uluwatu sits majestically 100 meters above the sea, The Indian Ocean! If this doesn't elevate the romance to the atmospheric level, we don't know what is. The entire villa has a romantic and intimate vibe about it. From the location to the architecture, you will hardly find anything hopelessly more romantic than sunset here.
This is a six-star establishment, meaning that the services are second to none. You can enjoy world-class butler service, a wellness programme that is tailor-made just for you, and accommodation a la celebrities. Rest assured that if you choose to have your honeymoon here, it will be the one that is impossible to forget.
There are several romantic things you can do here. First, try the couple spa. You can enjoy the Blissful Spa Indulgence package that will last two hours. Here, you can enjoy a deeply relaxing treatment, including the ancient Ayurvedic one. The honeymoon wouldn't be one without having a romantic dinner, and Alila Uluwatu has several award-winning restaurants to choose from.
Alila, in fact, has prepared a special programme for honeymooners called Seduce Your Senses. The programme promises a romantic rejuvenation with 90 minutes of Spa Alila Signature Treatment for two, breakfast, custom made dinner experience, and a return airport transfer.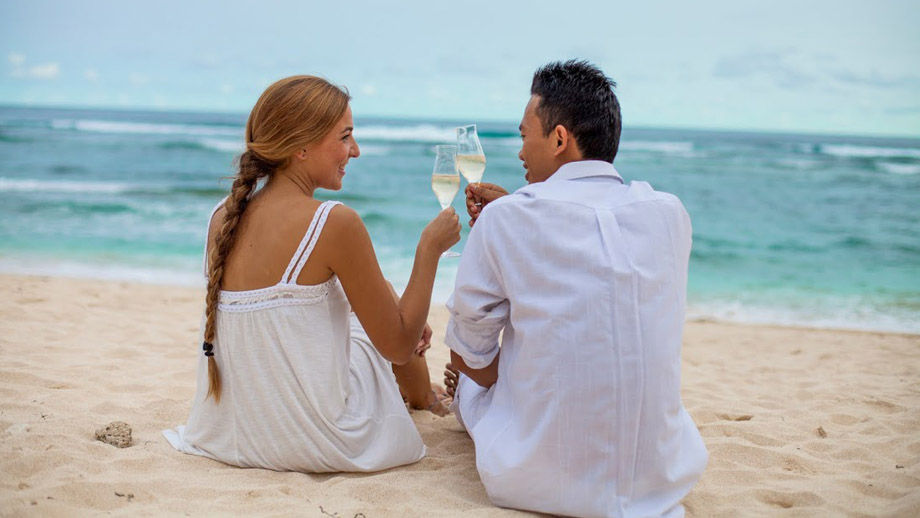 Banyan Tree Ungasan
The resort itself is a marvellous place with an incredible view of the ocean. Each villa in this resort private pool and basically everything you ever need for an unforgettable honeymoon in Bali. The Villas have spacious living areas and luxurious marble bathrooms. For the ultimate romantic experience, you should stay in the Sanctuary Cliff Edge Villa. It has an unobstructed view of the ocean, an infinity pool, a comfortable outdoor living space with snuggly daybed. It's just perfect for honeymooners.
When it comes to food, Banyan Tree Ungasan has five options for you. You can enjoy delectable French cuisine at Ju-Ma-Na, a restaurant on the edge of the cliff. This restaurant has a remarkable view of the ocean from 70 metres above. Bamboo Restaurant offers a stylish dining experience with a wide selection of international dishes.
The Banyan Tree Spa provides more than just a relaxing treatment. Try the invigorating tropical rain mist treatment for a stimulating experience with your spouse. Overall, the Spas here employs a range of Asian therapies to let your body relaxes and resets. You can also try the art class and yoga class as a couple to make the bond even tighter.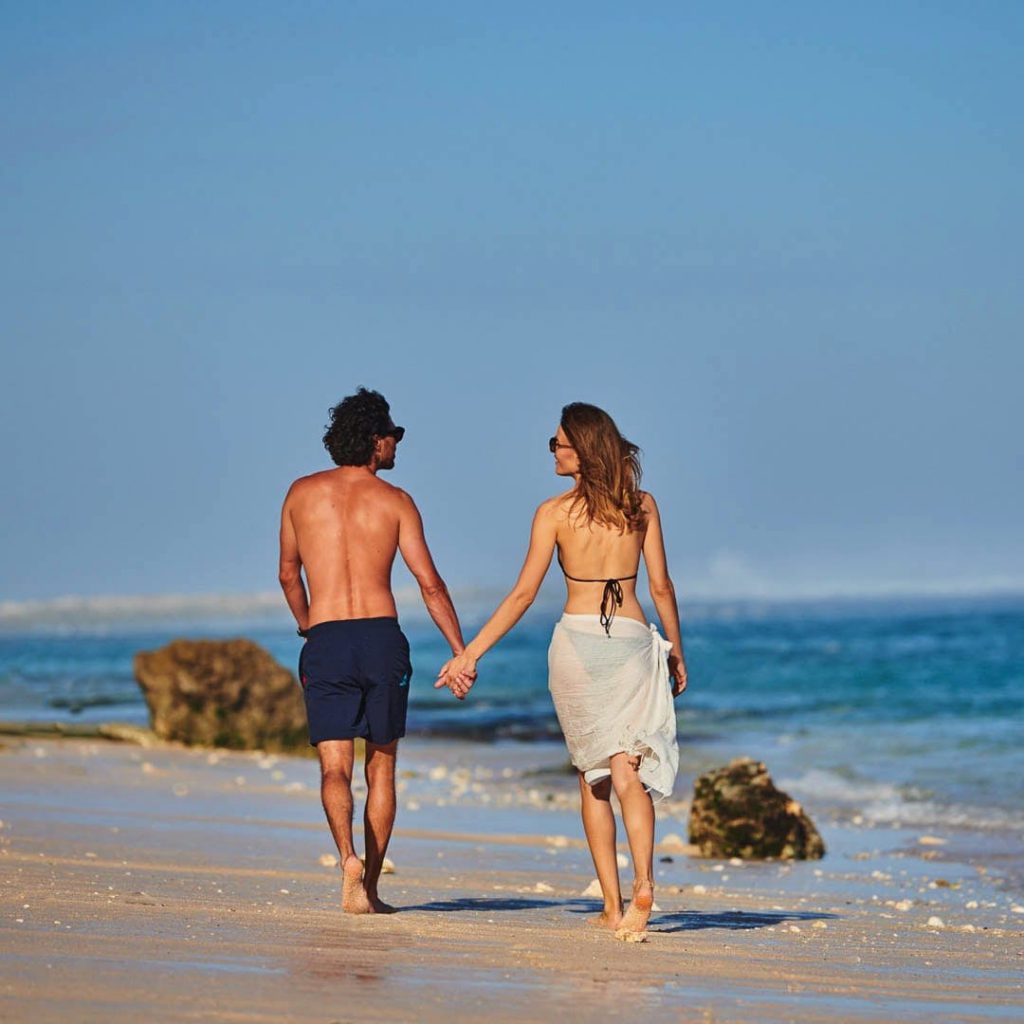 Ungasan Clifftop Resort
If you don't have time to prepare an itinerary for your honeymoon, maybe you can let Ungasan Clifftop Resort do that for you. You can try their Honeymoon Couples Package that includes a three-night stay in One-Bedroom Residence Suite with VIP access to Sundays Beach Club. To boost the romantic vibe, they will also provide Rose petal bath, canapés & a bottle of Chandon sparkling wine on arrival.
As for dinner, you can enjoy a romantic dinner at the exclusive Sunday Beach Club Private Bale. This dinner includes private butler service, a five-course set menu prepared by Chef Josh Tyler, and a matching wine selected by the experienced in-house sommelier. For the wellness part, you can enjoy a complimentary petit fours Spa Bali Retreat couple 120-minute treatment. This treatment will get rid of dull skin and get you back to relax via Traditional Balinese Massage.
About the Ungasan Clifftop Resort itself, it is one of the most iconic resorts in Southern Bali. Even though it nests nicely on the top of the hill, it also has access to a private beach. This six-star accommodation has all you can expect from a world-class resort. The exclusive Sundays Beach Club offers fabulously fresh, all-day dining in front of a clear turquoise lagoon.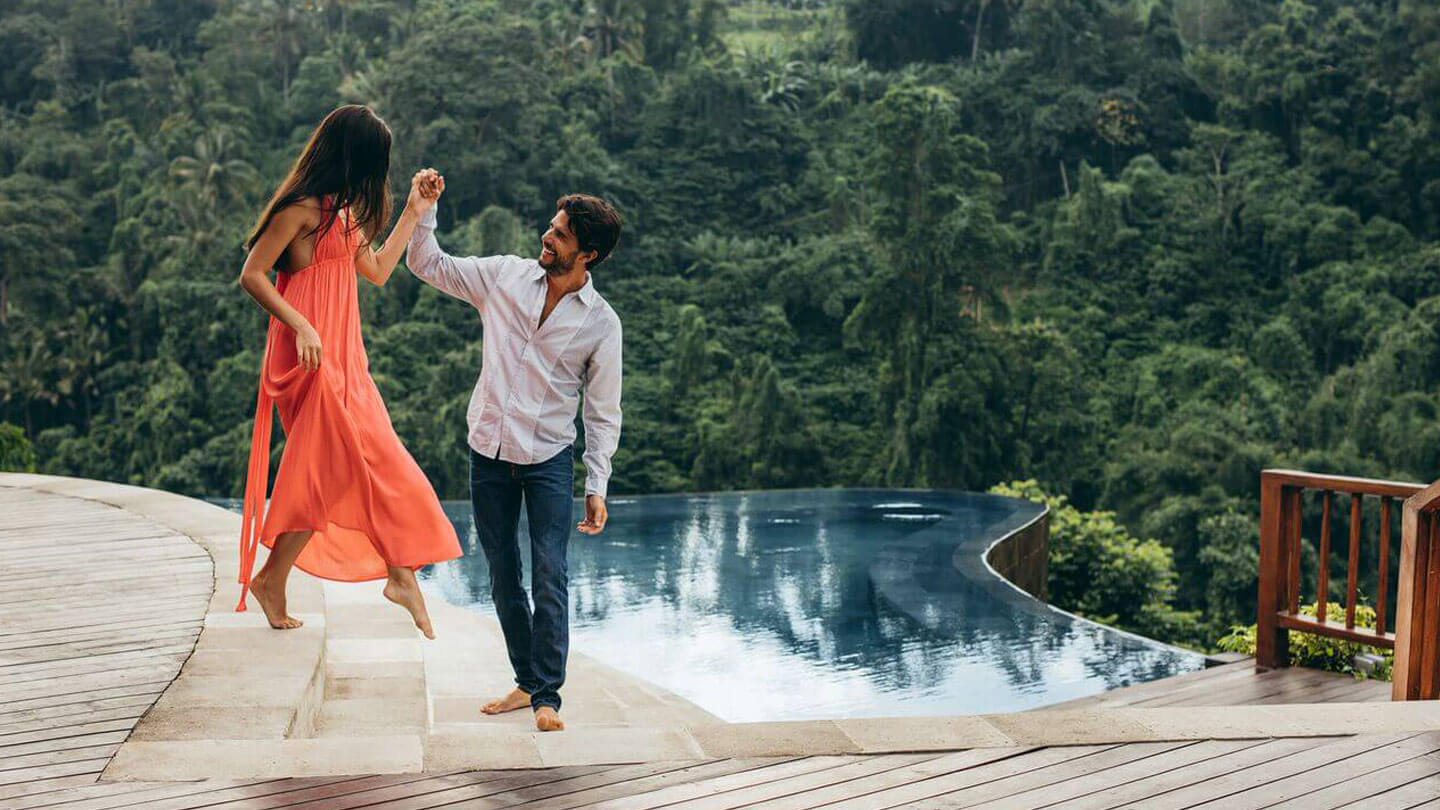 Hanging Gardens of Bali
Moving away from the seaside, now we head to the deep jungle of Ubud where Hanging Gardens of Bali nestles nicely. You might have seen this resort from its spectacular infinity pool that hangs in the middle of the jungle. Situated in a lush rainforest, this resort is exuding calm and tranquility. The serene and peaceful setting is a perfect ingredient for a wonderful honeymoon. This is where you can disconnect with the world and focus only on each other.
Each villa in this resort has a private infinity pool. The living space is, well, spacious. The architecture design really hugs its surrounding nature, down to every curve of the pool and landscape. As for the food, there are lots of options you can choose. The Three Elements Kitchen, Lounge, and Bar serve a la carte international dishes. For a more romantic option, try dining by the river where you can enjoy your food next to Ayung River. Afternoon Tea in the Heart of the Jungle gives you the traditional English tea package but in the tropical jungle setting.
Moving on to the wellness aspect, Hanging Gardens of Bali offers a Honeymoon Spa Suite. For the record, Spa Suite here features a spacious spa lounge, luxury bedding, spacious bathrooms with sleek and cozy bathtub, and glass windows overlooking the Ayung River. You can fully enjoy this as a couple.