Celebrating Love by Pampering Yourself and Your Lover at Grand Mirage Resort & Thalasso Bali
Grand Mirage Resort & Thalasso Bali has a unique tagline; All you need is love, because everything included in All-Inclusive package. That is not an exaggeration. Grand Mirage does provide everything you'll ever need for a romantic holiday with your loved one. This resort is sitting on a perfect location, combining wonderful natural scenery and great access to most of Bali's best spots.
Grand Mirage, a 5-star beachfront resort provides luxury accommodation, fine dine and drink, full spa services, and many other perks. While it also caters to families, Grand Mirage's best service is definitely the romantic ones. Everyone can enjoy the grandeur of this resort, but it is couples who will relish those the most.
It's not just about what is inside the resort, but also about the many activities that you can do nearby. There are many spots for water sports and activities, local exploration on a bike, or enjoying many Bali cultural and natural wonders. This resort can be a great base to explore everything Bali has to offer. Here are some highlights of Grand Mirage Resort & Thalasso Bali.
Rooms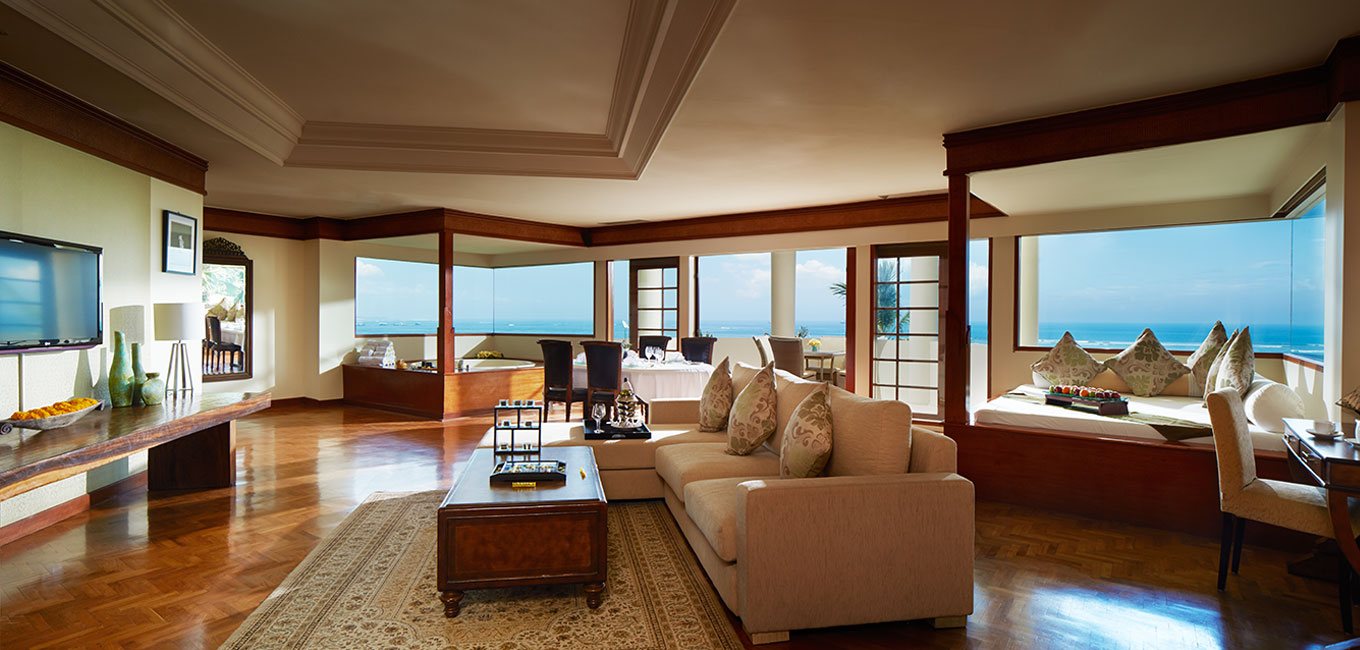 As for the actual accommodation, you can pick from several selections. If you come with a lot of family members or friends, you can choose the villa or apartment options. Some of them even have 3 bedrooms, including Family Pool Villa or Ocean View Apartment. There are also 2 bedroom apartment and suites.
For families, the choices are even more various. Grand Mirage has Family Studio Bunk and family Studio Queen. For a more personal touch, there are suites specifically made for family members such as Junior Suite, Kids Suite, and Girls Suite.
For romance seekers, the best option is the Ocean View Suite or Premiere Ocean. Imagine waking up with a beautiful view from your window, with your lover right beside you. Enjoy a morning stroll on the beach together, for a relaxing start of the day. Delicious breakfast is available, delivered to your room.
Endless Facilities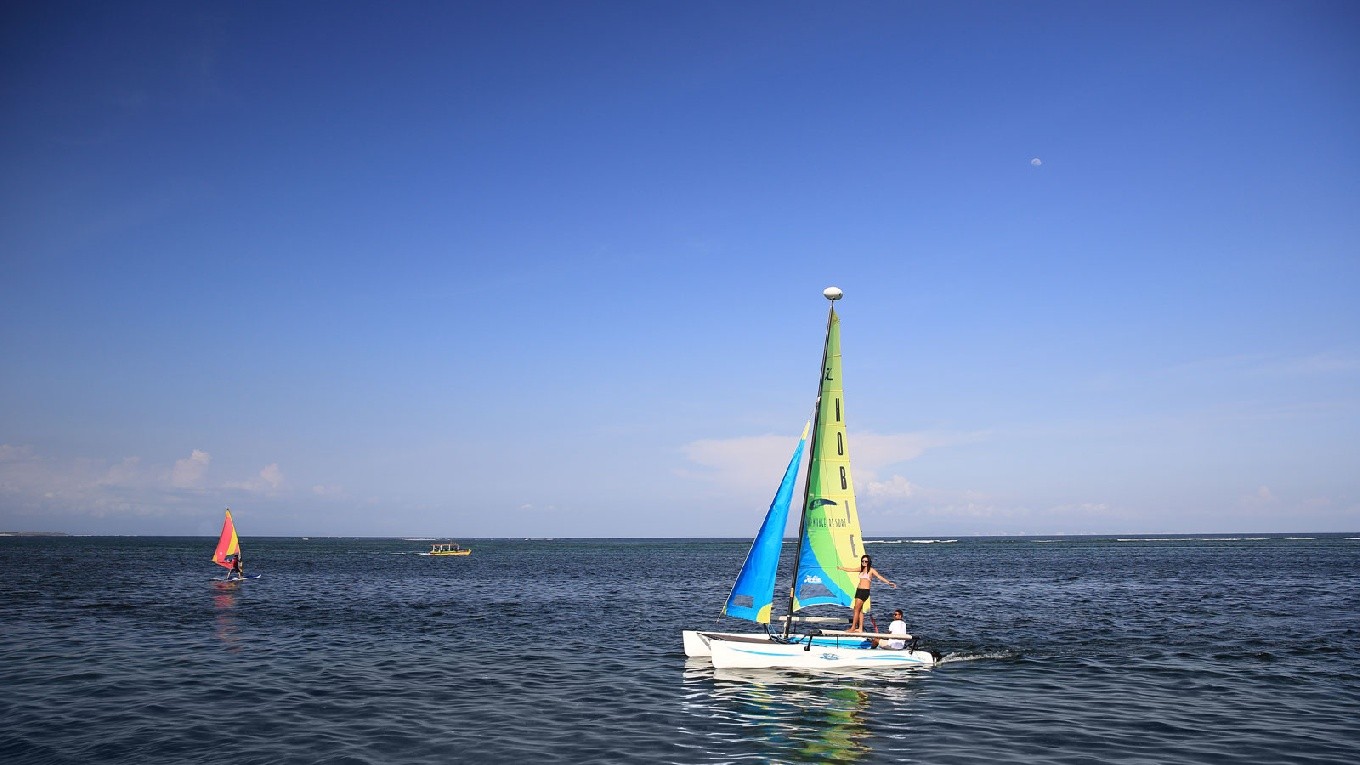 Staying in this resort is never boring, there are lots of activities and entertainment that you can enjoy. There are several pools for you to splash around, from the main swimming pool, the one in Family Paradise, to adult-only Infinity Pool.
You can also find a fitness center so you can enjoy your holiday without skipping your routine workout. Games Lounge will keep you entertained during inclement weather. You can also come to the Mahjong Room, Karaoke Room, and Yoga Class to spend quality time with your loved ones.
When you feel like to venture outside the resort, there are myriad of interesting activities you can do. The most popular ones are water sport, both the motorized and non-motorized ones. Surfing, kite-surfing, stand-up paddleboard, and many other options. It is a perfect fun sport for everyone, including for beginners. And if you want to experience something really unique, go for the SeaWalker where you can literally walk on the seabed among the fishes and other sea critters.
Dining Experience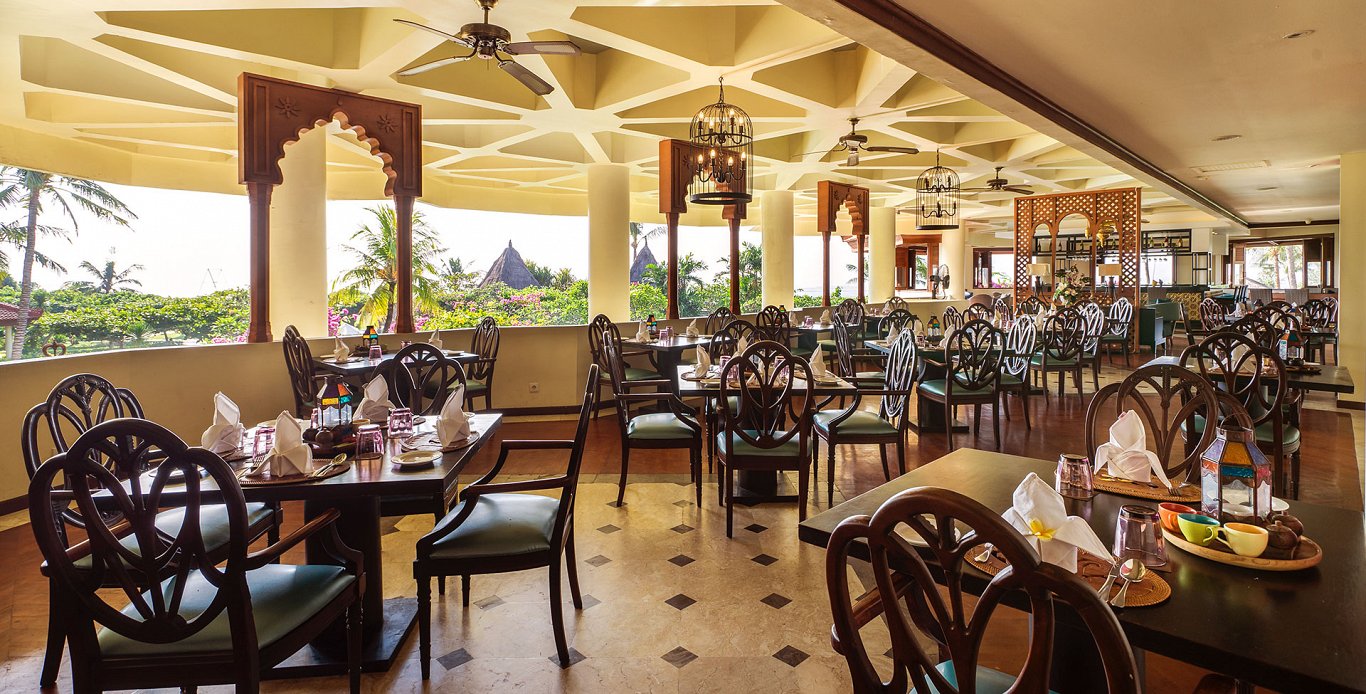 Grand Mirage also offers a great culinary experience in its establishment. For a start, you can pick to dine in one of its restaurants and cafes. Each one of them offers interesting menu choices and specialties. Whatever palate you fancy, chances are you can find it here.
Grand Café is all-day dining that open 24 hours. This restaurant is overlooking the swimming pool, with a fresh breeze sweeping once in a while. Try its special savory cakes or afternoon tea, you'll fall in love. Bumbu Delhi offers incredible Indian cuisine with halal certification, perfect for Muslim guests. Bumbu Delhi also has a wonderful sea view.
For something that a bit different, you can have a themed buffet dinner at Rama Live Entertainment. Enjoy your delicious food while appreciating live performance during dinner time. Julie's is an Italian restaurant that provides an authentic Mediterranean taste to Bali. There are also Mahi Poolside Resto, Chopstick Chinese Restaurant, and Coconut Pool Bar.
Thalasso Spa
In Bali, the thing that sets the great resort apart from others is its spa. Grand Mirage is home to Thalasso Bali Spa, a great place where you can revitalize your body and mind. This spa offers a vast range of treatments that can be personalized according to your needs. It has everything you'll ever need to get a relaxing day, not only for yourself but also for your spouse. You can choose a personal or couple spa package here.
For a wet and watery relaxation, try their Hydrotherapy options which include Pediluve, Sirih Leaf Bath, Aromatherapy Bath, Algue Body Glow Massage, Shower Massage, French Warm Agrotherapy (Seaweed body wrap), and French Warm Fangotherapy (marine clay body wrap).
Pamper your body with Thalasso's Body Treatment that includes Body Massage Treatment, Body Exfoliation Treatment, and Body Wrap treatment. As for the Beauty Treatment, you can have Sun Soothing Facial, Organic Facial, Men Power Facial, French Seaweed Facial, Anti-Wrinkle Facial, Aloe Vera Cream Bath, Manicure and Pedicure, Nail Polish, and Footworks.
Wedding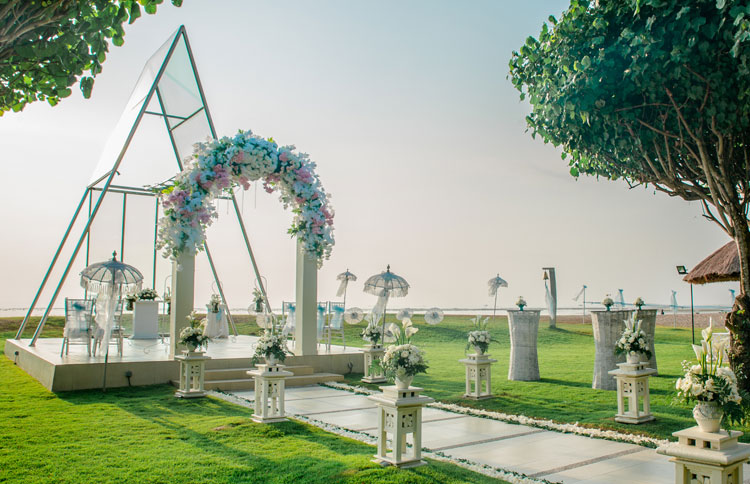 Grand Mirage also has several great venues for your special occasions such as a wedding. In fact, the resort will happily arrange a personalized wedding ceremony of any scale for you. The venues are also uniquely extraordinary. You can have your vow to be said on the white sand beach, in the chapel by the infinity pool with wonderful sea view, ballroom, and Rama Theater.
As for the theme of the wedding, you can pick from several popular ones such as Royal Balinese Wedding, Ocean Breeze Chapel Wedding, Blue Ocean Ceremony, Indian Style Wedding, Exclusive Mirage Wedding, and Garden Ocean View Wedding. The resort will sort everything for you, and even do more personalisation to make the wedding perfect just like in your dream.
The wedding packages commonly covers English speaking celebrant, personal wedding coordinator, floral decoration (including flower petal walkway), Hand Bouquet for the Bride and boutonniere for the Groom, flower shower, two Balinese girls in traditional Balinese attire, wedding cake, sound system, sparkling wine, wedding gift, non-legal wedding certificate, and 2 nights stay at Deluxe Ocean View room for Bride and Groom. You can also have a legal wedding certificate with an additional fee.