Best Wedding Chapel for Engagement Party in Bali
When someone says yes to a proposal, that is a valid reason for the celebration. In fact, the engagement party is really common in Bali. People celebrate their engagement in many different ways, but Bali Wedding offers something that you cannot find anywhere else. For one, it is almost guaranteed that all Wedding Venues in Bali would have a wonderful view, both of the sea and the jungle. However, it is not uncommon that the couple wants something more than that. Many require that their engagement is held in a chapel. Needless to say, the Wedding Chapel must be unique in terms of architecture and have a great view of the surrounding. Luckily, Bali has many of them. Each one of them is uniquely designed for lovely occasions like engagement or wedding. Here are some of the Best Wedding Chapel.
The Ritual Wedding Chapel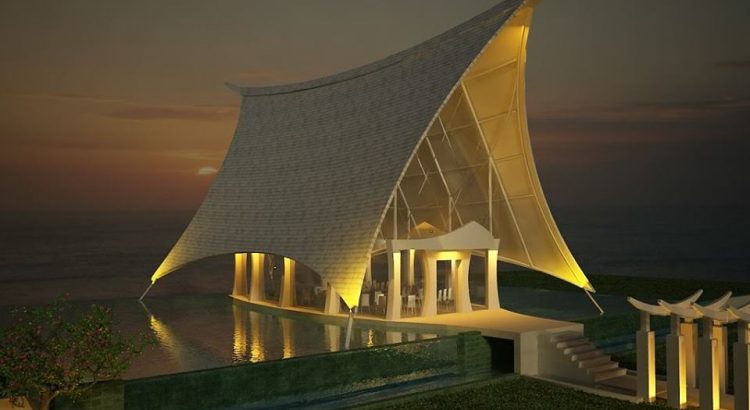 Facing the sea directly from atop the cliff in Uluwatu, The Ritual Wedding Chapel is also available for engagement ceremony and party. This Wedding Chapel has an extremely unique architecture, combining Balinese, western, and contemporary design. The Best Wedding Chapel with a stunning sweeping view of the ocean. With bright white color, this chapel stands out of its surroundings during the day. And yet, the minimalistic yet elegant interior makes you feel as if you are blending with everything else; the yard, the villas, the ocean. An elegant chandelier hanging in the middle of the chapel, providing a sophisticated look. Needless to say, this chapel is highly photogenic.
Address: Jalan Pantai Suluban, Uluwatu, Pecatu, South Kuta.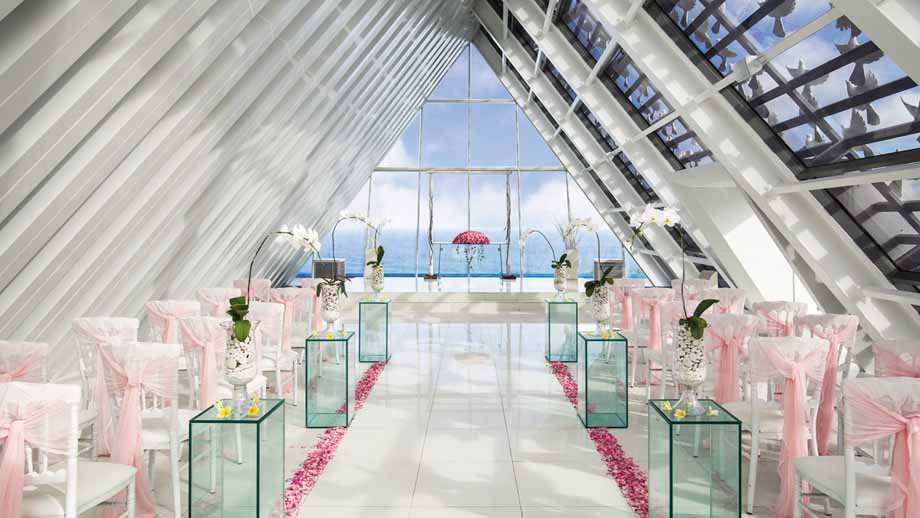 On the clifftop of Ungasan, you can find beautifully designed Wedding Venues. Simply named The White Dove, it perched nicely on top of a cliff, overlooking the Indian Ocean. At the side of the Wedding Chapel, there are 300 ornamental doves in flying motion, just above an infinity pool. These doves represent harmony, love, peace, and purity. The chapel itself has a somewhat pyramid-like structure dominated by the glass so you can get the best view even from the inside. This Best Wedding Chapel can host up to 50 guests.
Address: Jalan Melasti, Banjar Kelod, Ungasan.
Bali Wedding at Harmony Chapel at The Mulia Bali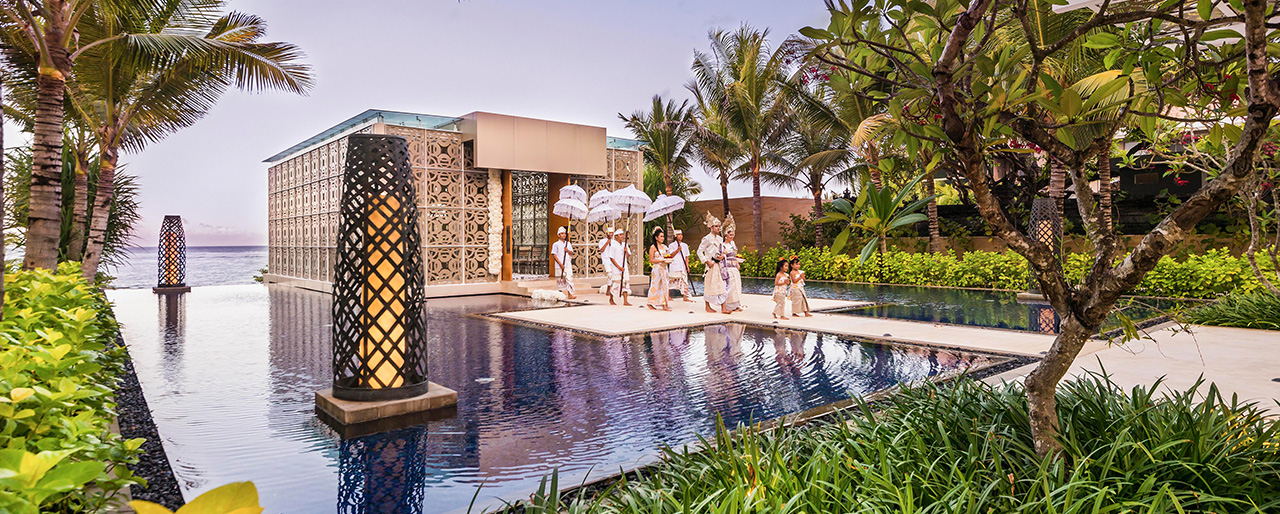 This small yet marvelous Wedding Chapel is completely surrounded by the infinity pool, makes it look like it is floating there. The cube-like structure might seem simple but the details are jaw-dropping. The wall is full of beautiful patterns, allowing the light to enter the chapel. The glass lets you adore the big ocean from inside. Meanwhile, the crystal chandelier provides a nice luxurious touch for the whole room. This chapel can host up to 40 guests and is perfect for your Bali Wedding party.
Address: Jl. Raya Nusa Dua Selatan, Kawasan Sawangan, Nusa Dua Bali.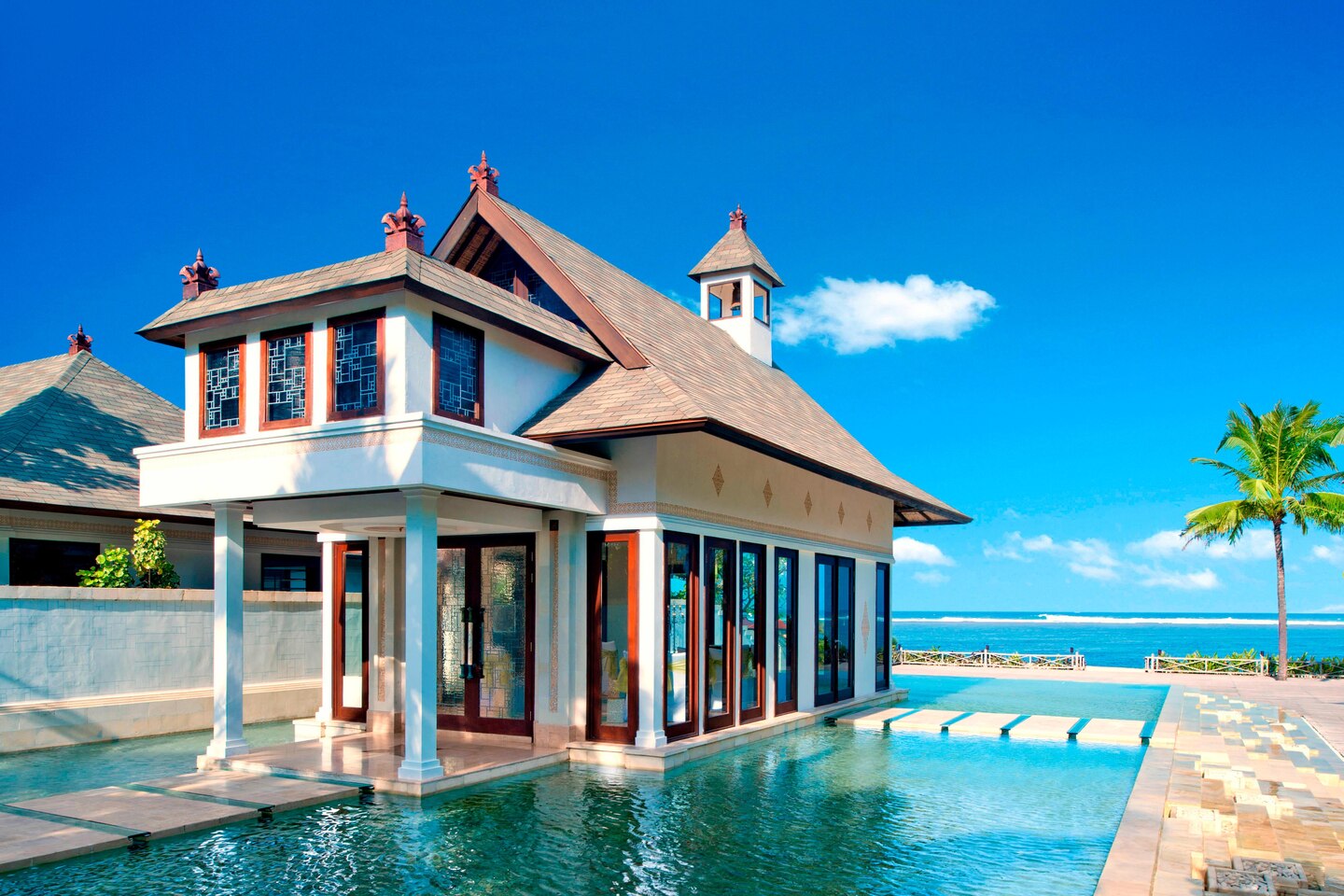 Located in Nusa Dua. This Wedding Chapel also directly faces the ocean. This western-style chapel will remind you most of the protestant chapels in Europe. Floating on the pool by the sea, this is a perfect Wedding Venues in Bali. The crystal chandelier dominates the upper part of the interior. You can even have dinner directly in front of the chapel after the ceremony is done. The best part is that you can have a personalized menu for your dinner.
Address: Kawasan Pariwisata, Nusa Dua, Lot S6, Nusa Dua, Bali.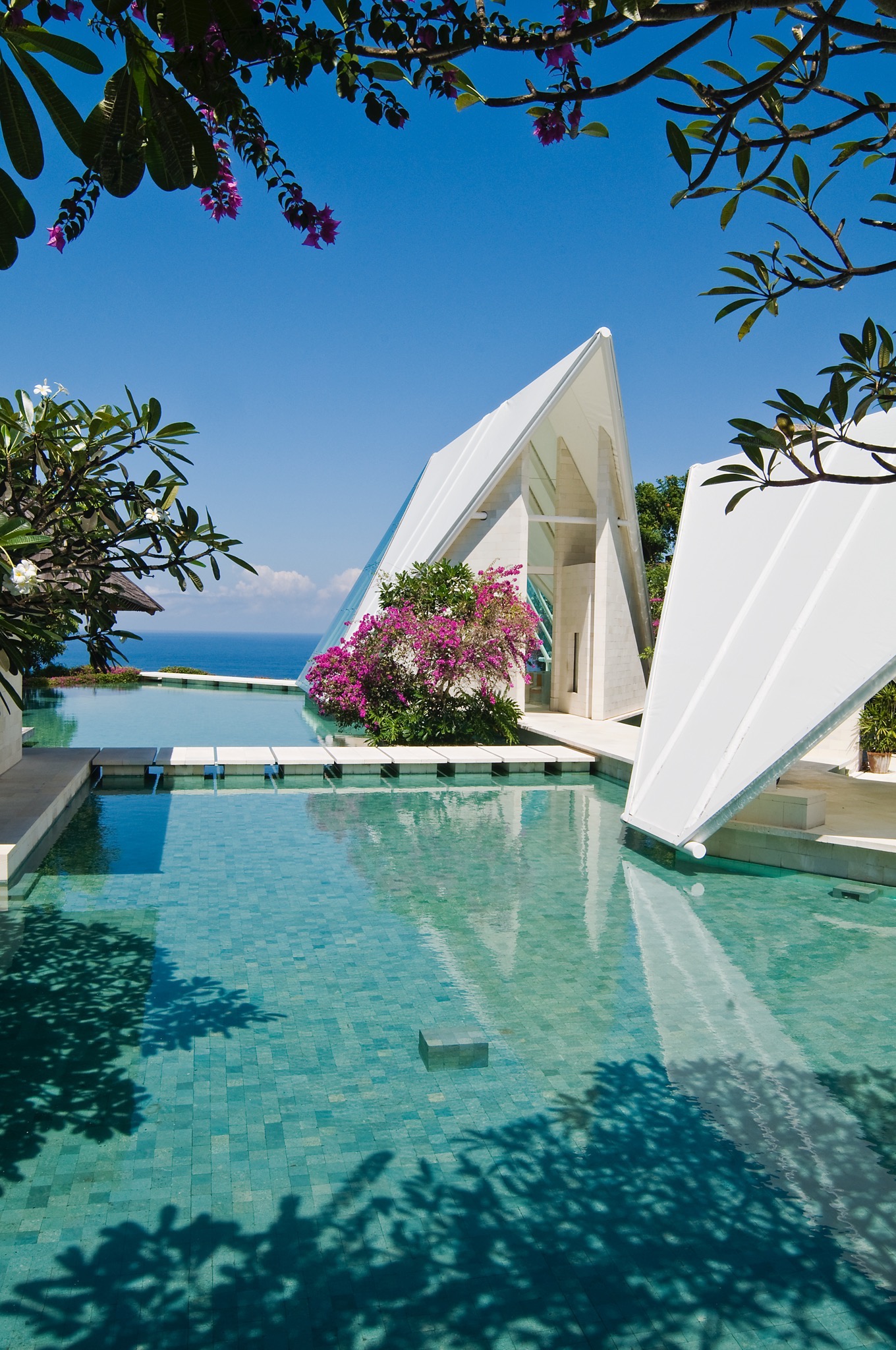 Tirtha does not have accommodation with it, so they are usually offering transport service from the hotel where you stay. This is especially important for wedding ceremonies. The Wedding Chapel itself is quite normal. It is a triangle of glasses that are perching at the end of a popular cliff. There are several interesting structures nearby, including a dining pavilion and a large yard next to it. The yard can host hundreds of people, so it can be perfect for a big party too.
Address: Jl. Uluwatu, Br. Dinas Karang Boma, Desa Pecatu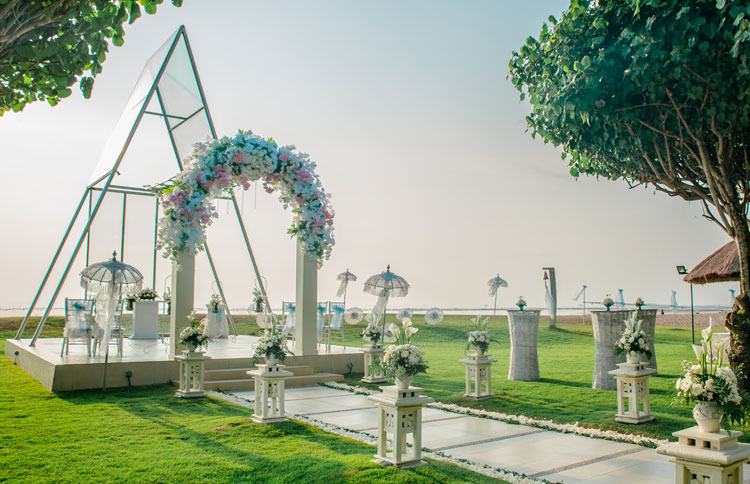 This confined Wedding Chapel holds stunning ceremonies, designed to host only a couple of people, the most important ones during the ceremony as you celebrate a beautiful yet intimate moment of your life. Built from glass to achieve high transparency to let you and your valued guests enjoy the panorama of the Indian Ocean as the background and verdant garden as your foreground as it welcomes you into the chapel. A white sand beach is just a couple of steps away from the chapel as you create a lifetime memory of your Bali Wedding.
Address: Jl. Pratama No 74, Tanjung Benoa, Nusa Dua.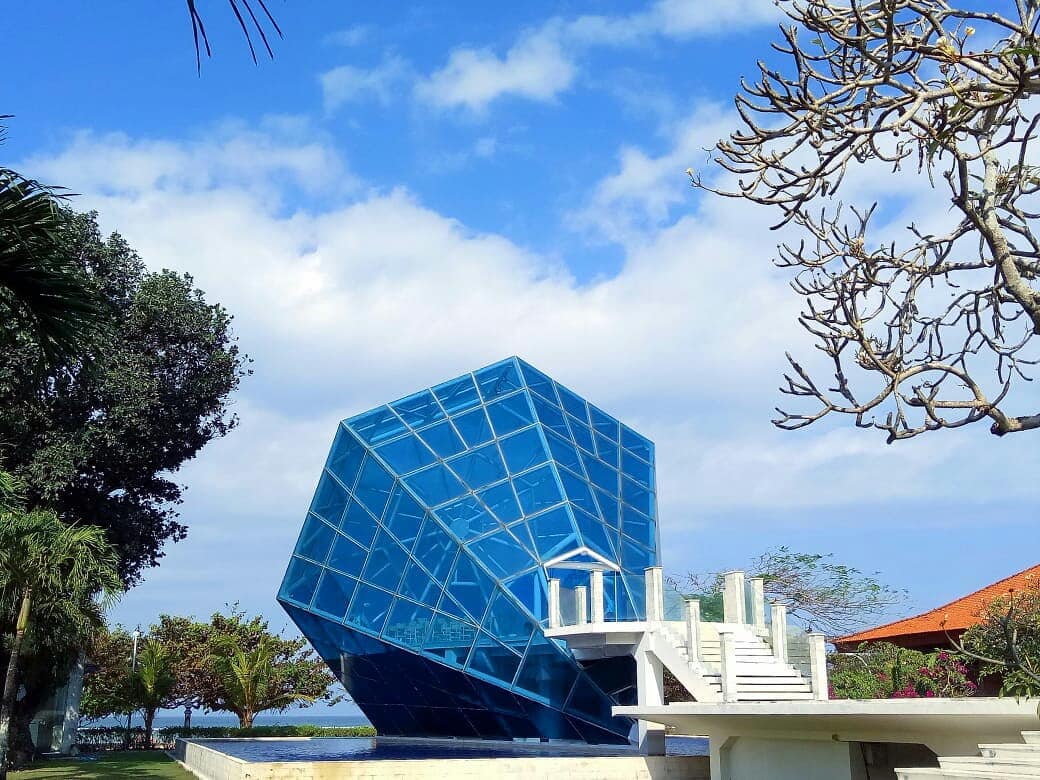 Known as the Best Wedding Chapel, this Wedding Venues stay true to its name and is actually in the shape of a diamond. It is very unique, at a glance you can see that it is like a diamond lying around on a pond. You can see the interior through its deep-blue glasses. Or when you are inside, you can see the beautiful sea view of its surroundings. The tropical garden nearby can host a party of up to 400 guests.
Address: JL. Hang Tuah, Sanur Kaja, Denpasar.
Best Wedding Chapel at Infinity Chapel at Conrad Bali Nusa Dua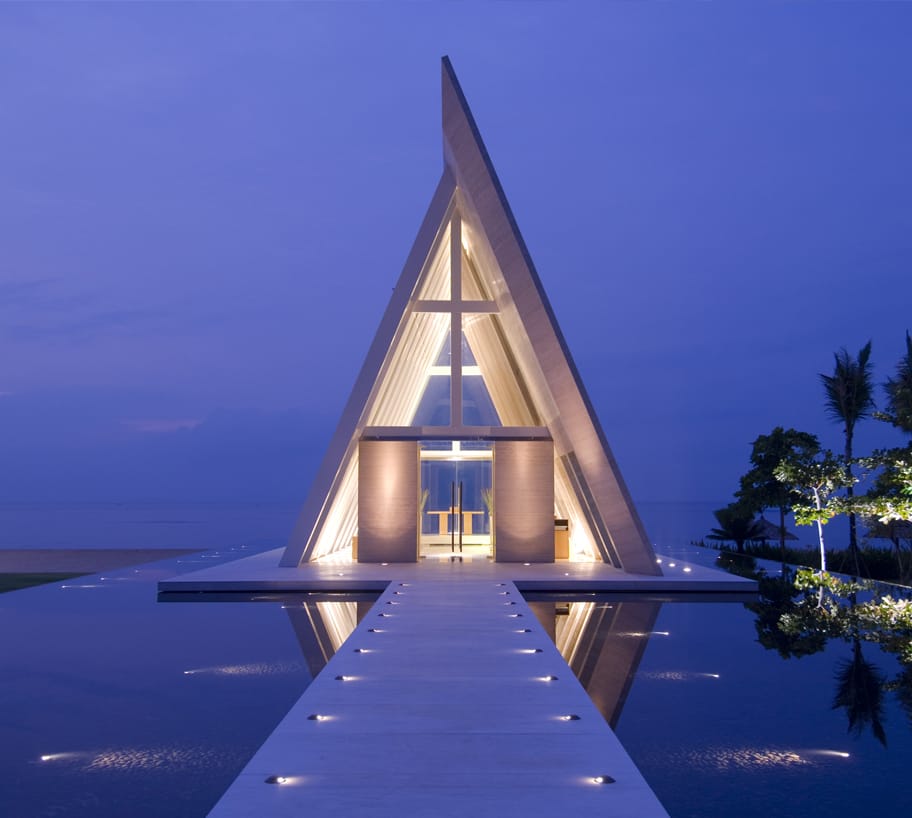 This Wedding Chapel has a rather simple look, but it also impressive. In a vast tropical garden by the sea, there is an elevated infinity pool. In the middle of the pool, a chapel is floating nicely, facing a white sandy beach just a couple meters away. Even the path leading to the chapel is made from shiny ceramics, makes you really feel that you are indeed walking on the water. Despite the small look, this Wedding Venues can host up to 20 people and the garden is a perfect place to hold an open-air party.
Address: Jalan Pratama 168, Tanjung Benoa, Bali,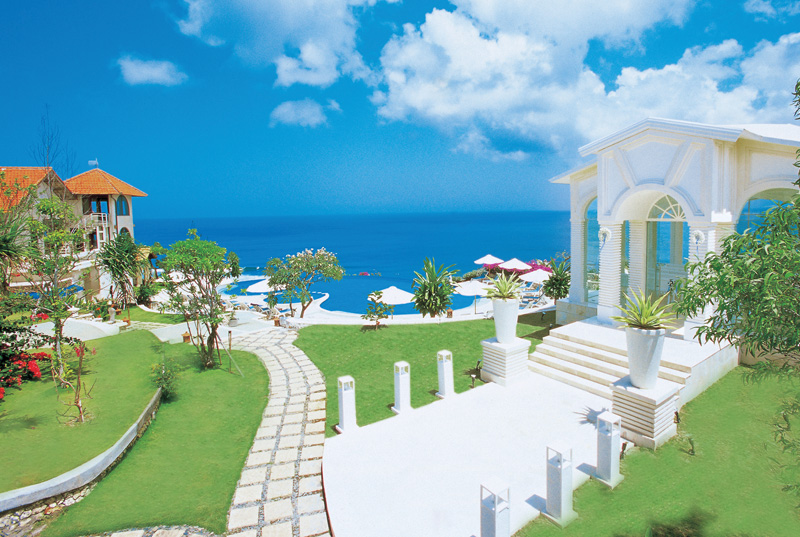 This Bali Wedding venue has a really unique concept. At a glance, you'd feel as if you are teleported to the Mediterranean shoreline. The contrasting color of the white Wedding Chapel and blue ocean makes a great impression. Whether you want to have your engagement party during the day or at sunset time, Blue Point Chapel is a great Wedding Venues. The scenery is stunning, and the chapel is surrounded by a tropical garden and infinity pool.
Address: Jl. Labuansait – Uluwatu, Pecatu
Sitting nicely at the wonderful garden of Aryaduta Bali Hotel, this Wedding Chapel is relatively new. This chapel has a somewhat divine ambiance about it, with a lot of glass panels installed, hence the name. From the altar, you can see the beautiful sea. Day and sunset engagement party is ideal here, each giving different vibe but similarly lasting impression.
Address: Jl. Kartika Plaza, Lingkungan Segara, Kuta, Kabupaten Badung, Bali.
Reading Recommended for Bali Things to Do:
Wedding Packages:
Best Places to Propose, Pre-Weddings & Engagements:
What's More? 
Parties2Weddings is the largest Australian based Wedding Packages Platform for couples to plan & book their dream destination wedding in Asia. We connect couples to over 40,000 vendors across Melbourne, Sydney, Queensland to Bali.
Planning to celebrate in Bali? – Check our amazing
Bali Wedding Packages &  Bali Experiences? Check our Amazing Deals & Options:
Parties2Weddings provides Wedding Concierge to help couples to browse fixed cost packages, shortlist the venues. and customize packages to meet special requirements. The professional team has great experience will help you to prepare for your big day.
Contact our Wedding Concierge, to help connect you to vendors for Photographers, DJ, Fireworks, Fire-dance, etc. Fill in the Quote request/ Enquiry form here.