Best Nightlife in Uluwatu
When the sunset kicks in, the youths and the party-goers in the southern part of Bali start to prepare themselves. Then, they will head to the multilevel balconies, cliff or beach decks in Uluwatu.  By the dark, the clubs and bars will be swarmed by people enjoying themselves, drinking beers, cocktails, or maybe seating and enjoying the breeze. If you plan to join them, find your typical clubs and bars on our list of the best nightlife in Uluwatu.
1. Rockbar at Ayana Resort : Best Glamourous Nightlife in Uluwatu
As a part of Ayana Resort Jimbaran, Rockbar offers an unwinding atmosphere of a clifftop deck with 5-star but fun service.  It starts serving cocktails and tapas from 4 PM and will be closed at 9 PM every day. Rockbar is respected as the best nightlife in Uluwatu with its glamorous entertainment venue. Selected international DJs will bring the best of the night.
Before you head to Rockbar with your friends, there are some regulations that you should know: first, the bar requires its visitors to dress in stylish smart attire. In other words, there is no singlets, board-shorts, or alcohol-branded attire. Second, for a security reason, none of the guests can carry a backpack.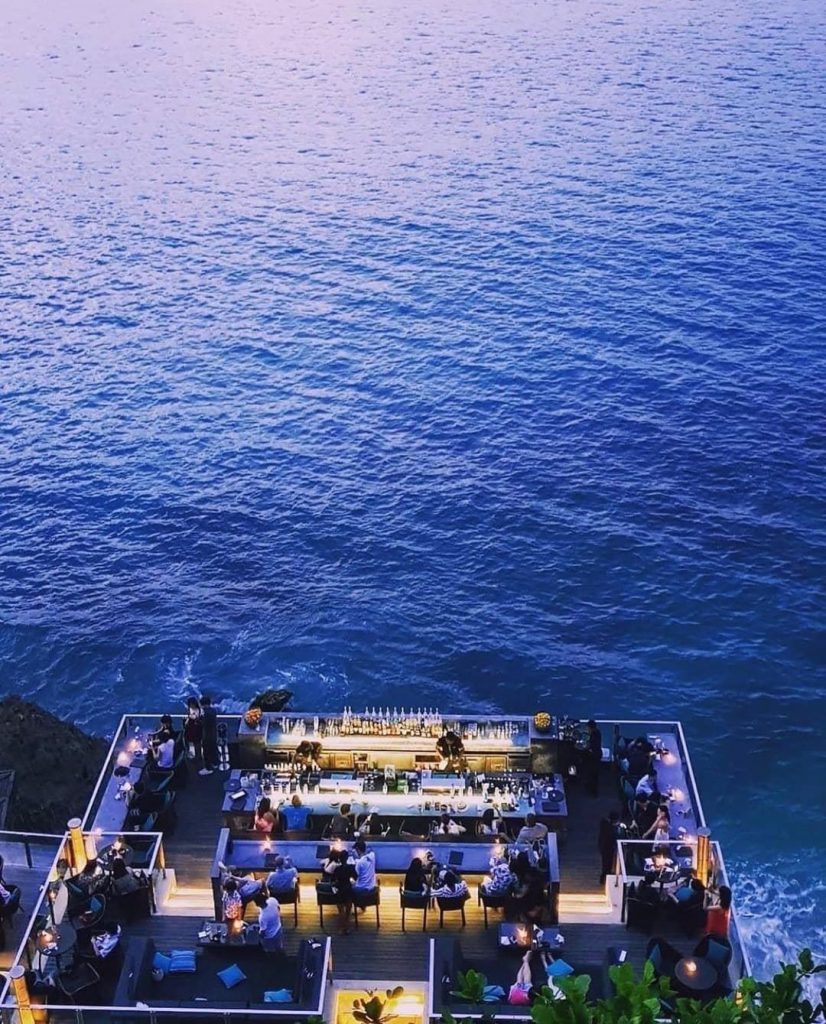 Check out Bali Holiday Packages Best Deals
2. Single Fin: Best Clifftop Nightlife in Uluwatu
Single Fin is sought for its multi level decks and prime sunset view. Partygoers love the music programming on Wednesdays and the Sunday Sessions with regular international DJ and live acts. However, it does not mean the place is not lively on other days. Visitors come to enjoy good cocktails and nutritious food with a beautiful ocean view from the clifftop at Single Fin from 12 PM to 9 PM every day. There are no strict rules to visit Single Fin. Both casual and smart casual wear is allowed. If you prefer a relaxing clifftop nightlife, Single Fin offers the best nightlife in Uluwatu that suits you.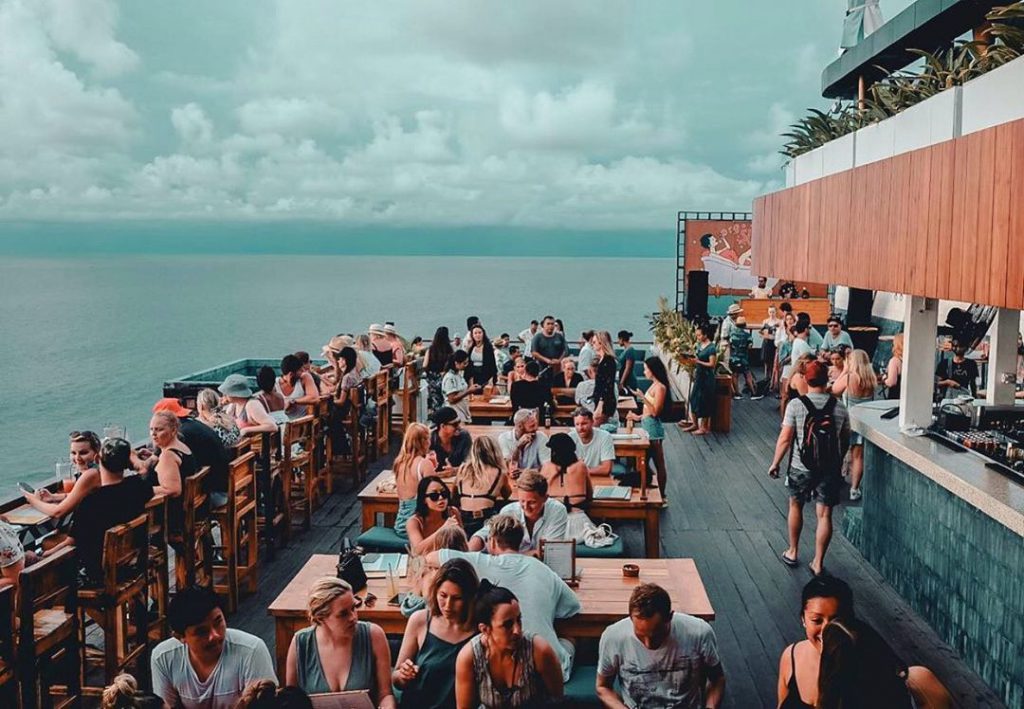 3. Karma Beach Bali: Best Beach Nightlife in Uluwatu
Dance as you like it at Karma Beach Bali. Tropical wooden deck of Karma Beach Bali is known as a party venue. DJs and party-goers love to swarm this beach club, especially on Sunday for its Savage Sunday. It is the time and the place to dance barefoot in your casual style. Open from 11 AM till late, it serves delicious international cuisine and tropical cocktails. If you are a party goer that fancy to dance crazily until late, you can have your best nightlife in Uluwatu at Karma Beach Bali. The beach club provides gondola or elevator for you to go down to the shore.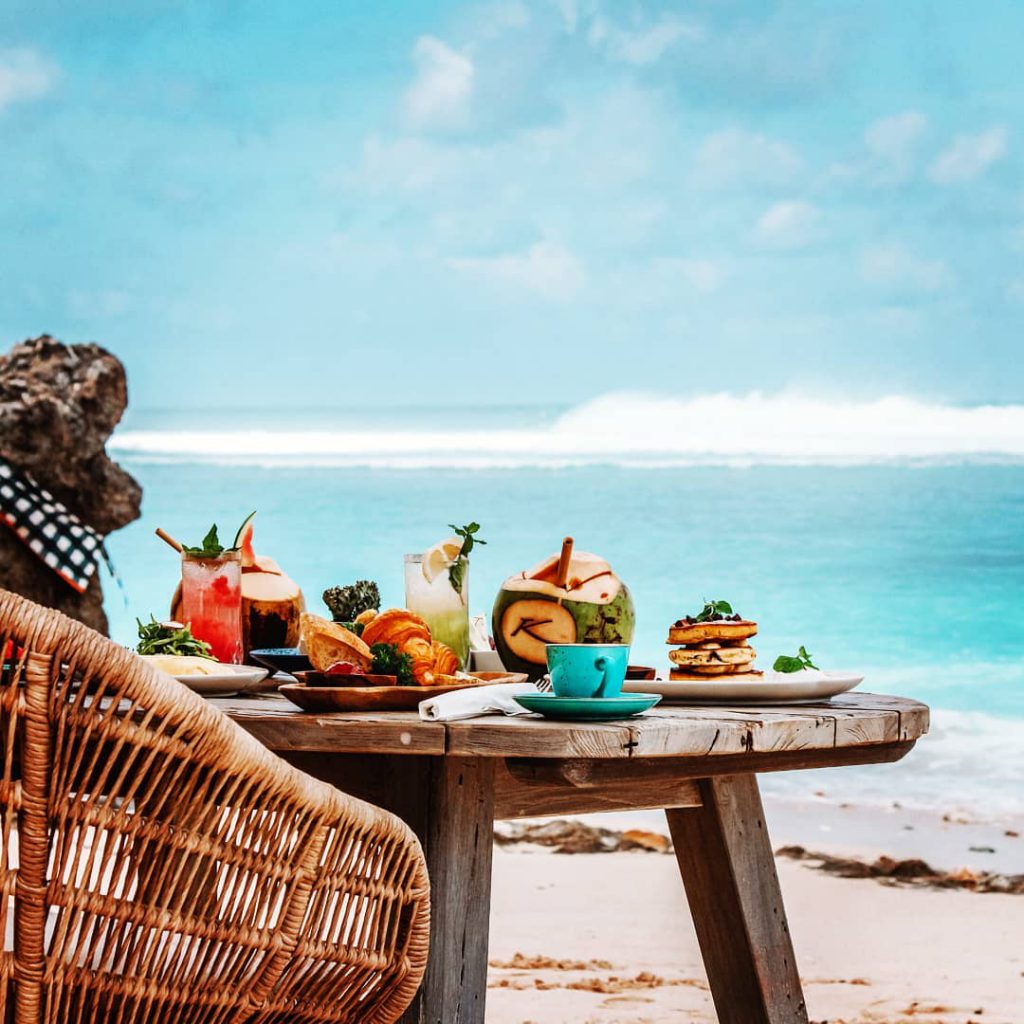 Check out Best All Inclusive Resorts in Ubud
4. UNIQUE Rooftop by Rimba: Best Sunset Spots in Uluwatu 
UNIQUE Rooftop by Rimba combines a seated diner and relaxing sunset spots on its multilevel deck. The first floor of the deck is prepared for you to unwind, and enjoy the Mexican cuisine on poolside daybeds. While the second floor is for a more formal setting for events or diner. Serving exquisite cocktails like fresh fruit margarita, UNIQUE Rooftop by Rimba is open from 3 PM to 12 AM. Whether you choose to sit on the first or second floor, you can always enjoy the prime sunset from UNIQUE. This spot is the best nightlife in Uluwatu for those who prefer an exclusive evening with food.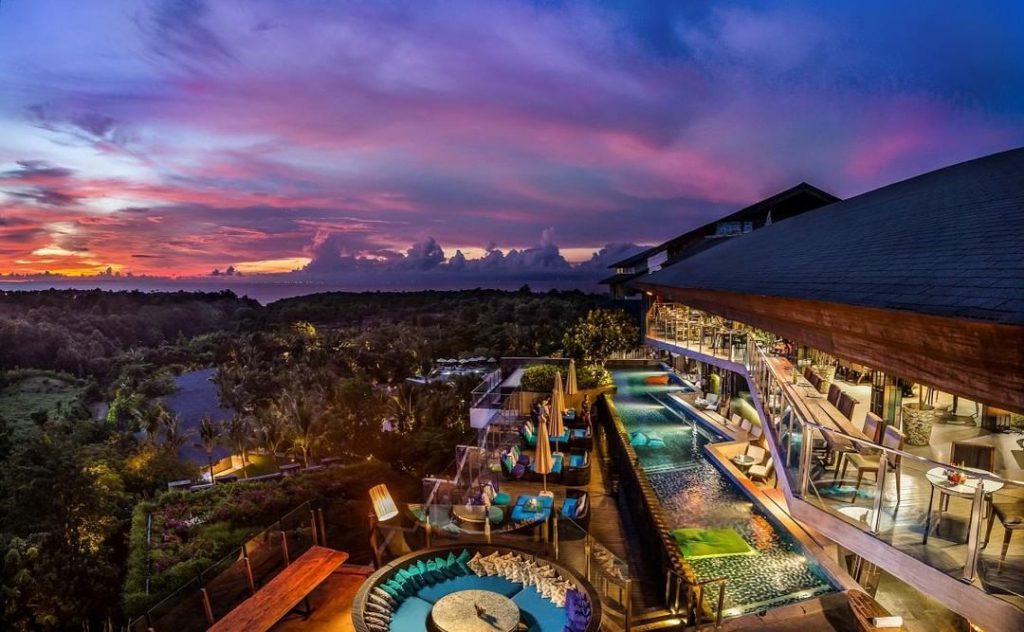 5. Sundays Beach Club: Best Nightlife with Live Music
Sundays Beach Club is best for having a private beach time with water sports, weekend lives music, and bonfires. The VIP deck is for you to enjoy the ultimate ocean view with your friends and families. On Friday, the club features duo music, while on Saturday and Sunday, a selected DJ will perform to entertain you from 4.30 PM. In addition to all the fun, you can also play with the stand-up paddleboard and kayak. And if those watersports tire you out, you can have a beach massage in their ocean-view bungalow. The experienced masseuse will indulge you with the selected treatments.
Sundays Beach Club applies minimum spend to enter the club.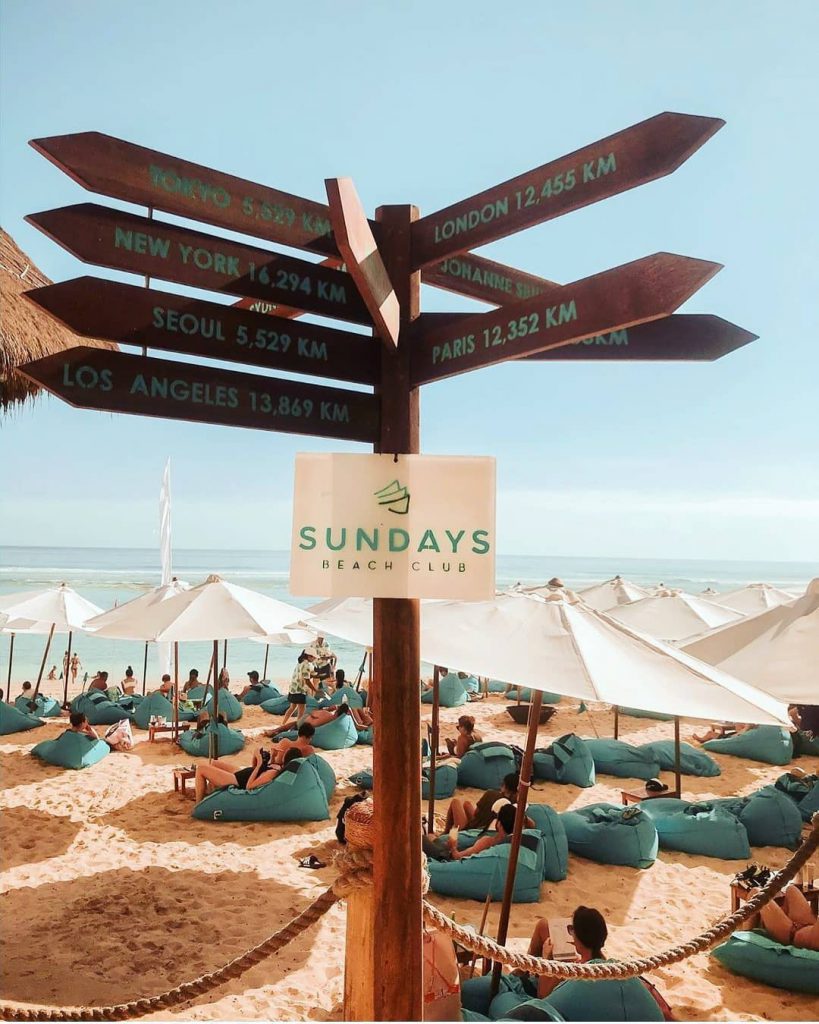 Check out Ubud Day Trip and What to Do
6. Hatch: Best Hip and Fun Nightlife in Uluwatu
Hatch Uluwatu Bali is one of the favourite spots for hippies in Bali. It serves the best nightlife in Uluwatu with DJ and the party space. Fun and party are the best two words to describe the place. If you are feeling hungry, this club offers a variety of food including vegetarian food. With a different thematic event every day, Hatch invites you to join the fun in the game's night, DJ all nights, and more. Open from 12 AM to 12 PM every day, this high-ceiling semi-open club loves to run promotions mostly on beverages.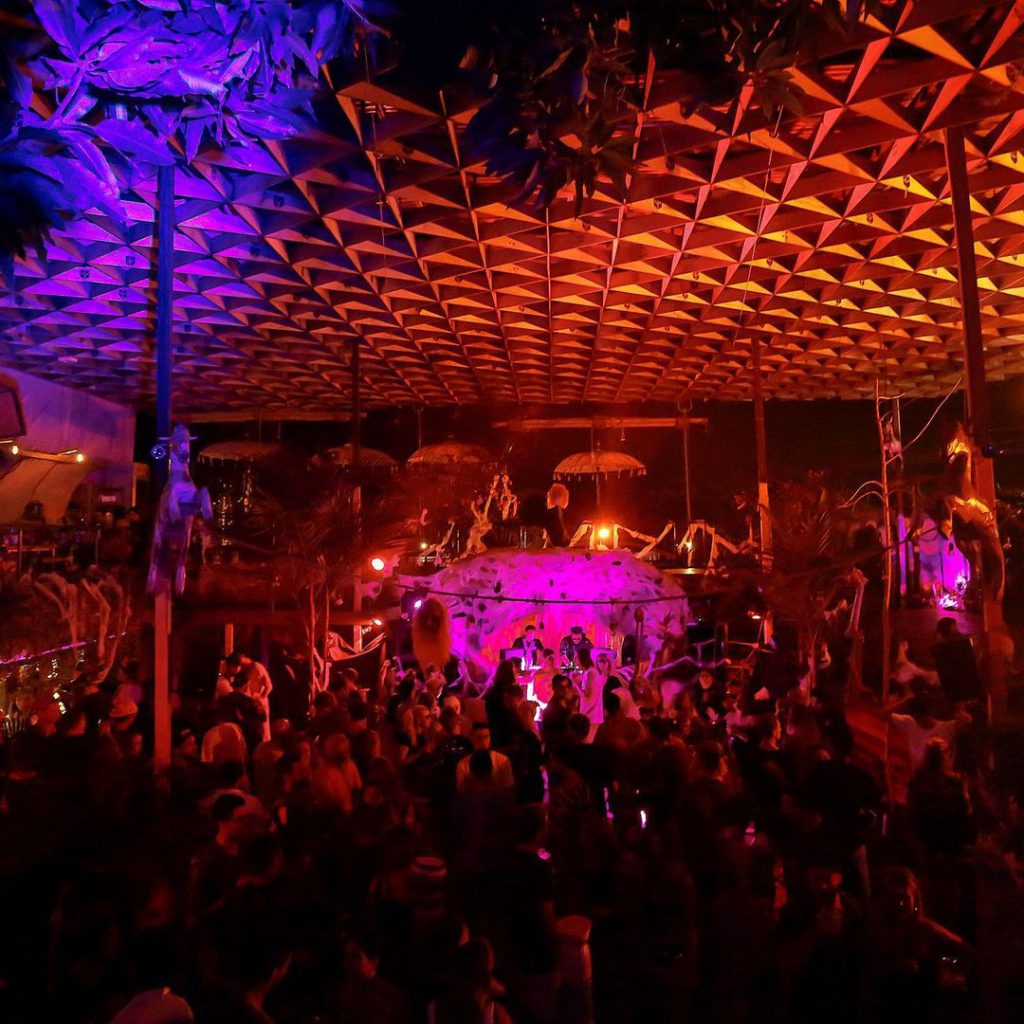 7. Palmilla Beach Club: Best Tropical Nightlife in Uluwatu
Featuring a tropical bar design with thatched roof, long chairs, and an infinity pool, Palmilla Beach Club is one of the best nightlife in Uluwatu. Palimilla offers an affordable menu for food and beverages and free entry. Therefore, this beach club is quite busy. Located in Melasti Beach, between Jimbaran and Uluwatu, this newly-opened place, Palmilla Beach Club, has beautiful instagrammable spots and food.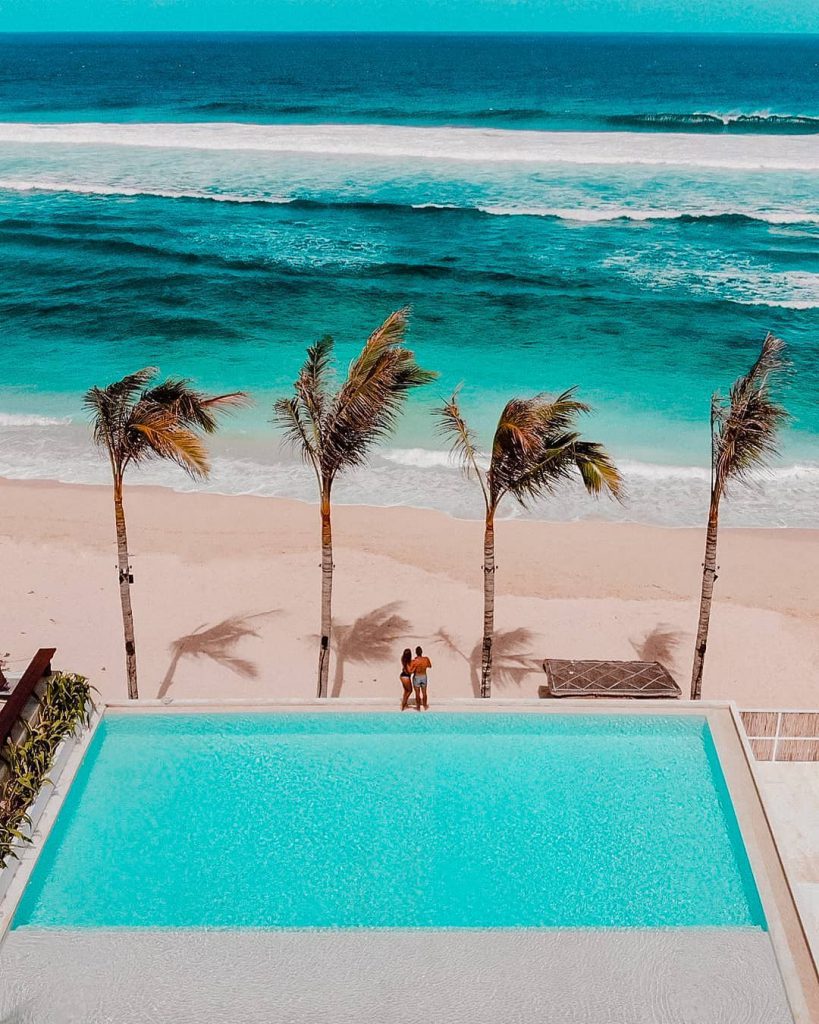 In brief, there are different kinds of clubs and bars in Uluwatu where you can spend your evening. Whether you want to enjoy the view while sipping cocktails or to dance, there is always a place that is designed for your needs and moods in Uluwatu. Our list of the best nightlife in Uluwatu is to help you to find it.
Planning to celebrate in Bali?
Check our amazing Bali Wedding Packages & Bali Experiences? Check our Amazing Deals & Options:
Parties2Weddings provides Wedding Concierge to help couples browsing fixed cost packages, shortlist the venues, as well as customizing packages to meet your requirements. Above all, the professional team has a wonderful experience and will help you prepare for your big day.
Contact our Wedding Concierge to help connect you to vendors for Photographers, DJ, Fireworks, Fire-dance. Then, fill in the Quote request/ Enquiry form here.