Beachfront Villa in Bali for Small Wedding Ceremony
Bali is known worldwide for its stunning scenery and unique culture. Making it one of the most famous islands for vacation. However, as Bali is also known as a romantic getaway, it is also a perfect place to get married and have a honeymoon trip. The wonderful beaches make a nice Bali Wedding ceremony venues that certainly will be memorable for you and your guests. After all, who doesn't want a romantic tropical Beachfront Wedding? If you are planning to have a tropical Beachfront wedding, you should start to look for the right venue as this type of place is usually quickly booked. There are some beautiful Beachfront Villa Bali that you can choose from. Here are some villas near Bali beaches perfect for a small wedding ceremony.
The first venue to check out is this stunning Beachfront Villa Bali located in Gianyar. It is a luxurious villa by the beach with six bedrooms, a private pool, and a beautiful garden facing the beach. The combination of the vibrant color of the turquoise pool, blue ocean, and a fresh green garden presenting a breath-taking view perfect for your Beachfront Wedding.
The ample garden provides enough spaces for up to 70 guests, perfect for a small and private wedding ceremony. You will not need to add too much decoration as well since the Beachfront view is gorgeous and romantic. Just add some green or rustic themed decorations and a few chairs and tables for your garden wedding party.
Not only presenting stunning exteriors perfect for Bali Wedding, but Puri Nirwana Villa also offers great interiors that certainly make every guest feel comfortable. It has six bedrooms each with sophisticated decoration and furniture. Therefore, you will not need a separate place from your venue. You might as well stay in this villa for your honeymoon.
The next Bali Wedding venue on the beach that you should consider is the Taman Ahimsa. It is one of the best places to have a luxurious Beachfront Wedding overlooking mesmerizing Indian Ocean waves. The combination of beautiful southwest coast scenery of Bali and stunning design creates a wonderful space for a party or sacred occasion such as a wedding ceremony.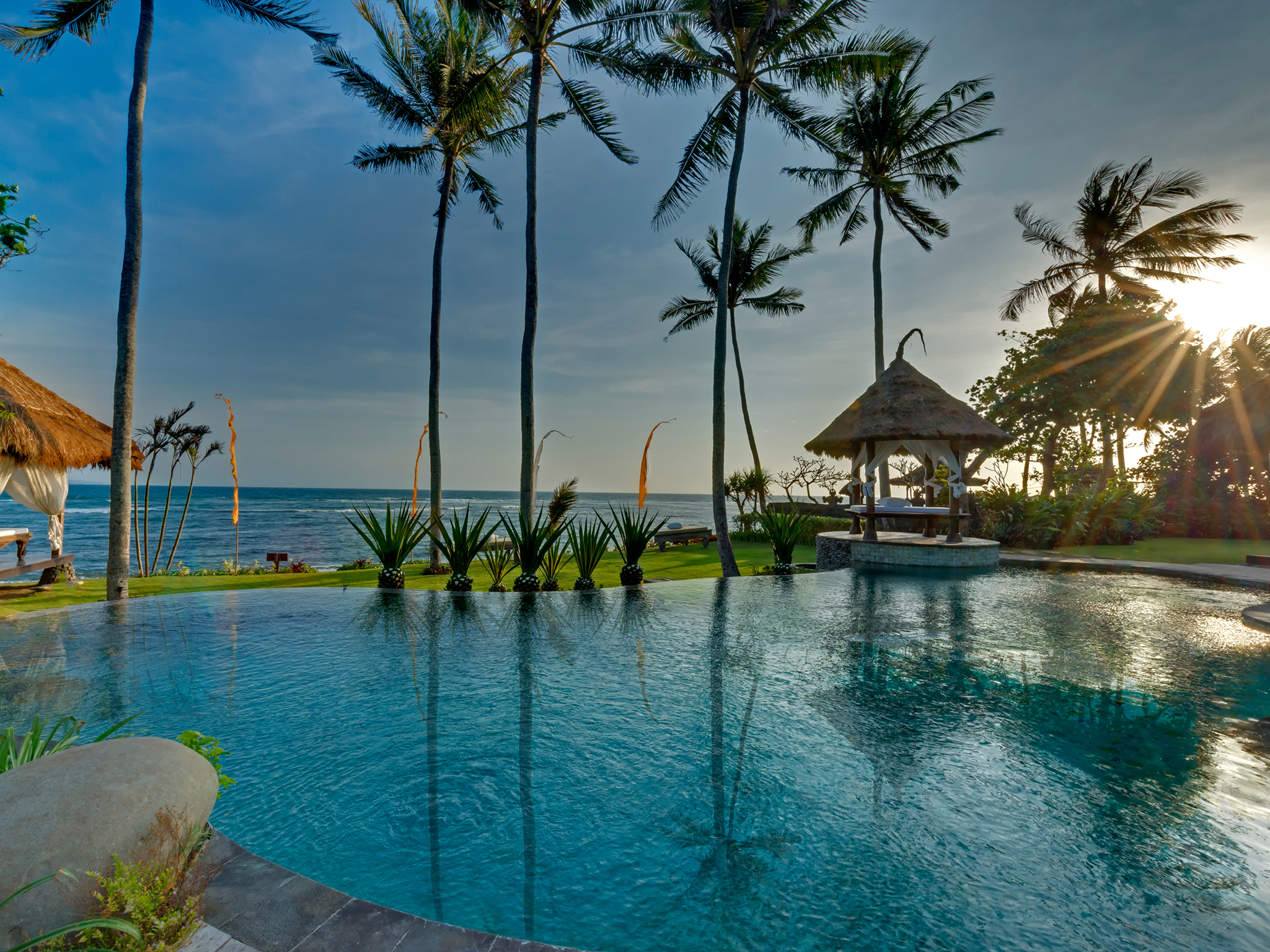 The poolside deck is facing right onto the beach, which will allow your guests to witness a beautiful sunset. Create wonderful memories by having your wedding ceremony at sunset by the beach. What is more romantic than having your Beachfront wedding vows illuminated with a beautiful sunset?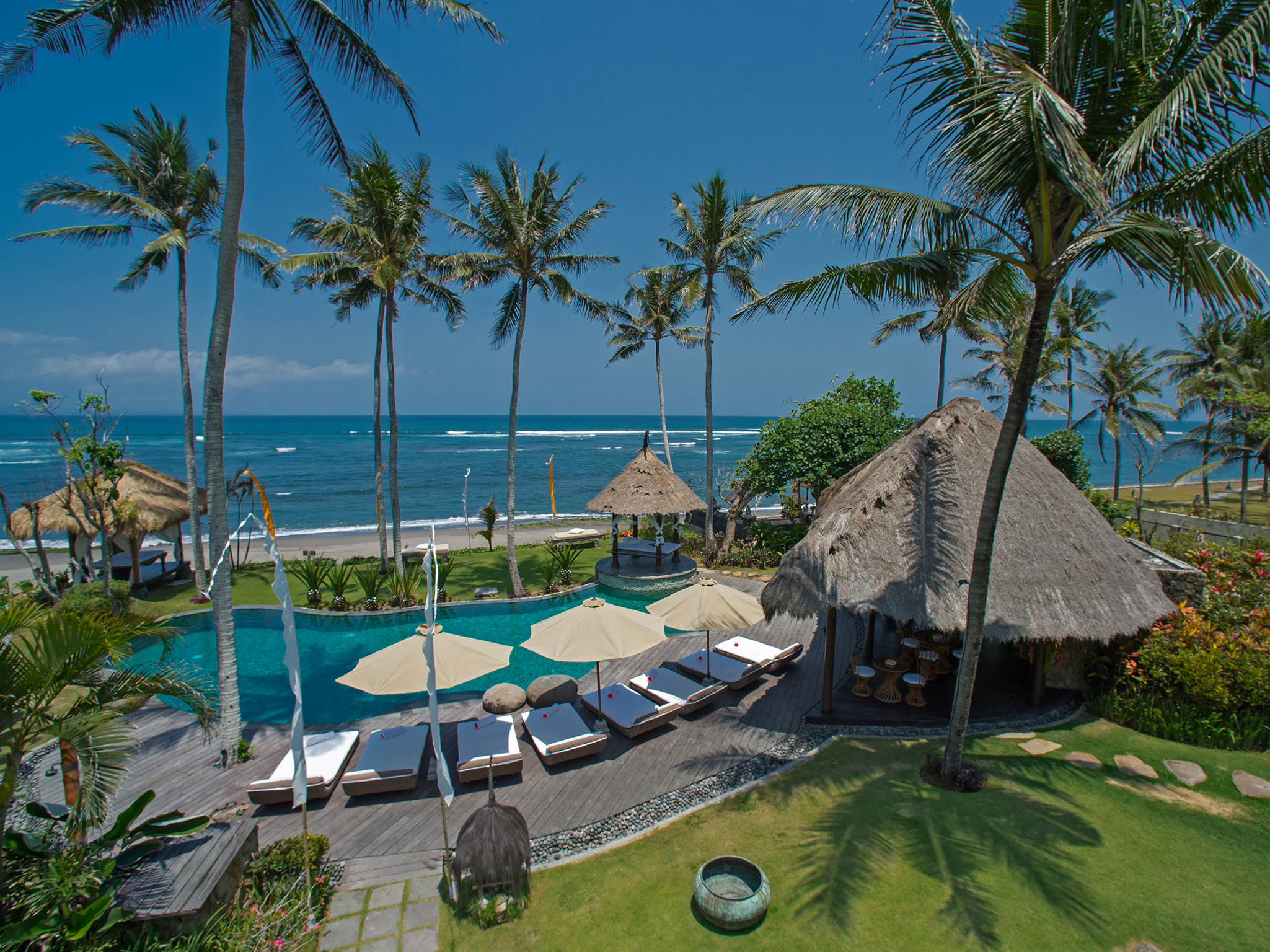 This Beachfront Villa Bali has a large garden that can hold up to 100 guests, perfect for a small and private wedding ceremony. For easier planning, Taman Ahimsa also offers Bali beach wedding packages. But don't worry, you can tailor the wedding event to suit your preference.
Next, we have the Royal Santrian Villas Bali on the list. The venue is located in Nusa Dua Beach and offers a stunning beach view, pools, and Beachfront villas with private pools. It is also close to other beaches such as Kuta and Tanjung Benoa. Another great benefit of this villa is that it is only around 20 minutes ride from Ngurah Rai International Airport.
This Beachfront Villa Bali offers traditional architecture with a separated living room and dining room. Not only completed with comfortable facilities and amenities, but the villas also offer a stunning venue for a Beachfront Wedding ceremony and party.
Whether you want a Bali Wedding ceremony on a white-sand beach, or over the pool deck overlooking the sea, this venue can provide it for you.
The large garden by the beach makes a perfect place to entertain your guests. You can invite up to 200 guests to celebrate your wedding party in this lush tropical garden. The temporary stage in the middle of the garden for dancing.
Another stunning Beachfront Wedding venue is the Villa Batujimbar. This is the right place to go if you wish for a luxurious Bali Wedding in a luxurious venue. It is a famous Beachfront Villa Bali with celebrity guest lists, which means that you will have no reason to doubt its beauty and wonderful services.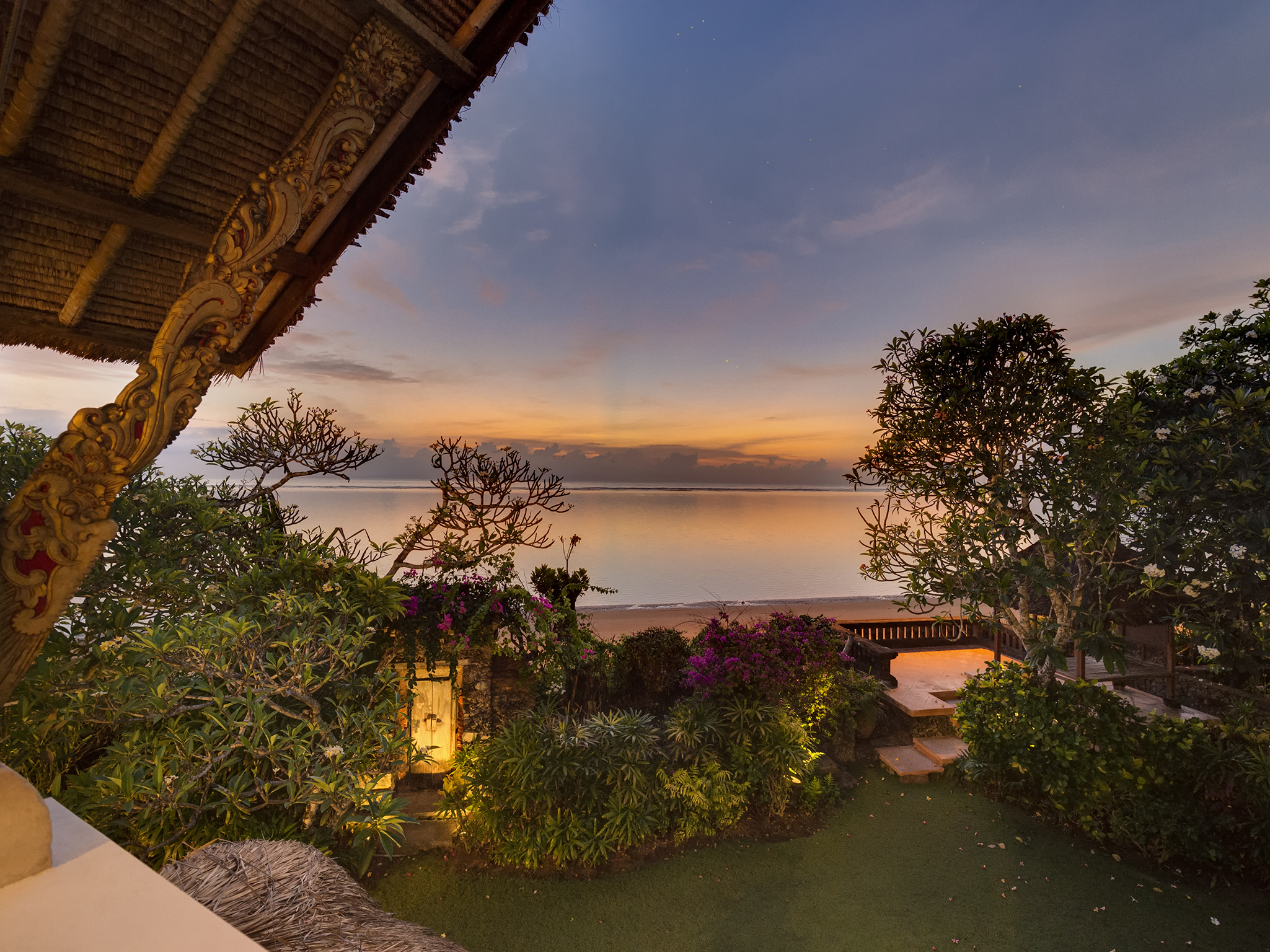 The nine bedrooms are furnished with wonderful paintings, artifacts, and other artistic decorations. The gardens are well-maintained and decorated with beautiful lotus ponds, statues, and reliefs, creating unique building characters.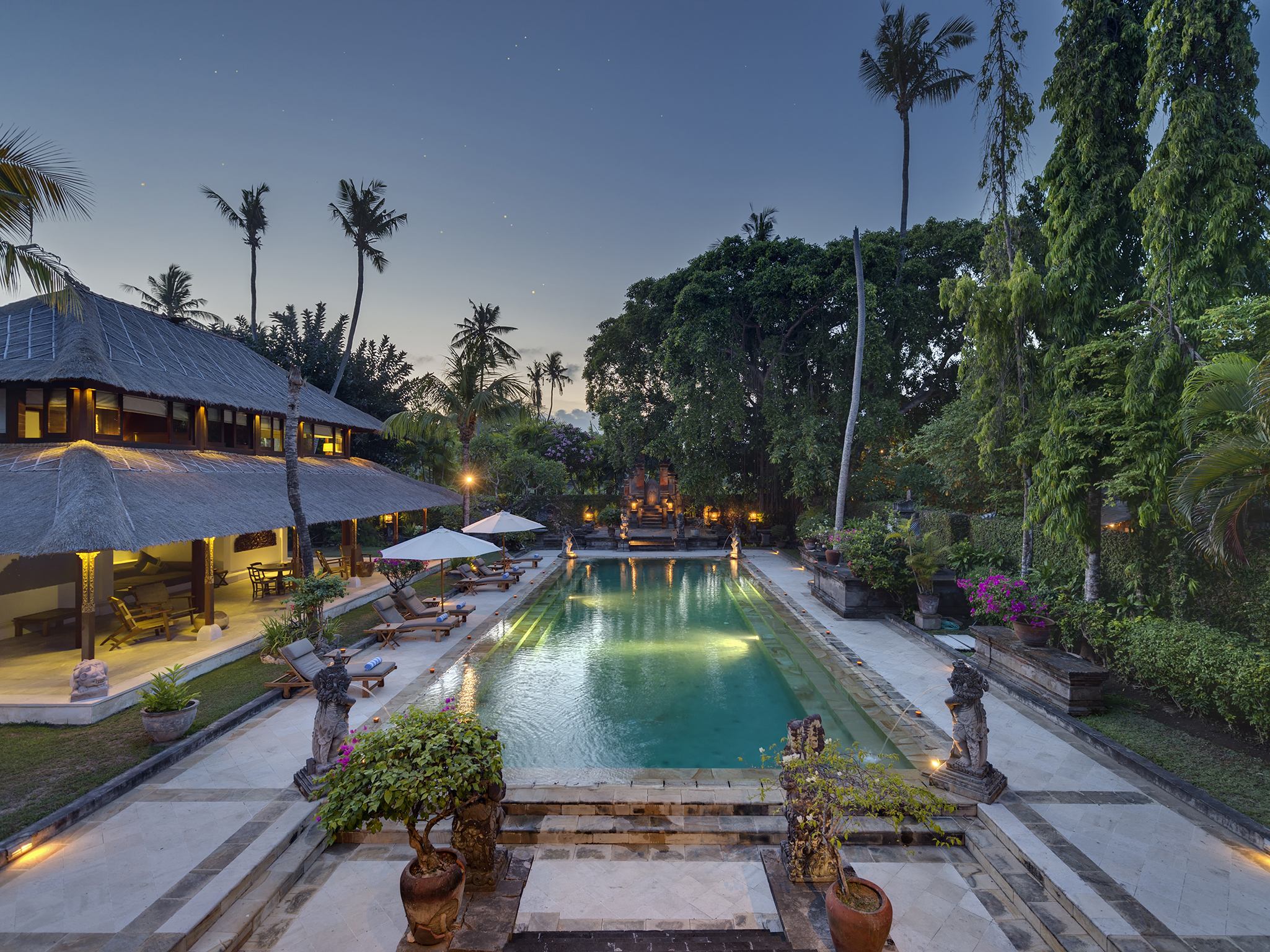 What makes it even more incredible is the Beachfront view of Sanur bay. The Beachfront space is perfect for a wedding ceremony as well as a party. This romantic wedding venue can hold up to 180 guests.
Last but definitely not the least is the Impiana Private Villas Cemagi. The villas offer a huge garden by the beach facing wonderful sea views. The property was built with an open-concept complete with a well-maintained lawn, making it a perfect venue for a Beachfront Wedding ceremony.
This Beachfront Villas Bali has 6 bedroom suites complete with luxurious activities. You will never get bored staying in this villa for your Bali Wedding since it offers a huge variety of activities such as tennis, yoga, cooking classes, cycling, as well as horse-riding. In fact, you might as well stay for a couple of weeks here for your honeymoon too!
Bali is famous for its wonderful nature and stunning villas or resorts by the beach. Therefore, it will be fairly easy to find Bali Wedding venues on the beach. However, you may need to look for these venues in advance because many of them are highly sought after. You don't want to leave the venue's booking at the last minute since many of them might be fully booked on the day you want.
Reading Recommended for Bali Things to Do:
Wedding Packages:
Best Places to Propose, Pre-Weddings & Engagements:
What's More? 
Parties2Weddings is the largest Australian based Wedding Packages Platform for couples to plan & book their dream destination wedding in Asia. We connect couples to over 40,000 vendors across Melbourne, Sydney, Queensland to Bali.
Planning to celebrate in Bali? – Check our amazing
Bali Wedding Packages &  Bali Experiences? Check our Amazing Deals & Options:
Parties2Weddings provides Wedding Concierge to help couples to browse fixed cost packages, shortlist the venues. and customize packages to meet special requirements. The professional team has great experience will help you to prepare for your big day.
Contact our Wedding Concierge, to help connect you to vendors for Photographers, DJ, Fireworks, Fire-dance, etc. Fill in the Quote request/ Enquiry form here.